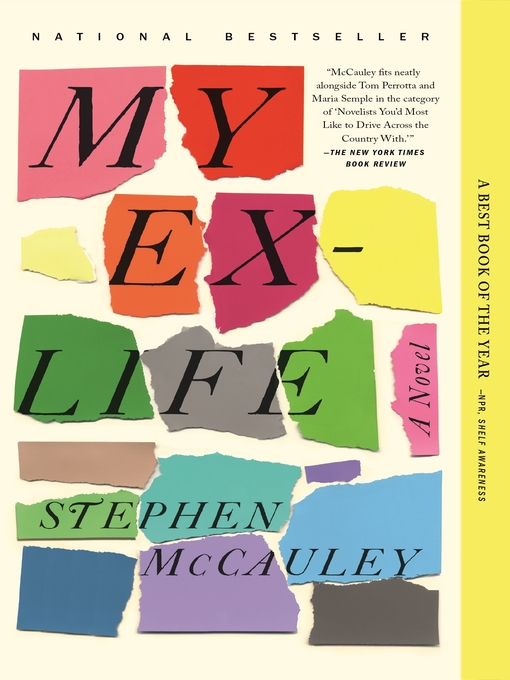 My ex-life
Format:

OverDrive Read

2018.

Adobe EPUB ebook

Kindle Book

Availability:

Available from OverDrive

5 of 8 copies
1 person on waitlist
Summary
National Bestseller
Best Book of the Year: NPR, Shelf Awareness
"I didn't know how much I needed a laugh until I began reading Stephen McCauley's new novel, My Ex-Life . This is the kind of witty, sparkling, sharp novel for which the verb 'chortle' was invented." -- Maureen Corrigan, Fresh Air
"McCauley fits neatly alongside Tom Perrotta and Maria Semple in the category of 'Novelists You'd Most Like to Drive Across the Country With.'" -- The New York Times Book Review
David Hedges's life is coming apart at the seams. His job helping San Francisco rich kids get into the colleges of their (parents') choice is exasperating; his younger boyfriend has left him; and the beloved carriage house he rents is being sold. His solace is a Thai takeout joint that delivers 24/7.
The last person he expects to hear from is Julie Fiske. It's been decades since they've spoken, and he's relieved to hear she's recovered from her brief, misguided first marriage. To him.
Julie definitely doesn't have a problem with marijuana (she's given it up completely, so it doesn't matter if she gets stoned almost daily) and the Airbnb she's running out of her seaside house north of Boston is neither shabby nor illegal. And she has two whole months to come up with the money to buy said house from her second husband before their divorce is finalized. She'd just like David's help organizing college plans for her seventeen-year-old daughter.
That would be Mandy. To quote Barry Manilow, Oh Mandy . While she knows she's smarter than most of the kids in her school, she can't figure out why she's making so many incredibly dumb and increasingly dangerous choices?
When David flies east, they find themselves living under the same roof (one David needs to repair). David and Julie pick up exactly where they left off thirty years ago--they're still best friends who can finish each other's sentences. But there's one broken bit between them that no amount of home renovations will fix.
In prose filled with hilarious and heartbreakingly accurate one-liners, Stephen McCauley has written a novel that examines how we define home, family, and love. Be prepared to laugh, shed a few tears, and have thoughts of your own ex-life triggered. (Throw pillows optional.)
Published Reviews
Booklist Review:
"*Starred Review* At midlife, David, a college tutor to San Francisco's elite teenagers (or, more correctly, their overbearing parents), finds himself unceremoniously dumped by his boyfriend; several pounds heavier than he'd like to be; and about to be booted from his gloriously low-rent, highly desirable apartment. When he hears from his ex-wife for the first time in decades, just as his life seems to be going up in betrayal-tinged flames, the timing seems meaningful. David and Julie's young marriage ended as amicably as it could have when they both understood that David was gay. Now Julie is desperately trying to buy her second ex-husband out of their seaside Massachusetts home as well as convince him that she's being proactive about their teenage daughter Mandy's future by seeking David's help. David's one-week trip to Beauport quickly becomes open-ended as he helps Julie make her sprawling home more welcoming to Airbnb guests one of the ways she hopes to stay above water and peels back flinty but confused Mandy's layers. As in his previous novels, most recently Insignificant Others (2010), McCauley delights with intimately, often hilariously observed characters and a winking wit that lets plenty of honest tenderness shine through. Readers will love spending time in these pages.--Bostrom, Annie Copyright 2018 Booklist"
From Booklist, Copyright (c) American Library Association. Used with permission.
Publisher's Weekly Review:
"The wry, bittersweet seventh novel by McCauley (The Object of My Affection) transports its hero into the life that might have been his if things had turned out differently. Fifty-something David Hedges, who makes an adequate living in San Francisco coaching the children of wealthy parents through the college application process, has recently been dumped by his boyfriend, and the cheap apartment he rents is up for sale. So when Julie Fiske, to whom he was briefly married before he came to terms with being gay, asks him to join her at her sprawling, decaying house in a seaside town north of Boston to get her unmotivated daughter, Mandy, in shape for her senior year in high school, he gladly accepts. Plot isn't McCauley's strong point: Most readers will see every twist coming, and a subplot involving Mandy's involvement with a local creep who drives around in a van hitting on teenaged girls has an after-school special feel. It's the author's confused but lovable characters, and his plentiful one-liners-like David's recognition that he "had rarely worked with a parent who did not describe her child as 'gifted'"-that provide the charm. This comedy of manners is a summery confection tinged with awareness of a coming autumn. (May) © Copyright PWxyz, LLC. All rights reserved."
Additional Information