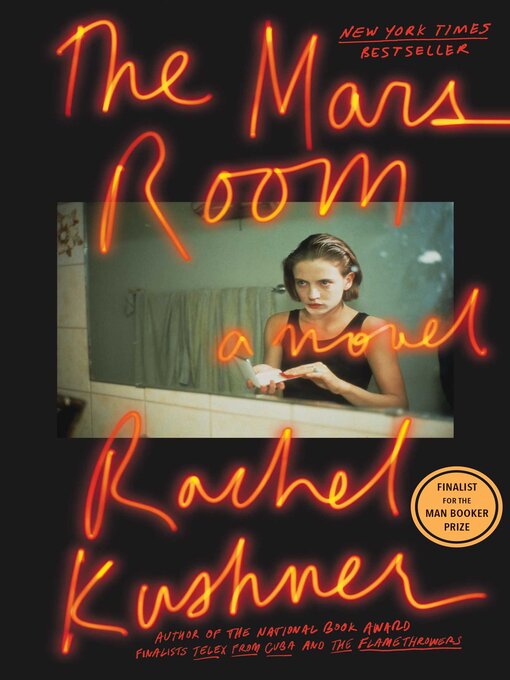 The mars room A Novel.
Format:

OverDrive Read

2018.

Adobe EPUB ebook

Kindle Book

Availability:

Unavailable

0 of 12 copies
54 people on waitlist
Summary
NEW YORK TIMES BESTSELLER

"Electrifying." -- Vanity Fair

"A page turner... The Mars Room is one of those books that enrage you even as they break your heart." -- The New York Times Book Review (cover review)

"Brilliant and devastating... The Mars Room is a heartbreaking, true, and nearly flawless novel." -- NPR

From twice National Book Award-nominated Rachel Kushner, whose Flamethrowers was called "the best, most brazen, most interesting book of the year" (Kathryn Schulz, New York magazine), comes a spectacularly compelling, heart-stopping novel about a life gone off the rails in contemporary America.

It's 2003 and Romy Hall is at the start of two consecutive life sentences at Stanville Women's Correctional Facility, deep in California's Central Valley. Outside is the world from which she has been severed: the San Francisco of her youth and her young son, Jackson. Inside is a new reality: thousands of women hustling for the bare essentials needed to survive; the bluffing and pageantry and casual acts of violence by guards and prisoners alike; and the deadpan absurdities of institutional living, which Kushner evokes with great humor and precision.

Stunning and unsentimental, The Mars Room demonstrates new levels of mastery and depth in Kushner's work. It is audacious and tragic, propulsive and yet beautifully refined. As James Wood said in The New Yorker , her fiction "succeeds because it is so full of vibrantly different stories and histories, all of them particular, all of them brilliantly alive."
Published Reviews
Booklist Review:
"*Starred Review* The Mars Room is a seedy San Francisco strip club, a dark little planet where interactions are strictly cash-based, just the way Romy Hall likes it. But one regular customer plunges into obsession, and now Romy is heading to prison for life two times over. In smart, determined, and vigilant Romy, Kushner (The Flamethrowers, 2013), an acclaimed writer of exhilarating skills, has created a seductive narrator of tigerish intensity whose only vulnerability is her young son. As Romy takes measure of the dangerously byzantine dynamics of the women's correctional facility, Kushner brings forth commanding, contradictory characters habitually abused by the so-called justice system, which is rendered as both diabolical and ludicrous, poisoned by racism, sexism, and class biases, its rules cleverly subverted by inmates seizing dignity, self-­expression, and enterprise. Kushner also gives voice to an imprisoned and endangered rogue cop, a lonely prison teacher attempting to share the solace of books, and the stalker Romy is convicted of murdering. This is a gorgeously eviscerating novel of incarceration writ large, of people trapped in the wrong body, the wrong family, poverty, addiction, and prejudice. The very land is chained and exploited. Rooted in deeply inquisitive thinking and executed with artistry and edgy wit, Kushner's dramatic and disquieting novel investigates with verve and compassion societal strictures and how very difficult it is to understand each other and to be truly free.--Seaman, Donna Copyright 2018 Booklist"
From Booklist, Copyright (c) American Library Association. Used with permission.
Publisher's Weekly Review:
"Two-time National Book Award finalist Kushner (The Flamethrowers) delivers a heartbreaking and unforgettable novel set in a California women's prison. Single mother Romy Leslie Hall is serving two consecutive life sentences at the Stanville Women's Correctional Facility after murdering a stalker. From prison, she narrates her drug-addled, hard-bitten past in San Francisco, where she worked as a stripper at the legendary Mars Room, as well as her present, where she serves her sentence alongside inmates such as Conan (so masculine as to have been mistakenly sent to a men's prison), the heavy metal-loving white supremacist known as the Norse, and loquacious baby-killer Laura Lipp. Readers slowly learn the circumstances of Romy's conviction, and eventually glean a composite portrait of the justice system, including the story of Gordon Hauser, a well-meaning but naive English teacher assigned to Stanville, and a dirty LAPD cop, "Doc," who serves out a parallel sentence in the Sensitive Needs block of New Folsom Prison. But the focus is on the routine at Stanville, where Romy pines for her son, reads the books recommended to her by Gordon, recalls her past life in vivid and excruciating detail, and plans a daring escape. Kushner excels at capturing the minutiae of life behind bars, and manages to critique the justice system and vividly capture the reality of life behind bars. Romy is a remarkable protagonist; her guilt is never in question, but her choices are understandable. Kushner's novel is notable for its holistic depiction of who gets wrapped up in incarceration-families, lawyers, police, and prisoners; it deserves to be read with the same level of pathos, love, and humanity with which it clearly was written. Agent: Susan Golomb, Writers House. (May) This review has been corrected; an earlier version stated a character was on death row. © Copyright PWxyz, LLC. All rights reserved."
Additional Information