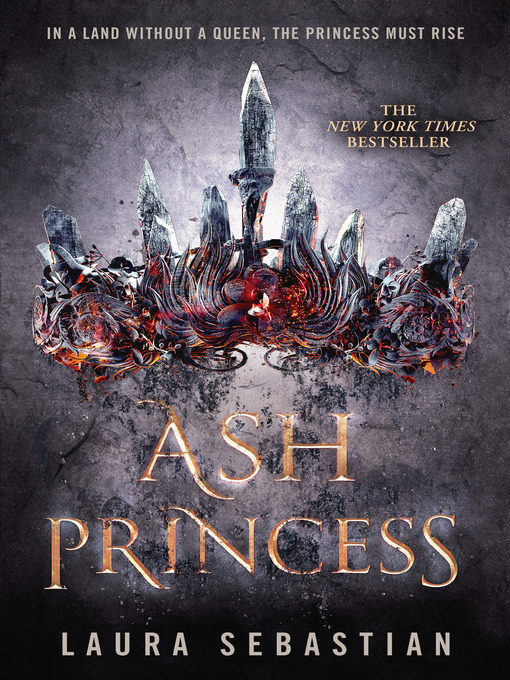 Ash princess
Format:

OverDrive Read

2018.

Adobe EPUB ebook

Kindle Book

Availability:

Unavailable

0 of 8 copies
1 person on waitlist
Summary
AN INSTANT NEW YORK TIMES BESTSELLER!

"Made for fans of Victoria Aveyard and Sabaa Tahir" ( Bustle ), Ash Princess is an epic new fantasy about a throne cruelly stolen and a girl who must fight to take it back for her people.

Theodosia was six when her country was invaded and her mother, the Fire Queen, was murdered before her eyes. On that day, the Kaiser took Theodosia's family, her land, and her name. Theo was crowned Ash Princess--a title of shame to bear in her new life as a prisoner.

For ten years Theo has been a captive in her own palace. She's endured the relentless abuse and ridicule of the Kaiser and his court. She is powerless, surviving in her new world only by burying the girl she was deep inside.

Then, one night, the Kaiser forces her to do the unthinkable. With blood on her hands and all hope of reclaiming her throne lost, she realizes that surviving is no longer enough. But she does have a weapon: her mind is sharper than any sword. And power isn't always won on the battlefield.

For ten years, the Ash Princess has seen her land pillaged and her people enslaved. That all ends here.

"Sure to be one of the summer's most talked about YAs. . . . A darkly enchanting page-turner you won't be able to put down."- Bustle
Published Reviews
Booklist Review:
"Theodosia was six when the invaders came. Her peaceful country never stood a chance. The Kalovaxians killed Theo's mother, the queen; enslaved her people; and commodified the magical stones that Theo's people hold sacred. Now 16 and called Thora, Theo is still held captive in her palace; the kaiser places a shameful ash crown upon her head and tortures her every time her people rebel. When the opportunity to escape arrives just after the kaiser forces her to do something terrible, Theo refuses to run, believing she can do more for her people on the inside. She throws herself into a complicated plot involving the kaiser's son, but she needs every ounce of intelligence she has one misstep could mean her death, and there are other people plotting in this castle as well. Fans of Marie Rutkoski's The Winner's Curse (2014) will find a kindred spirit in this debut, which highlights Theo's complicated feelings toward the people who have held her captive most of her life. An emotionally complex, breathtakingly suspenseful series starter.--Reagan, Maggie Copyright 2018 Booklist"
From Booklist, Copyright (c) American Library Association. Used with permission.
Publisher's Weekly Review:
"Sixteen-year-old Princess Theodosia is a royal prisoner in the Kaiser's court within the fantasy setting of Astrea-where some have the power of magical abilities channeled through coveted gems. The victim of intense physical and mental abuse (she witnessed her mother being murdered), she believes her people will come to save her. But after being forced to kill a man she believes to be her last hope, the so-called Ash Princess realizes she'll have to save herself. In a story driven by the strength of its traumatized yet resourceful protagonist, Sebastian weaves together political intrigue, theological questions, and the genocide of an entire race. The princess agrees to stay in her gilded cage to act as a spy for the resistance; her dual purpose provides a window into the complexities of human interaction and emotion, familial tensions, and the false public face that is sometimes required in politics and at court. Theodosia navigates a web of lies and half-truths, culminating in a climactic ending ripe for a sequel. Ages 12-up. Agent: Laura Biagi, Jean V. Naggar Literary Agency. (Apr.) © Copyright PWxyz, LLC. All rights reserved."
(c) Copyright PWxyz, LLC. All rights reserved
Additional Information