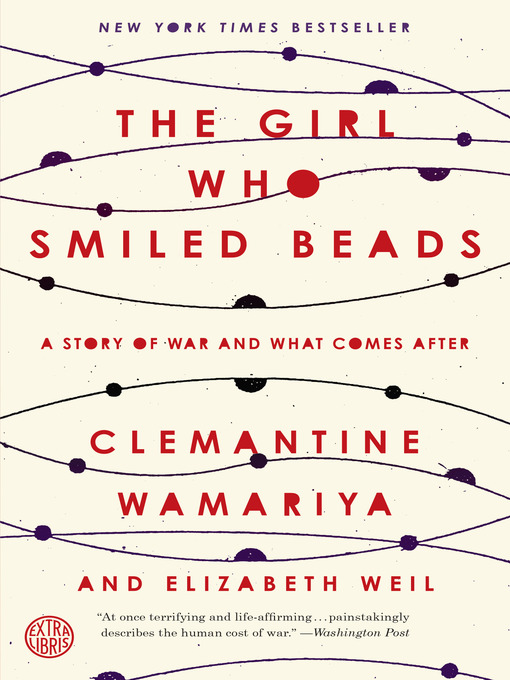 The girl who smiled beads a story of war and what comes after
Format:

OverDrive Read

2018.

Adobe EPUB ebook

Kindle Book

Availability:

Available from OverDrive

1 of 5 copies
Summary
A NEW YORK TIMES BESTSELLER

"The plot provided by the universe was filled with starvation, war and rape. I would not--could not--live in that tale."

Clemantine Wamariya was six years old when her mother and father began to speak in whispers, when neighbors began to disappear, and when she heard the loud, ugly sounds her brother said were thunder. In 1994, she and her fifteen-year-old sister, Claire, fled the Rwandan massacre and spent the next six years migrating through seven African countries, searching for safety--perpetually hungry, imprisoned and abused, enduring and escaping refugee camps, finding unexpected kindness, witnessing inhuman cruelty. They did not know whether their parents were dead or alive.

When Clemantine was twelve, she and her sister were granted refugee status in the United States; there, in Chicago, their lives diverged. Though their bond remained unbreakable, Claire, who had for so long protected and provided for Clemantine, was a single mother struggling to make ends meet, while Clemantine was taken in by a family who raised her as their own. She seemed to live the American dream: attending private school, taking up cheerleading, and, ultimately, graduating from Yale. Yet the years of being treated as less than human, of going hungry and seeing death, could not be erased. She felt at the same time six years old and one hundred years old.

In The Girl Who Smiled Beads, Clemantine provokes us to look beyond the label of "victim" and recognize the power of the imagination to transcend even the most profound injuries and aftershocks. Devastating yet beautiful, and bracingly original, it is a powerful testament to her commitment to constructing a life on her own terms.
Published Reviews
Booklist Review:
"Wamariya was only six years old in 1994, when massacres obliterated her home life in Rwanda. With her older sister, Claire, Wamariya escaped and became a perpetual refugee. The sisters spent the next six years moving around Africa, Claire always making sure that they never got too comfortable in their transient circumstances. After living in seven different countries, the girls were granted asylum to the U.S. When they arrived in Chicago, they had no idea whether their parents were alive or slaughtered. Eventually, they adjusted to their American lives; Wamariya excelled in school, and Claire reared her small children. In 2006, the sisters were featured on the Oprah show, wherein their parents were brought onstage as a Winfrey-style surprise. The book, coauthored with journalist Weil, demystifies life during and after the Rwandan Civil War and explores the difficult reality of such an epic familial reunion. In her prose as in her life, Wamariya is brave, intelligent, and generous. Sliding easily between past and present, this memoir is a soulful, searing story about how families survive.--Eathorne, Courtney Copyright 2018 Booklist"
From Booklist, Copyright (c) American Library Association. Used with permission.
Publisher's Weekly Review:
"Miles's nuanced, emotional reading makes listening to Wamariya's haunting life story an unforgettable experience. As a six-year-old child in Rwanda, Wamariya and her older sister, Claire, were forced to flee the Rwandan massacre without their parents. The sisters struggled to survive on their own for six years as they traveled through seven African countries, endured horrific refugee camps, and found brief periods of safety staying with distant relatives-only to have the war and violence descend on them, too. Finally the two make it to America and settle in Chicago where a family takes in Wamariya and provides for her, while her sister struggles as a single mother. The audio edition concludes with recorded commentary by Wamariya, giving listeners the opportunity to hear the author's voice, but the main narrative is read by veteran voice actor Miles who fully embraces the role of Wamariya and easily enthralls listeners. Miles's voice alternates between calmness, fear, anxiety, rage, and contemplativeness, as she sifts through Wamariya's memories and helps convey the author's complicated emotions. The sterling narration makes for a powerful audiobook. A Crown hardcover. (Apr.) © Copyright PWxyz, LLC. All rights reserved."
(c) Copyright PWxyz, LLC. All rights reserved
Additional Information