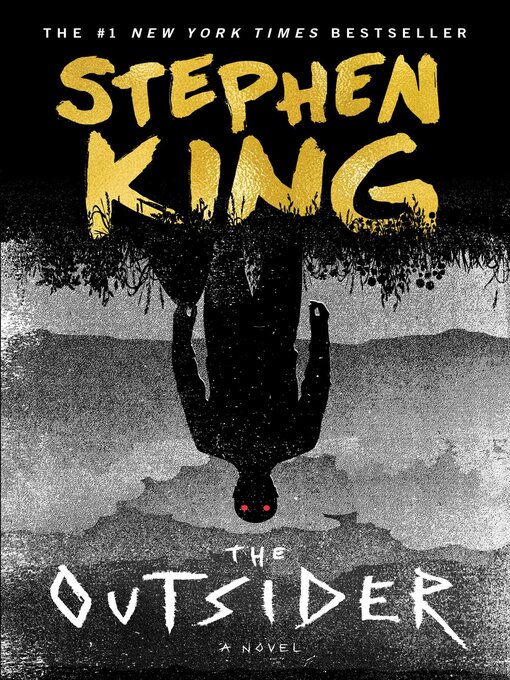 The outsider
Format:

OverDrive Read

2018.

Adobe EPUB ebook

Kindle Book

Availability:

Unavailable

0 of 44 copies
196 people on waitlist
Summary
An unspeakable crime. A confounding investigation. At a time when the King brand has never been stronger, he has delivered one of his most unsettling and compulsively readable stories.

An eleven-year-old boy's violated corpse is found in a town park. Eyewitnesses and fingerprints point unmistakably to one of Flint City's most popular citizens. He is Terry Maitland, Little League coach, English teacher, husband, and father of two girls. Detective Ralph Anderson, whose son Maitland once coached, orders a quick and very public arrest. Maitland has an alibi, but Anderson and the district attorney soon add DNA evidence to go with the fingerprints and witnesses. Their case seems ironclad.

As the investigation expands and horrifying answers begin to emerge, King's propulsive story kicks into high gear, generating strong tension and almost unbearable suspense. Terry Maitland seems like a nice guy, but is he wearing another face? When the answer comes, it will shock you as only Stephen King can.
Published Reviews
Booklist Review:
"Two quick years after concluding his Bill Hodges trilogy of mystery novels with End of Watch (2016), King returns to the genre (and even brings back a character) with a book that showcases his best and worst instincts. The first half, a police procedural, is absolutely riveting. Oklahoma detective Ralph Anderson relishes arresting local little-league coach Terry Maitland for the brutal murder of an 11-year-old boy. Multiple witnesses saw him, his DNA is all over the scene it's open and shut. But is it? King makes you feel Ralph's drowning panic as evidence, just as irrefutable, places Terry in another town. The impossibility of the mystery is intoxicating, and readers will get dizzy from their shifting sympathies. And then . . . well, King loyalists will see this coming. Seemingly written into a corner, the story goes supernatural, with a Salem's Lot-style gang of reluctant heroes taking up arms against a foe who has something to do with a Mexican monster legend and women-wrestler films. Still, the amazingly strong start should be enough to fuel most readers through the end.HIGH-DEMAND BACKSTORY: Along with Revival (2014), Mr. Mercedes (2014), and Full Dark, No Stars (2010), this is another shockingly dark book perfect for longtime fans, of whom there are, well, zillions.--Kraus, Daniel Copyright 2018 Booklist"
From Booklist, Copyright (c) American Library Association. Used with permission.
Publisher's Weekly Review:
"MWA Grand Master King wraps a wild weird tale inside a police procedural in this nicely executed extension of his Bill Hodges detective trilogy (begun with 2014's Mr. Mercedes). Det. Ralph Anderson of the Flint City, Okla., police force appears to have beloved youth baseball league coach Terry Maitland dead to rights when he publicly arrests him for the grisly murder of an 11-year-old boy, since the crime scene is covered with Terry's fingerprints and DNA. Only one problem: at the time of the murder Terry was attending a teachers' conference in a distant city, where he was caught clearly on videotape. The case's contradictory evidence compels Anderson and officials associated with it to team up with Holly Gibney (the deceased Hodges's former assistant) to solve it. What begins as a manhunt for an unlikely doppelgänger takes an uncanny turn into the supernatural. King's skillful use of criminal forensics helps to ground his tale in a believable clinical reality where the horrors stand out in sharp relief. Agent: Chuck Verrill, Darhansoff & Verrill. (May) © Copyright PWxyz, LLC. All rights reserved."
(c) Copyright PWxyz, LLC. All rights reserved
Additional Information