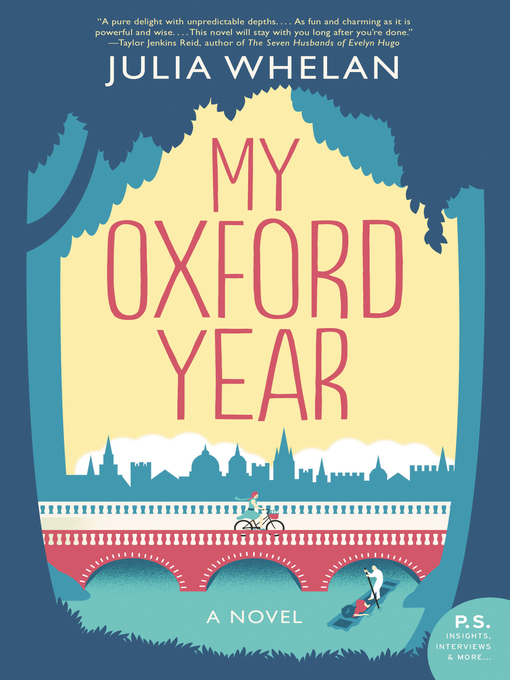 My Oxford year a novel
Format:

OverDrive Read

2018.

Adobe EPUB ebook

Kindle Book

Availability:

Available from OverDrive

6 of 7 copies
Summary
Major Motion Picture Already in Development with Temple Hill Entertainment
One of the Best Books of April for Brit + Co and Liz and Lisa!
Set amidst the breathtaking beauty of Oxford, this sparkling debut novel tells the unforgettable story about a determined young woman eager to make her mark in the world and the handsome man who introduces her to an incredible love that will irrevocably alter her future--perfect for fans of JoJo Moyes and Nicholas Sparks.
American Ella Durran has had the same plan for her life since she was thirteen: Study at Oxford. At 24, she's finally made it to England on a Rhodes Scholarship when she's offered an unbelievable position in a rising political star's presidential campaign. With the promise that she'll work remotely and return to DC at the end of her Oxford year, she's free to enjoy her Once in a Lifetime Experience. That is, until a smart-mouthed local who is too quick with his tongue and his car ruins her shirt and her first day.
When Ella discovers that her English literature course will be taught by none other than that same local, Jamie Davenport, she thinks for the first time that Oxford might not be all she's envisioned. But a late-night drink reveals a connection she wasn't anticipating finding and what begins as a casual fling soon develops into something much more when Ella learns Jamie has a life-changing secret.
Immediately, Ella is faced with a seemingly impossible decision: turn her back on the man she's falling in love with to follow her political dreams or be there for him during a trial neither are truly prepared for. As the end of her year in Oxford rapidly approaches, Ella must decide if the dreams she's always wanted are the same ones she's now yearning for.
Published Reviews
Booklist Review:
"When Ella leaves for her year as a Rhodes Scholar, she expects to return to D.C. with classic Oxford memories and connections to fuel her political career. In fact, she's already agreed to consult on a presidential campaign for a promising candidate from England. She doesn't plan to have a sexy fling with her English-literature professor, or for them to fall for each other. And she certainly isn't prepared for him to reveal a diagnosis that will alter the course of their lives. This debut novel has a preponderance of heart while offering respite from heady emotions with light wit. Actor, screenwriter, and award-winning audiobook narrator Whelan draws from her own Oxford experience, creating a richly rendered setting of not just the university's spires but of the surrounding chip shops and grubby pubs that are just as vital. She ably captures a young woman finding her way when her carefully made plans come apart. A movie adaptation is on the way.--Walker, Aleksandra Copyright 2018 Booklist"
From Booklist, Copyright (c) American Library Association. Used with permission.
Publisher's Weekly Review:
"In Whelan's enjoyable debut, American grad student Ella Durran seems to have it all-not only is she achieving her teenage dream of attending Oxford University for one year on a Rhodes Scholarship, but she's doing so while working remotely on the presidential campaign of a female politician she idolizes. The only dark cloud on her horizon is the annoying presence of her English professor, Jamie Davenport. They meet when he almost runs her over with his car; later, he accidentally spills condiments all over the front of her blouse. Things go rapidly downhill from there. Naturally, Ella falls in love with Jamie, who is not only smart and sensitive but also owns a Victorian townhouse with a ballroom and drives an Aston-Martin convertible. Ella spends her days working on her dissertation on Middlemarch and her nights being romanced by Jamie. But things take a turn for the tragic, and Ella is forced to choose between her commitment to her original dream and contemplating a new future that involves much personal risk and sacrifice. The novel is so predictably plotted that the reader will not be surprised by the road Ella ultimately chooses. But fans of One Day and Me Before You will still be charmed by this warm story and Ella and Jamie's romance. (Apr.) © Copyright PWxyz, LLC. All rights reserved."
(c) Copyright PWxyz, LLC. All rights reserved
Additional Information