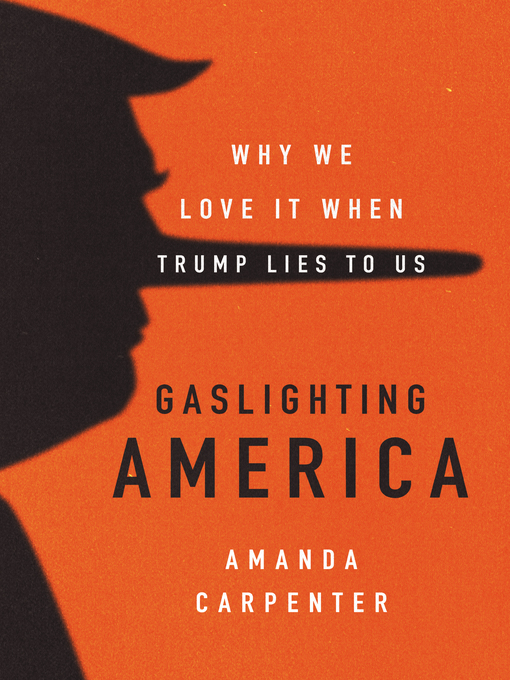 Gaslighting America why we love it when Trump lies to us
Format:

Kindle Book

2018

2018

Adobe EPUB ebook

OverDrive Read

Availability:

Unavailable

0 of 1 copy
Summary
A CNN contributor, former Ted Cruz staffer, and "Never Trump" adherent reveals a shocking truth: Donald Trump's lies and fabrications don't horrify America—they enthrall us—and explains how we can avoid falling for them."Can you believe what Donald Trump said?"In Gaslighting America, Carpenter breaks down Trump's formula, showing why it's practically foolproof, playing his victims, the media, the Democrats, and the Republican fence-sitters perfectly. She traces how this tactic started with Nixon, gained traction with Bill Clinton, and exploded under Trump. If you think Trump is driving you crazy, it's because he is. Now, in this urgent book, she explains how to withstand the fire.Where some people see lies, Trump's fierce followers see something different. A commitment to winning at all costs; there is nothing he could say that would erode their support at long as it's in the name of taking down his political enemies.His opponents on the left and right continue to act as if his fake narratives and conspiracy theories will bring him down, when in fact, they are the ruses that raised him up.As a conservative former staffer to a competing presidential campaign, Amanda Carpenter witnessed her fellow Republicans fall in line behind Trump. As a political commentator, she was publicly smeared by one of his supporters on live television without a shred of evidence supporting the allegations. Slowly, she watched her entire party succumb to Trump and become defenders of his tactics, and Gaslighting America may be the only hope to bring them back to reality.

Contents
Birthing a president
Winning ugly
#War
Terrorized
Inside job
Burned
The pledge
Surrogate secrets
Punch 'em in the face
Kayfabe
The cult of KEK
Hacks
Bimbo eruptions
Lock her up
President Trump
Nixon's shadow.
Published Reviews
Publisher's Weekly Review:
"Carpenter, a former congressional staffer and self-declared "never Trump" conservative, scathingly revisits the 2016 presidential election and first year of Donald Trump's presidency in a convincing attempt to pinpoint the methods behind Trump's rise to power. Calling the methods gaslighting, after Patrick Hamilton's 1938 melodrama Gas Light, in which a man's lies gradually convince his wife that she is going insane, Carpenter identifies five distinct gaslighting steps: "stake a claim"; "advance and deny"; "create suspense" by announcing forthcoming evidence; "discredit the opponent" with personal attacks; and "win" by self-proclamation. The author uses a plethora of examples to build her case, from Trump's famous public questioning of the authenticity of Barack Obama's birth certificate, to a personally relevant episode in which Trump and his campaign pushed an unsubstantiated National Enquirer story rumoring an affair between Carpenter and her former boss, Sen. Ted Cruz. As a counter to these tactics, the author closes with tips to avoid succumbing to Trump's strategy ("try to add some substance to your media diet") and a plea for politicians to take back the narrative with more positive, truthful versions of gaslighting tactics, such as to "get people talking." For right-leaning readers aghast at the current state of politics, Carpenter's book will serve as a beacon of hope. (May) © Copyright PWxyz, LLC. All rights reserved."
(c) Copyright PWxyz, LLC. All rights reserved
Additional Information