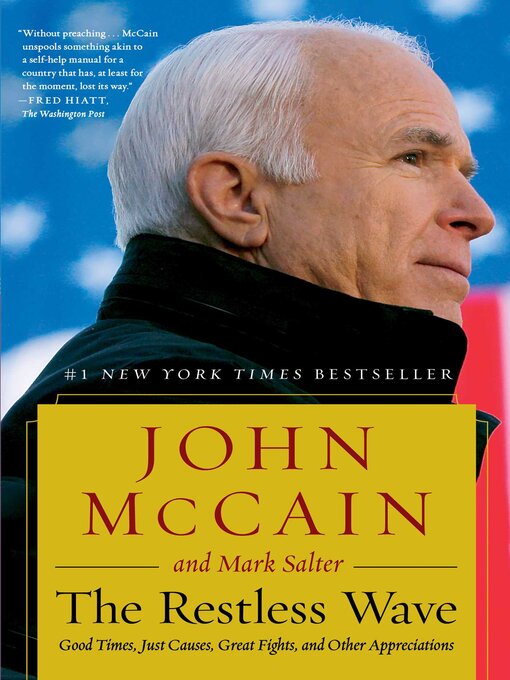 The restless wave good times, hust causes, great fights, and other appreciations
Format:

OverDrive Read

2018.

Adobe EPUB ebook

Kindle Book

Availability:

Available from OverDrive

6 of 8 copies
Summary
#1 NEW YORK TIMES BESTSELLER

"History matters to McCain, and for him America is and was about its promise. The book is his farewell address, a mixture of the personal and the political. 'I have loved my life,' he writes. 'All of it.' The Restless Wave is a fitting valedictory for a man who seldom backed down." -- The Guardian (US)

"A book-length meditation on what it means to face the hard challenges of long life and the sobering likelihood of imminent death...A reflection on hardship, a homily on purpose, a celebration of life -- and a challenge to Americans to live up to their values and founding principles at a time when both are in jeopardy." --The Boston Globe

In this candid political memoir from Senator John McCain, an American hero reflects on his life and what matters most.

"I don't know how much longer I'll be here. Maybe I'll have another five years...Maybe I'll be gone before you read this. My predicament is, well, rather unpredictable. But I'm prepared for either contingency, or at least I'm getting prepared. I have some things I'd like to take care of first, some work that needs finishing, and some people I need to see. And I want to talk to my fellow Americans a little more if I may."

So writes John McCain in this inspiring, moving, frank, and deeply personal memoir. Written while confronting a mortal illness, McCain looks back with appreciation on his years in the Senate, his historic 2008 campaign for the presidency against Barack Obama, and his crusades on behalf of democracy and human rights in Eastern Europe and the Middle East.

Always the fighter, McCain attacks the spurious nationalism and political polarization afflicting American policy. He makes an impassioned case for democratic internationalism and bi-partisanship. He recalls his disagreements with several presidents, and minces no words in his objections to some of President Trump's statements and policies. At the same time, he tells stories of his most satisfying moments of public service and offers a positive vision of America that looks beyond the Trump presidency. The Restless Wave is John McCain at his best.
Published Reviews
Booklist Review:
"In possibly his final book, U.S. Senator McCain, with his longtime staff member and coauthor Salter, writes about his amazing life in public service. He recalls significant events, particularly from his 2008 presidential campaign to the Arab Spring, and profiles some of the incredible people he has encountered. Part memoir, part geopolitical analysis, part demonstration of McCain's belief in American ideals and values, this is a moving testament from a dedicated statesman. His stories of traveling overseas to visit war zones and unstable countries paint a comprehensive narrative of hopeful striving for freedom by oppressed peoples and the tyrants who abuse them. Likewise, stories of cooperation among lawmakers who disagree exemplify McCain's hope for a healthier polity at home, if we are willing to work for it. He also warns of the challenges America faces from abroad and on the domestic front if we are to maintain leadership in the wider world. This book is more than the musings of a politician at the sunset of his career. Though occasionally partisan in tone, it stresses bedrock American principles that transcend the party line. McCain may be the last of his kind, and his words and wisdom deserve our attention. This book will appeal to all reasonable, patriotic Americans, young and old, Republican and Democrat alike. A welcome and timely addition to all nonfiction collections.--James Pekoll Copyright 2018 Booklist"
From Booklist, Copyright (c) American Library Association. Used with permission.
Publisher's Weekly Review:
"In his moving final memoir, written as he battles terminal brain cancer, Arizona senator McCain reflects on his career. Topics include his 2008 presidential campaign, key points in the wars in Iraq and Afghanistan, legislative battles around healthcare and immigration reform, today's fractious political climate, and American values. Known for his leadership on foreign policy issues, McCain shares his views on a range of geopolitical topics, including Vladimir Putin ("the clear and present danger... a murderer and a thug"), the Arab Spring, and President Obama's handling of the chemical weapons attacks in Syria ("a shockingly bad mistake"). Despite flashes of the "straight talk" for which McCain has become known, this book meanders into navel-gazing detail and sometimes skirts meaningful examination. McCain lists President Trump's moral and political failings, but hedges: "I don't know what to make of Trump's convictions," he writes, and "it's hard to know what to expect" from him. McCain is at his best when arguing that America is exceptional because of its "founding conviction" that all people deserve equal rights and because of "our conduct in the world"-the book's most powerful chapter is devoted to rejecting torture. Rather than a response to extraordinary times, this fine memoir reads more like a requiem of a long, patriotic life. (May) © Copyright PWxyz, LLC. All rights reserved."
Additional Information