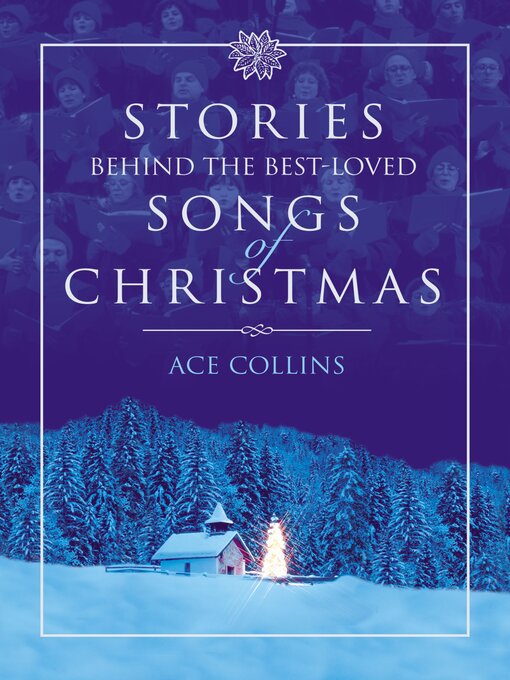 More stories behind the best-loved songs of Christmas
Format:

Kindle Book

2010

2010

Adobe EPUB ebook

OverDrive Read

Availability:

Available from OverDrive

1 of 1 copy
Summary
Ace Collins once again shares his gift of storytelling to bring you more of the hidden stories behind some of our most-loved Christmas songs. You'll discover expressions of faith, prayers for peace, and declarations of joy as you witness the birth and background of each tune. Did you know that "The Little Drummer Boy" was written on the eve of World War II, set aside and forgotten until the war was over? Do you know how Willie Nelson's early struggles are reflected in the lyrics of the popular country song "Pretty Paper"? Did you know we tie the thundering, angelic message of "The Hallelujah Chorus" to a precise moment in history we still honor today? As you travel across the centuries to uncover the deeper meaning of each song, you'll enrich your own connection to this vast celebration of the nativity and the gift of Jesus' birth.

Contents
Handel's hallelujah chorus
Christmas shoes
Let there be peace on earth
Santa Claus is coming to town
O Christmas tree
Thank God for kids
We wish you a merry Christmas
Merry Christmas, darling
Sweet little Jesus boy
Some children see him
Caroling, caroling
The star carol
Come, thou long-expected Jesus
It's beginning to look a lot like Christmas
The Coventry carol
Here comes Santa Claus (right down Santa Claus Lane)
The wassail song
If every day was like Christmas
While shepherds watched their flocks by night
It wasn't his child
Pretty paper
Ave Maria
Christmas in the country
Come and see what's happening in the barn
Carol of the bells
Little drummer boy
I saw three ships
We need a little Christmas
Blue Christmas
C-H-R-I-S-T-M-A-S
Auld lang syne/Christmas auld lang syne.
Published Reviews
Booklist Review:
"Collins is an ace at song history, dispensing compendiums of song backstories that are nothing if not tasty--quite a feat, given the saccharinity of popular-music commentators in general. His custom is to tell how a song came to be written and popularized, capping the resultant article with a snippet about its commercial track record, if appropriate; quite often in this book, it isn't. Many a Christmas song peaked in popularity long before Bing Crosby or Judy Garland could have had a first-time chart-topper with them. Of course, Bing did make "Silver Bells" a hit, Judy scored with "Have Yourself a Merry Little Christmas," and Collins is fully in his element with those and other twentieth-century entrants into the Christmas canon. Not that he doesn't tell a good tale about each of the 31 entries in this book. It's just that, with the old songs, he can't impart facts such as the one he drops about "Silver Bells" --to wit, as Der Bingle moaned about many other things, Hope did it first. --Ray Olson"
From Booklist, Copyright (c) American Library Association. Used with permission.
Publisher's Weekly Review:
"This year, at least three different titles explore the origins of well-known Christmas carols. Ace Collins's Stories Behind the Best-Loved Songs of Christmas takes on more than 30 popular songs and hymns, from classics such as "O Holy Night" and "Angels We Have Heard on High" to the contemporary Christian hit "Mary, Did You Know?" Secular numbers such as "Jingle Bells" and "Rudolph the Red-Nosed Reindeer" also get their due in this attractively designed gift book. (Oct.) (c) Copyright PWxyz, LLC. All rights reserved"
(c) Copyright PWxyz, LLC. All rights reserved
Additional Information