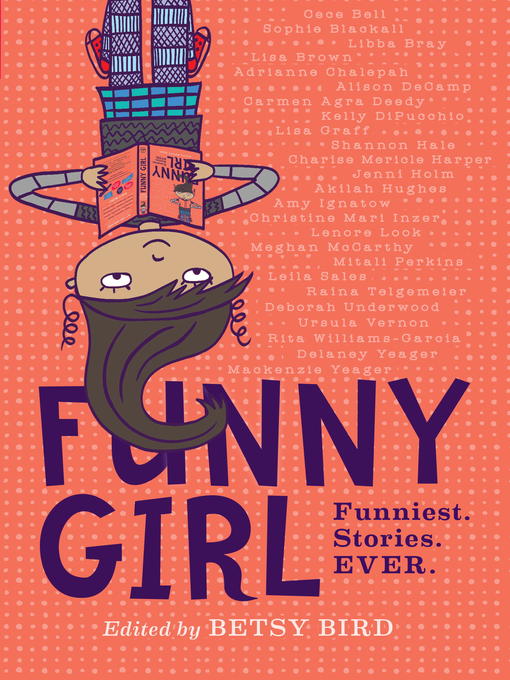 Funny girl funniest. stories. ever.
Format:

Kindle Book

2017

2017

Adobe EPUB ebook

OverDrive Read

Availability:

Unavailable

0 of 3 copies
5 people on waitlist
Summary
Presents a collection of humorous stories from over two dozen contemporary female writers, as well as autobiographical essays, comics, poems, and comic strips.

Contents
How to tell a joke / Delaney Yeager and Mackenzie Yeager
In which young Raina learns a lesson / Raina Telgemeier
Dear grandpa: give me money / Alison DeCamp
Grandma in oil country: a true story / Ursula Vernon
One hot mess / Carmen Agra Deedy
Fleamail / Deborah Underwood
A most serious recitation of the poem "Trees" / Cece Bell
Things could be verse / Kelly DiPucchio
Swimming is for other kids / Akilah Hughes
Dear Bella and Rover / Deborah Underwood
The thumb incident / Meghan McCarthy
Desdemona and Sparks go all in / Rita Williams-Garcia and Michelle Garcia
7 things I throught were (think are) funny but were really kind of sad, and that all happened to my little brother / Lisa Brown
Babysitting nightmare / Shannon Hale
Dar Bella and Rover (again) / Deborah Underwood
Can we talk about whiskers? / Jennifer L. Holm, art by Matthew Holm
Brown girl pop quiz: all of the above / Mitali Perkins
Over and out / Lisa Graff
Doodle / Amy Ignatow
Fleamail pawed-cast / Deborah Underwood
How to play imaginary games / Leila Sales
Great expectations / Christine Mari Unzer
A public service announcement about your period from Sarah T. Wrigly, age 12 3/4 / Libba Bray
The smart girl's guide to the Chinese zodiac / Lenore Look
Bad luck dress / Charise Mericle Harper
The world's most awkward mermaid / Sophie Blackall
Tell your future with Mad Libs
My life being funny (and how you can do it, too) / Adrianne Chalepah.
Published Reviews
Booklist Review:
"In this testament to female funniness, librarian-­book blogger Bird (Wild Things! Acts of Mischief in Children's Literature, 2014) culls short stories, personal essays, and bite-size comics from a diverse array of creators, including celebrated author-illustrators (Raina Telgemeier), best-sellers (Kelly DiPucchio), stand-up comedians (Adrianne Chalepah), and TV writers (Delaney and Mackenzie Yeager). Designed to introduce youngsters to laugh-out-loud ladies, a historically underrepresented niche in kids' lit, this anthology covers everything from race (Mitali Perkins' Brown Girl Pop Quiz: All of the Above) and burning bathtubs (Carmen Agra Deedy's One Hot Mess) to champion bird-calling (Rita Williams-Garcia and Michelle Garcia's Desdemona and Sparks Go All In). While playful potential activities, including Mad Libs and Leila Sales' How to Play Imaginary Games, keep things interactive, the collection's tender tidbits of advice, particularly Libba Bray's take on first periods, truly stand out. As these ladies prove, with positivity, pluck, and a dash of hindsight, you can find humor just about anywhere. Hilarious and heartfelt, this won't only appeal to funny girls and boys, it'll inspire them.--Shemroske, Briana Copyright 2017 Booklist"
From Booklist, Copyright (c) American Library Association. Used with permission.
Publisher's Weekly Review:
"In this winningly diverse collection edited by librarian and author Bird (Wild Things! Acts of Mischief in Children's Literature), readers can sample highly entertaining entries from more than two dozen contemporary female writers, including Cece Bell, Libba Bray, Lisa Graff, Mitali Perkins, Ursula Vernon, and Rita Williams-Garcia. The short contributions burst with self-deprecating humor regarding friends, families, and the awkwardness of growing up, and they come in all formats, including short stories, exchanged letters, comics, verse, and magazine-style quizzes. Several writers mine real-life embarrassments for material: YouTuber Akilah Hughes recounts a traumatic bikini-related "wardrobe malfunction" ("My best life will be lived warm and dry, away from parties, fun, and freshman boys); Meghan McCarthy recalls stapling her own thumb at school, an injury no one seemed to know how to handle; and Adrianne Chalepah closes the collection with an instructive essay that offers advice applicable to these and other situations: "Have an unshakable sense of confidence. Even when you're literally bleeding." It's certain to fit the bill for just about any child looking for a good laugh or 20. Ages 8-12. Agent: Stephen Barbara, Inkwell Management. (May) © Copyright PWxyz, LLC. All rights reserved."
(c) Copyright PWxyz, LLC. All rights reserved
Additional Information