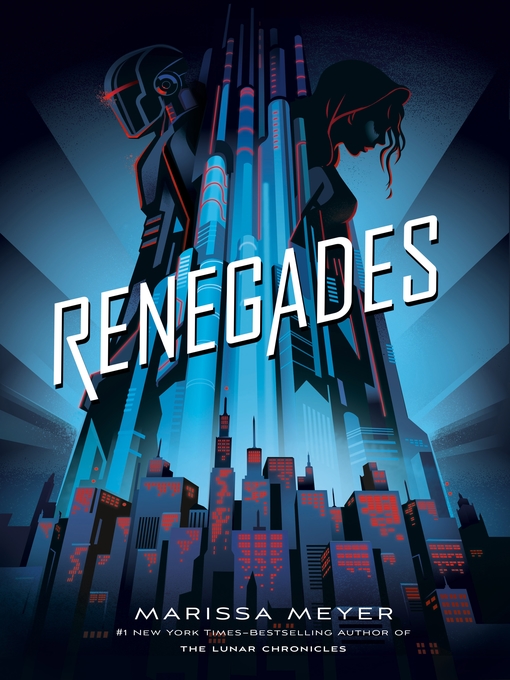 Renegades
Format:

OverDrive Read

2017.

Adobe EPUB ebook

Kindle Book

Availability:

Available from OverDrive

3 of 6 copies
1 person on waitlist
Summary
NOW A NEW YORK TIMES BESTSELLER!

From #1 New York Times -bestselling author Marissa Meyer, comes a high-stakes world of adventure, passion, danger, and betrayal.
Secret Identities.
Extraordinary Powers.
She wants vengeance. He wants justice.
The Renegades are a syndicate of prodigies--humans with extraordinary abilities--who emerged from the ruins of a crumbled society and established peace and order where chaos reigned. As champions of justice, they remain a symbol of hope and courage to everyone...except the villains they once overthrew.
Nova has a reason to hate the Renegades, and she is on a mission for vengeance. As she gets closer to her target, she meets Adrian, a Renegade boy who believes in justice--and in Nova. But Nova's allegiance is to the villains who have the power to end them both.
Published Reviews
Booklist Review:
"Nova Artino believed the good guy superheroes, known as the Renegades, would save her family from an unknown assassin; but at the end of the day, her parents and younger sister are dead, and she's no longer a fan. Her uncle, a villain in this futuristic society with a good number of supernaturally talented people, takes her in, and Nova discovers her own talent, becoming Nightmare. Her goal: to infiltrate the Renegades and bring them down. She just doesn't count on a surprising reluctance to kill people. This series opener establishes the central question of what makes someone good or bad, and whether the distinction is just a matter of perspective. The Renegades represent the rule of law, but their methods are sometimes suspect, while the anarchists see a society weakened by dependence on superheroes. It is a timely, thought-provoking, discussion-worthy premise wrapped in a narrative bogged down in too much description and explanation though the author's skills are apparent. For another reflective hero and action story, try Michael Carroll's Quantum Prophecy series. HIGH-DEMAND BACKSTORY: As the best-selling author of the Lunar Chronicles, Meyer comes with a legion of superfans ready to battle for her new releases.--Welch, Cindy Copyright 2017 Booklist"
From Booklist, Copyright (c) American Library Association. Used with permission.
Publisher's Weekly Review:
"The night that Nova's parents and infant sister were murdered, the Renegades-superheroes who protect her city-never came to save the day. Ten years later, the time has come for 16-year-old Nova to infiltrate the Renegades and exact her revenge: her power to induce sleep has been honed by the Anarchists, the so-called villains of her world. In a vividly dark and fully imagined universe where special abilities are feared unless they can be strictly controlled and labeled, Meyer (the Lunar Chronicles) celebrates and subverts popular superhero tropes while mining the gray area between malevolence and virtue. Third-person narration builds suspense as it shifts between Nova and Adrian, a Renegade with his own secrets; the worldbuilding details and many combat sequences will captivate devotees of superhero comics. Beyond the capes and masks is a strikingly grounded story of star-crossed would-be lovers, deception, and the recognition that most of humanity exists between the extremes of good and evil. A twist ending casts doubt on a key aspect of the story's history and leaves the door open for future exploration. Ages 12-up. Agent: Jill Grinberg, Jill Grinberg Literary Management. (Nov.) © Copyright PWxyz, LLC. All rights reserved."
(c) Copyright PWxyz, LLC. All rights reserved
Additional Information