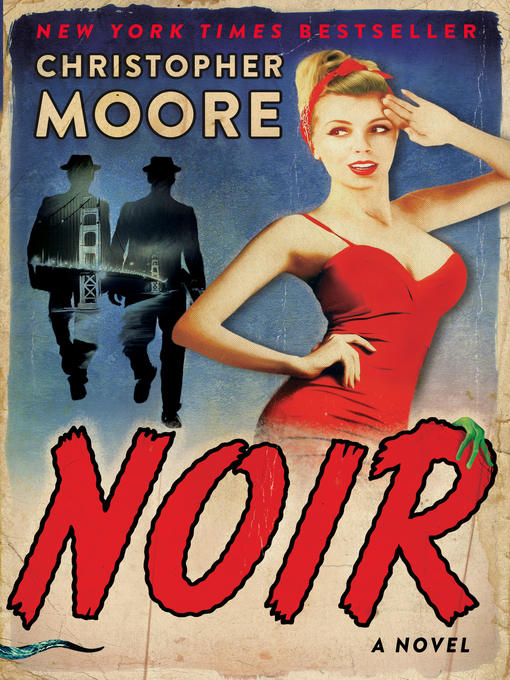 Noir a novel
Format:

Kindle Book

2018

2018

Adobe EPUB ebook

OverDrive Read

Availability:

Unavailable

0 of 3 copies
Summary
"From repeat New York Times bestselling author Christopher Moore comes a brand new standalone novel set on the mean streets of San Francisco in the aftermath of World War II. Absurdly outrageous, sarcastically satiric, always entertaining--Christopher Moore is back!"--

Published Reviews
Booklist Review:
"*Starred Review* San Francisco, 1947. Bartender Sammy Tiffin falls head-over-heels in love with a beautiful girl named Stilton (like, she explains, the cheese). Sammy's boss, the revolting Sal Gabelli, is working on a special project for an Air Force muckety-muck that involves Sammy rounding up wholesome girls and hooking them up with members of the powerful Bohemian Club. Through no fault of Sammy's, Stilton or, as Sammy affectionately calls her, the Cheese winds up in serious danger, and Sammy is prepared to wreak whatever havoc is necessary to save her. That's the bare-bones story of Moore's weird and oddly hilarious new novel, which also features sunglasses-wearing government agents, a rogue black mamba snake, a helpful madam, and a mysterious object that fell out of the sky in a place called Roswell. This isn't just a spoof of the kind of noir that Thompson, Cain, and Goodis were writing in the 1940s and '50s; hiding behind those trappings is a pedal-to-the-metal, exquisitely written comic romp through a neon-lit San Francisco that may never have actually existed, but that, in Moore's supremely talented hands, sure feels like it could have. The scene in the diner, where the Cheese and her pal call out food orders, is by itself funny enough to have you snorting in public. So beware: you probably won't get through this one without making a fool of yourself.--Pitt, David Copyright 2018 Booklist"
From Booklist, Copyright (c) American Library Association. Used with permission.
Publisher's Weekly Review:
"Bestseller Moore (Secondhand Souls) spoofs hard-boiled detective fiction in this irreverent send-up set in 1947 San Francisco. One evening, a dame named Stilton, who has "the kind of legs that kept her butt from resting on her shoes," walks into Sal's Saloon, where she meets bartender Sammy "Two-Toes" Tiffin. Sammy soon falls madly in love with Stilton, and then she disappears. Meanwhile, Sal Gabelli, the saloon's proprietor, orders Sammy to provide a bevy of broads for an Air Force general in command of a base in Roswell, N.Mex., who needs the women for an event at the Bohemian Club camp in redwood country. Sammy's subsequent discovery of Sal's snake-bitten corpse in the stock room and the arrival of men in black suits wearing sunglasses complicate matters. From there, things just get stranger in this work that puts an amusing spin on the noir subgenre. An author's note gives fair warning of the characters' era-appropriate language and attitudes, which may be disturbing to some readers. Agent: Lisa Gallagher, DeFiore and Co. (Apr.) © Copyright PWxyz, LLC. All rights reserved."
(c) Copyright PWxyz, LLC. All rights reserved
Additional Information