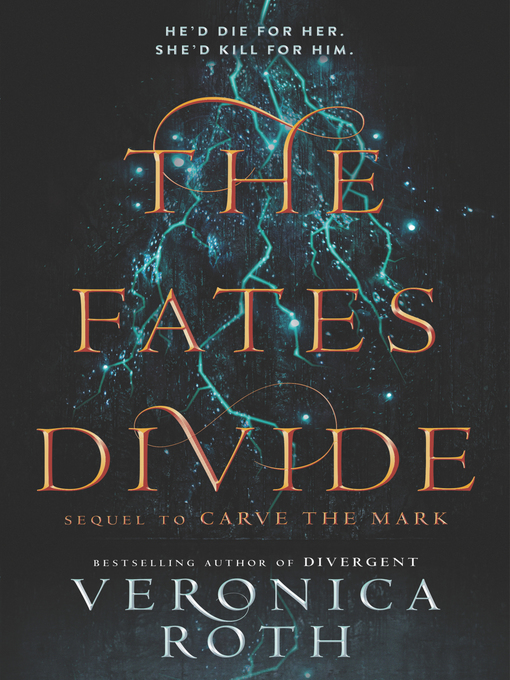 The fates divide
Format:

OverDrive Read

2018.

Adobe EPUB ebook

Kindle Book

Availability:

Unavailable

0 of 6 copies
9 people on waitlist
Summary
#1 New York Times Bestseller!
In the second book of the Carve the Mark duology, globally bestselling Divergent author Veronica Roth reveals how Cyra and Akos fulfill their fates. The Fates Divide is a richly imagined tale of hope and resilience told in four stunning perspectives.
The lives of Cyra Noavek and Akos Kereseth are ruled by their fates, spoken by the oracles at their births. The fates, once determined, are inescapable.
Akos is in love with Cyra, in spite of his fate: He will die in service to Cyra's family. And when Cyra's father, Lazmet Noavek--a soulless tyrant, thought to be dead--reclaims the Shotet throne, Akos believes his end is closer than ever.
As Lazmet ignites a barbaric war, Cyra and Akos are desperate to stop him at any cost. For Cyra, that could mean taking the life of the man who may--or may not--be her father. For Akos, it could mean giving his own. In a stunning twist, the two will discover how fate defines their lives in ways most unexpected.
Praise for Carve the Mark:
#1 New York Times bestseller * Wall Street Journal bestseller * USA Today bestseller * #1 IndieBound bestseller
"Roth skillfully weaves the careful world-building and intricate web of characters that distinguished Divergent." --VOYA (starred review)
"Roth offers a richly imagined, often brutal world of political intrigue and adventure, with a slow-burning romance at its core." --ALA Booklist
Published Reviews
Booklist Review:
"After their daring escape at the end of Carve the Mark (2016), Cyra and Akos find themselves in a complicated situation. Ryzek is dead; his final act of cruelty stoked even further conflict with the Thuvhesit; and the resulting power vacuum and instability are opportunities wealthier, more influential civilizations are eager to capitalize on. Cyra and Akos, meanwhile, are in exile on a planet shrouded in darkness, trying to figure out their blossoming relationship as well as their own responsibilities as violence and interplanetary conflict loom ever closer. The expansive world Roth introduced in the series opener gets even bigger in this sequel, with a bevy of additional characters, deepened secrets, and complex interplanetary politics coming into play. Even for readers of the first book, it's a lot to keep track of and occasionally dilutes the overall plot arc, but Roth's fans will be eager for a conclusion to Cyra and Akos' story, and with neatly tied up loose ends by the finish, they are likely to be satisfied.--Hunter, Sarah Copyright 2018 Booklist"
From Booklist, Copyright (c) American Library Association. Used with permission.
Additional Information