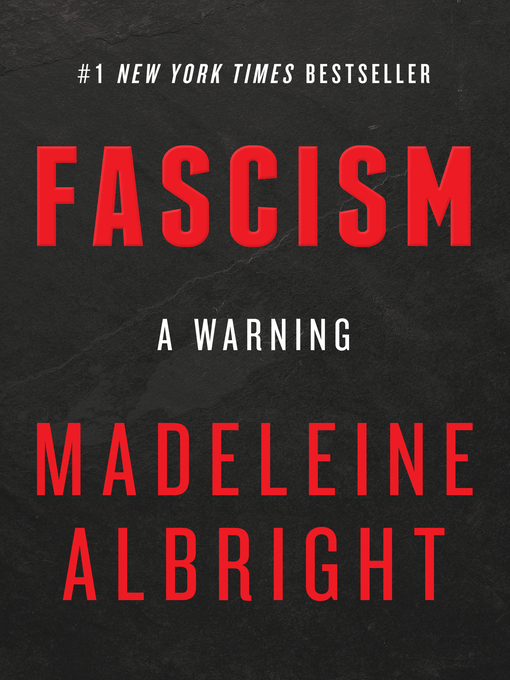 Fascism a warning
Format:

OverDrive Read

2018.

Adobe EPUB ebook

Kindle Book

Availability:

Unavailable

0 of 8 copies
2 people on waitlist
Summary
#1 New York Times Bestseller
Best Books of 2018 --The Economist
A personal and urgent examination of Fascism in the twentieth century and how its legacy shapes today's world, written by one of America's most admired public servants, the first woman to serve as U.S. secretary of state
A Fascist, observes Madeleine Albright, "is someone who claims to speak for a whole nation or group, is utterly unconcerned with the rights of others, and is willing to use violence and whatever other means are necessary to achieve the goals he or she might have."
The twentieth century was defined by the clash between democracy and Fascism, a struggle that created uncertainty about the survival of human freedom and left millions dead. Given the horrors of that experience, one might expect the world to reject the spiritual successors to Hitler and Mussolini should they arise in our era. In Fascism: A Warning, Madeleine Albright draws on her experiences as a child in war-torn Europe and her distinguished career as a diplomat to question that assumption.
Fascism, as she shows, not only endured through the twentieth century but now presents a more virulent threat to peace and justice than at any time since the end of World War II. The momentum toward democracy that swept the world when the Berlin Wall fell has gone into reverse. The United States, which historically championed the free world, is led by a president who exacerbates division and heaps scorn on democratic institutions. In many countries, economic, technological, and cultural factors are weakening the political center and empowering the extremes of right and left. Contemporary leaders such as Vladimir Putin and Kim Jong-un are employing many of the tactics used by Fascists in the 1920s and 30s.
Fascism: A Warning is a book for our times that is relevant to all times. Written by someone who has not only studied history but helped to shape it, this call to arms teaches us the lessons we must understand and the questions we must answer if we are to save ourselves from repeating the tragic errors of the past.
Contents
A doctrine of anger and fear
The greatest show on earth
"We want to be barbarians"
"Close your hearts to pity"
Victory of the Caesars
The fall
Dictatorship of democracy
"There are a lot of bodies up there"
A difficult art
President for life
Erdoğan the magnificent
Man from the KGB
"We are who we were"
"The leader will always be with us"
President of the United States
Bad dreams
The right questions.
Published Reviews
Booklist Review:
"*Starred Review* The founders of fascism Mussolini, Hitler, and Stalin and fascism's current practitioners Kim Jong-un, Vladimir Putin, and Recep Erdogan are profiled in former secretary of state and author Albright's (Prague Winter, 2012) cautionary primer on what democracy's antithesis looks like. Fascism is a term that is not easily nor universally defined, filtered, as it is, through the lens of personal biases and animosities. How, then, does one recognize fascism, and why is it important to do so now? Albright is forthright in stating that one reason is Donald Trump, and although her regime-by-regime analysis of fascism's genesis and evolution is not a de facto indictment of the current administration, it is a call to pay attention to the changes in America's national discourse and global standing under the Trump administration. Having fled both Hitler's Germany and Czechoslovakia's Communist uprising as a child, Albright's acquaintance with fascism is practically a part of her DNA. With America's global standing now downgraded from full democracy to flawed democracy by the Economist Intelligence Unit, this is no time for complacency. Albright outlines the warning signs of fascism and offers concrete actions for restoring America's values and reputation. There is priceless wisdom on every page.--Haggas, Carol Copyright 2018 Booklist"
From Booklist, Copyright (c) American Library Association. Used with permission.
Publisher's Weekly Review:
"Yes, it can happen here-and in other countries-according to Albright's far-ranging exploration of the history and latter-day prospects of fascism. The Georgetown professor and former Clinton secretary of state identifies various characteristics of fascism, including hypernationalism and populism mixed with authoritarian-leaning rule, militarism, contempt for democratic customs, persecution of minority populations, a dread of disorder and decadence, charismatic leaders, and public spectacles. After probing accounts of the fascist models of Mussolini's Italy and Hitler's Germany, she finds that toxic brew in present-day Venezuela, Turkey, Hungary, Poland, Russia, North Korea, and right-wing parties generally. And then, she writes, there's Donald Trump, "the first anti-democratic president in modern U.S. history," whose bluster, "paranoid bigotry" against Muslims and immigrants, America-firstism, and rhetorical attacks on the press and judiciary set a fascistic example for world leaders and abdicate America's role as global protector of democracy. Albright's incisive analyses are enriched by her experiences as a refugee from Nazi-occupied Czechoslovakia-her Jewish grandmother died in a concentration camp-and as America's diplomat-in-chief; her vivid sketch of a surprisingly rational Kim Jong-Il anchors a sharp critique of Trump's erratic approach to North Korea. Albright sometimes paints with too broad a brush in conceptualizing fascism, but she offers cogent insights on worrisome political trends. (Apr.) © Copyright PWxyz, LLC. All rights reserved."
(c) Copyright PWxyz, LLC. All rights reserved
Additional Information
Subjects
Fascism -- History.
Electronic books.

Publisher

[Place of publication not identified] :HarperCollins2018.



Contributors
Woodward, William, 1951- author.
OverDrive, Inc.

Language

English



System Details

Mode of access: World Wide Web.




Format: Adobe EPUB eBook




Format: Kindle Book




Format: OverDrive Read




Requires Adobe Digital Editions or Amazon Kindle



Description

1 online resource



Bibliography Notes

Includes bibliographical references (pages 375-397).



ISBN
9780062802231
9780062802231

Other
Classic View