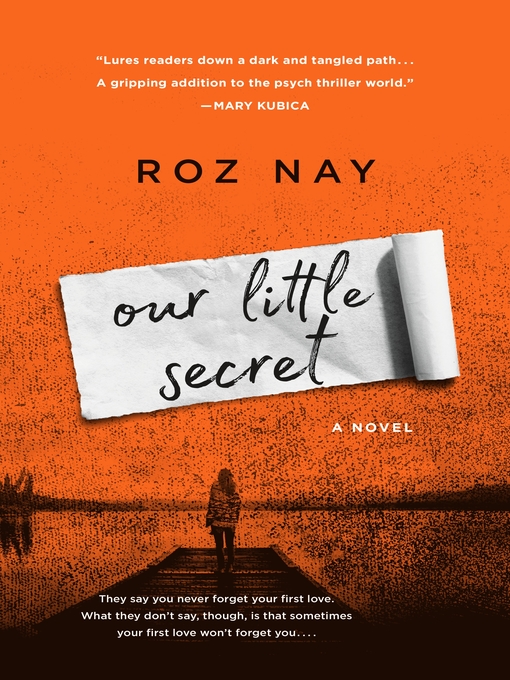 Our little secret a novel
Format:

OverDrive Read

2018.

Adobe EPUB ebook

Kindle Book

Availability:

Available from OverDrive

3 of 5 copies
Summary
THE INTERNATIONALLY BESTSELLING PSYCHOLOGICAL SUSPENSE NOVEL YOU CAN'T MISS...

"A cracking read... Our Little Secret builds to a deliciously dark conclusion." --Ruth Ware, New York Times bestselling author of The Woman in Cabin 10
Roz Nay's Our Little Secret is a twisted tale of love, pain, and revenge that will stay with the reader long after they turn the last page.
They say you never forget your first love. What they don't say though, is that sometimes your first love won't forget you...
Angela Petitjean sits in a cold, dull room. The police have been interrogating her for hours, asking about Saskia Parker. She's the wife of Angela's high school sweetheart, HP, and the mother of his child. She has vanished. Homicide Detective J. Novak believes Angela knows what happened to Saskia. He wants the truth, and he wants it now.
But Angela has a different story to tell. It began more than a decade ago when she and HP met in high school in Cove, Vermont. She was an awkward, shy teenager. He was a popular athlete. They became friends, fell in love, and dated senior year. Everything changed when Angela went to college. When time and distance separated them. When Saskia entered the picture.
That was eight years ago. HP foolishly married a drama queen and Angela moved on with her life. Whatever marital rift caused Saskia to leave her husband has nothing to do with Angela. Nothing at all. Detective Novak needs to stop asking questions and listen to what Angela is telling him. And once he understands everything, he'll have the truth he so desperately wants...
Published Reviews
Booklist Review:
"*Starred Review* Angela Petitjean realizes that she's a suspect in the disappearance of her first love's wife, Saskia Parker, during a prolonged interrogation by Detective J. Novak. In response to Novak's prods, Angela agrees to tell him everything she knows about both the victim, HP, and his wife, but only on her own terms. Taking the story back 15 years, Angela slowly reveals her romance with HP, which began during their senior year of high school; the betrayals that tore her and HP apart; and the recent months during which she had lived with HP and Saskia in the couple's lakeside cottage. Saskia, Angela asserts, is a cunning liar and manipulator who's probably left HP behind without a backward glance. But Novak isn't buying Angela's story, challenging her version of events until THE narrative evolves into a clever psychological duel. Is Angela a calculating killer or a pitiable woman scorned who is being framed by her rival? A sneaky-smart, charismatic debut that will win fans among those who enjoy the kind of duplicitous and deliciously complex psychological suspense written by Ruth Ware, Sophie Hannah, and Erin Kelly.--Tran, Christine Copyright 2018 Booklist"
From Booklist, Copyright (c) American Library Association. Used with permission.
Publisher's Weekly Review:
"How does Angela Petitjean, the narrator of Nay's captivating if contrived debut, go from being the pride of Cove, Vt., with a place waiting at Oxford University, to just eight years later a person of interest being grilled by police in her hometown about the disappearance of Saskia Parker, a vivacious young wife and mother? That's the twisty tale that emerges, gradually, over the course of Angela's marathon interrogation. Warming despite herself to the undivided attention of Det. J. Novak, the normally private Angela slowly embraces the opportunity to open up about her one great love-with high school golden boy and, as she sees it, soulmate, Hamish Parker, before a brash Australian force of nature named Saskia entered the picture. Though Nay's inexperience shows in the stagy set-up, which amounts to almost an extended monologue, and a couple of key players who don't rise above caricature-like Freddy Montgomery, the hopeless smitten and conveniently rich Oxford swain-it's an arresting, perhaps unbelievable story that Angela spins. Nay is a writer to watch. Agent: Carolyn Forde, Westwood Creative Artists. (Apr.) © Copyright PWxyz, LLC. All rights reserved."
(c) Copyright PWxyz, LLC. All rights reserved
Additional Information