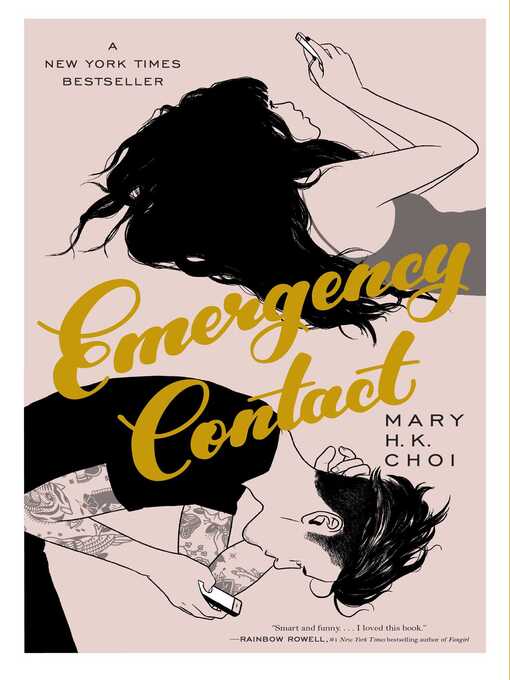 Emergency contact
Format:

OverDrive Read

2018.

Adobe EPUB ebook

Kindle Book

Availability:

Unavailable

0 of 5 copies
Summary
"Smart and funny, with characters so real and vulnerable, you want to send them care packages. I loved this book." --Rainbow Rowell

From debut author Mary H.K. Choi comes a compulsively readable novel that shows young love in all its awkward glory--perfect for fans of Eleanor & Park and To All the Boys I've Loved Before .

For Penny Lee high school was a total nonevent. Her friends were okay, her grades were fine, and while she somehow managed to land a boyfriend, he doesn't actually know anything about her. When Penny heads to college in Austin, Texas, to learn how to become a writer, it's seventy-nine miles and a zillion light years away from everything she can't wait to leave behind.

Sam's stuck. Literally, figuratively, emotionally, financially. He works at a café and sleeps there too, on a mattress on the floor of an empty storage room upstairs. He knows that this is the god-awful chapter of his life that will serve as inspiration for when he's a famous movie director but right this second the seventeen bucks in his checking account and his dying laptop are really testing him.

When Sam and Penny cross paths it's less meet-cute and more a collision of unbearable awkwardness. Still, they swap numbers and stay in touch--via text--and soon become digitally inseparable, sharing their deepest anxieties and secret dreams without the humiliating weirdness of having to see each other.
Published Reviews
Booklist Review:
"The University of Texas in Austin is just an hour's drive from Penny's home, but it's far enough to give college-freshman Penny much-needed distance. Penny is a bright and quirky thinker who has become accustomed to hiding her true self behind glaring scowls and dark clothes. But she unexpectedly makes a connection with Sam, a fellow brooding soul who manages a coffee shop. Sam has a rugged past, revealed in alternating chapters from his perspective. At 19, he is recovering from a devastating heartbreak and an unhealthy dependence on alcohol. Penny and Sam begin a relationship that initially consists solely of impromptu text messages. It's not an obvious path to romance, despite their mutual attraction, but allows them the freedom and safety to be themselves. Penny's chapters are particularly engaging. The many facets that shape her character, such as her Korean heritage, her social awkwardness, and her love of science fiction writing, come togetherauthentically. Readers who enjoyed the unorthodox evolution of romance in Nicola Yoon's Everything, Everything (2015) will like this debut novel.--Colson, Diane Copyright 2018 Booklist"
From Booklist, Copyright (c) American Library Association. Used with permission.
Publisher's Weekly Review:
"Unlike her flirtatious Korean mother, Penny Lee doesn't have much of a social life, but she hopes that things will change when she goes off to college in Austin, Tex., to pursue becoming a writer. She soon meets Sam, her roommate's 21-year-old uncle, a college dropout and talented baker who works (and lives) at a local coffee house. They barely know each other, but, after Penny catches Sam in a vulnerable moment (he thinks he's having a heart attack but is actually suffering from anxiety) they agree to be each other's emergency contacts. Soon, they are exchanging texts and sharing secrets they've never divulged. In her first novel, writer and reporter Choi sensitively shows the evolution of two lonely, complicated people who slowly emerge from their shells to risk an intimate relationship. Her sharp wit and skillful character development (of Penny's mother: "in jeans and a faded T-shirt that read Slay Hunty, Celeste resembled an incoming freshman as much as Penny did") ensure that readers will feel that they know Penny and Sam inside and out before the gratifying conclusion. Ages 14-up. Agent: Edward Orloff, McCormick Literary. (Mar.) © Copyright PWxyz, LLC. All rights reserved."
(c) Copyright PWxyz, LLC. All rights reserved
Additional Information