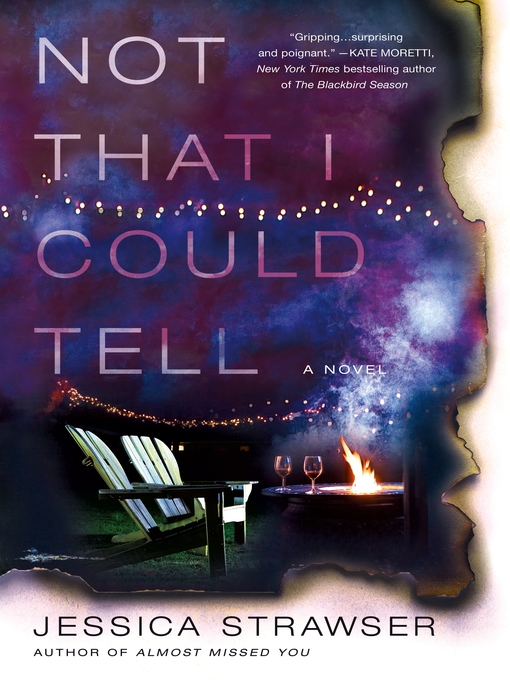 Not that I could tell
Format:

OverDrive Read

2018.

Adobe EPUB ebook

Kindle Book

Availability:

Unavailable

0 of 17 copies
4 people on waitlist
Summary
"Full of slow-burning intrigue, Strawser's second novel will appeal to fans of Liane Moriarty's Big Little Lies and Jennifer Kitses' Small Hours ." -- Booklist

*Book of the Month Club Selection

An innocent night of fun takes a shocking turn in Not That I Could Tell , the next page-turner from Jessica Strawser, author of Almost Missed You .
When a group of neighborhood women gathers, wine in hand, around a fire pit where their backyards meet one Saturday night, most of them are just ecstatic to have discovered that their baby monitors reach that far. It's a rare kid-free night, and they're giddy with it. They drink too much, and the conversation turns personal.
By Monday morning, one of them is gone.
Everyone knows something about everyone else in the quirky small Ohio town of Yellow Springs, but no one can make sense of the disappearance. Kristin was a sociable twin mom, college administrator, and doctor's wife who didn't seem all that bothered by her impending divorce--and the investigation turns up more questions than answers, with her husband, Paul, at the center. For her closest neighbor, Clara, the incident triggers memories she thought she'd put behind her--and when she's unable to extract herself from the widening circle of scrutiny, her own suspicions quickly grow. But the neighborhood's newest addition, Izzy, is determined not to jump to any conclusions--especially since she's dealing with a crisis of her own.
As the police investigation goes from a media circus to a cold case, the neighbors are forced to reexamine what's going on behind their own closed doors--and to ask how well anyone really knows anyone else.
Published Reviews
Booklist Review:
"Yellow Springs, Ohio, was a close-knit town, and Clara's neighborhood was more closely knit than most. Kids roamed around, last-minute dinner invitations flowed freely, and doors were largely left unlocked. When Clara invited her neighbors over to help christen the new fire pit in her backyard, they figured a few glasses of wine and some local gossip would be shared. They never expected that Kristen, a doctor's wife, and her twin children would be missing by the next morning. Now the neighborhood is wrapped up in the mystery, and Clara's reliving memories she tried hard to forget. Full of slow-burning intrigue, Strawser's (Almost Missed You, 2017) second novel will appeal to fans of Liane Moriarty's Big Little Lies (2014) and Jennifer Kitses' Small Hours (2017). With the same ripped-from-the-headlines feel as her first, this novel is narrated by an ensemble of women, giving readers a variety of perspectives on the disappearance. Strawser does readers an additional service by focusing on the nuanced realities of domestic violence rather than merely sensationalizing it for the sake of the plot.--Turza, Stephanie Copyright 2018 Booklist"
From Booklist, Copyright (c) American Library Association. Used with permission.
Publisher's Weekly Review:
"Early in this engrossing domestic thriller from Strawser (Almost Missed You), Kristin Kirkland disappears with her school-age twins. Her soon-to-be ex-husband, Dr. Paul Kirkland, an ob-gyn in Yellow Springs, Ohio, reports them missing. Kristin inherited a $1 million life insurance settlement when her first husband was killed in a tragic boating accident while she was pregnant with the twins. Has she vanished thinking that her money might be depleted in a divorce settlement, or is something more nefarious taking place? A search of Kristin's computer reveals recent visits to websites advising victims of spousal abuse. Paul, already under some suspicion, comes under intense police scrutiny. As the investigation proceeds, women who socialized with Kristin begin to examine their own lives. Short passages threaded throughout the narrative, presumably written by Kristin, reveal the pain in her marriage and her need to escape before she is murdered. The mysteries of whether Paul is culpable, and, if so, how and whether he will be discovered, make for a taut tale. Agent: Barbara Poelle, Irene Goodman Literary. (Mar.) © Copyright PWxyz, LLC. All rights reserved."
(c) Copyright PWxyz, LLC. All rights reserved
Additional Information