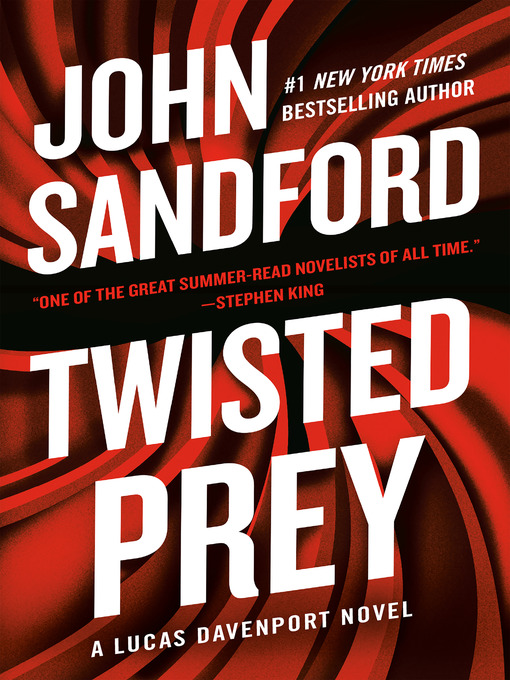 Twisted prey
Format:

OverDrive Read

2018.

Adobe EPUB ebook

Kindle Book

Availability:

Available from OverDrive

16 of 30 copies
Summary
Lucas Davenport confronts an old nemesis, now a powerful U.S. senator, in the thrilling new novel in the #1 New York Times -bestselling Prey series.

Lucas Davenport had crossed paths with her before.

A rich psychopath, Taryn Grant had run successfully for the U.S. Senate, where Lucas had predicted she'd fit right in. He was also convinced that she'd been responsible for three murders, though he'd never been able to prove it. Once a psychopath had gotten that kind of rush, though, he or she often needed another fix, so he figured he might be seeing her again.

He was right. A federal marshal now, with a very wide scope of investigation, he's heard rumors that Grant has found her seat on the Senate intelligence committee, and the contacts she's made from it, to be very...useful. Pinning those rumors down was likely to be just as difficult as before, and considerably more dangerous.

But they had unfinished business, he and Grant. One way or the other, he was going to see it through to the end.
Published Reviews
Booklist Review:
"The last time Lucas Davenport tangled with Taryn Grant, she was running for the U.S. Senate. She eked out a narrow win over an incumbent, Porter Smalls, on the basis of a manufactured child-pornography scandal and a couple of murders, too. Grant is rich, beautiful, smart, and a psychopath. Davenport was with the Minnesota Bureau of Criminal Apprehension back then, and he was unable to tie Grant to the murders. Smalls is now doing all he can to thwart Grant's presidential ambitions, but, while he is on a weekend tryst with a longtime lover, Smalls' car is purposely run off the road. He survives, but his lover doesn't. He's sure Grant is behind the accident and uses his clout to get Davenport, now a U.S. marshal, assigned to investigate. The latest Davenport novel is one of the best in an always-strong series. Given the current geopolitical reality, it's timely, too, and the conclusion is a rockin' didn't see that coming beauty.--Lukowsky, Wes Copyright 2018 Booklist"
From Booklist, Copyright (c) American Library Association. Used with permission.
Publisher's Weekly Review:
"Sandford's 28th Lucas Davenport novel, enhanced by an appropriately gruff narration by Ferrone, pits the lawman against an old foe: the beautiful and wealthy sociopath Senator Taryn Grant. Davenport was unable to stop the three-times murderer from winning her senate seat in Silken Prey (2013). Now, as she sets her sights on the presidency, he's hoping to right that wrong. Assisting him is Senator Porter Smalls, another character from the earlier book, who's at the top of Grant's current hit list. Voice actor Ferrone presents Davenport as hardboiled and unyielding on the job, tender with his family, and relaxed with his pals (like the author's other series lead, Virgil Flowers, who drops by for a cameo). Smalls sounds eager to assist, though understandably nervous and on edge. Grant speaks with almost unrelieved, hissing fury. Assassin Jack Parrish, who works for Grant, is a stoic professional, outwardly unruffled, though a flatness in his delivery suggests he's not amused by the threats and insults she aims at him. Ferrone's reading helps make this outing one of the best of the series. A Putnam hardcover. (Apr.) © Copyright PWxyz, LLC. All rights reserved."
(c) Copyright PWxyz, LLC. All rights reserved
Additional Information