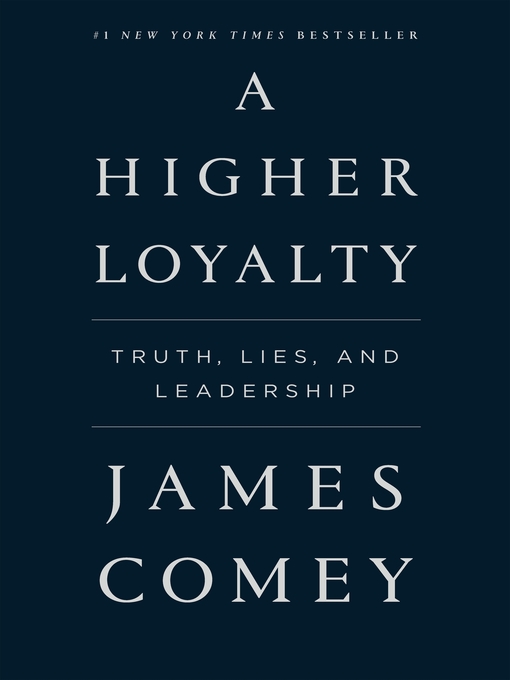 A Higher loyalty truth, lies, and leadership
Format:

OverDrive Read

2018.

Adobe EPUB ebook

Kindle Book

Availability:

Available from OverDrive

57 of 61 copies
Summary
In his book, former FBI director James Comey shares his never-before-told experiences from some of the highest-stakes situations of his career in the past two decades of American government, exploring what good, ethical leadership looks like, and how it drives sound decisions. His journey provides an unprecedented entry into the corridors of power, and a remarkable lesson in what makes an effective leader.
Mr. Comey served as director of the FBI from 2013 to 2017, appointed to the post by President Barack Obama. He previously served as U.S. attorney for the Southern District of New York, and the U.S. deputy attorney general in the administration of President George W. Bush. From prosecuting the Mafia and Martha Stewart to helping change the Bush administration's policies on torture and electronic surveillance, overseeing the Hillary Clinton e-mail investigation as well as ties between the Trump campaign and Russia, Comey has been involved in some of the most consequential cases and policies of recent history.
Published Reviews
Booklist Review:
"*Starred Review* For all the preconceptions readers will bring to this hot-button book, it is, first, an origin story of one of just seven men to lead the FBI for more than 3 years over the bureau's 83-year history. (Comey's predecessor, Robert Mueller, had the second-longest tenure, at 12 years, after J. Edgar Hoover's 37.) Bullied as a new kid in elementary school, and scarred by an armed robbery in his family's home as a teen, Comey would launch his career battling wrongdoers as diverse as the New York Mob, Martha Stewart (insider trading), and future U.S. attorney general Alberto Gonzales (warrantless domestic wiretapping), leading ultimately to the FBI directorship in 2013. Comey clearly lays out the high ethical and moral protocols demanded of those who work at the FBI, but his story is also that of an Everyman trying to keep his head above the swirl of misdeeds committed by those in power who should have done better, from Hillary Clinton's reckless use of an email server to former U.S. attorney general Loretta Lynch's ill-advised meeting with Bill Clinton on that tarmac in Phoenix, Anthony Weiner's sexual predilections, and Donald Trump's unceasing efforts to breach the wall separating the Justice Department from White House influence. Comey's responses to those and other events weren't flawless or even always courageous, as the author candidly, almost painfully admits, but they make this compelling, soul-searching account a reminder of just how difficult yet consequential it is, in these or any other times, to do the right thing.--Moores, Alan Copyright 2010 Booklist"
From Booklist, Copyright (c) American Library Association. Used with permission.
Publisher's Weekly Review:
"The ex-FBI director-whose firing by President Trump, over the FBI's investigation of Russian government interference in the 2016 election, sparked a furor-reopens that case and others in this piercing and candid memoir. Comey revisits conflicts between duty and politics under three presidents: as deputy attorney general, wrangling with the Bush White House over the legality of interrogation procedures such as waterboarding; in a dramatic scene, guarding the hospitalized attorney general John Ashcroft from White House officials' bedside efforts to reauthorize illegal surveillance programs; and overseeing the FBI's probe of Hillary Clinton's emails (he revisits and explains the actions that, it has been claimed, cost her the election). Comey mines his recollections for leadership lessons, with Barack Obama, whom he admires, furnishing the best examples. His damning portrait of Trump, on the other hand, is a study in unethical, off-putting anti-leadership: he likens Trump to a Mafia boss for pressuring him to show personal loyalty and drop the investigation of Trump's national security adviser Michael Flynn, cringes at Trump's defensive and crass denials of claims that he consorted with Russian prostitutes, and "desperately tr[ies] to erase myself from the president's field of vision" at a gathering to avoid Trump's unpleasant schmoozing. This is a troubling and important account of the clash between power and justice. (April) © Copyright PWxyz, LLC. All rights reserved."
Additional Information