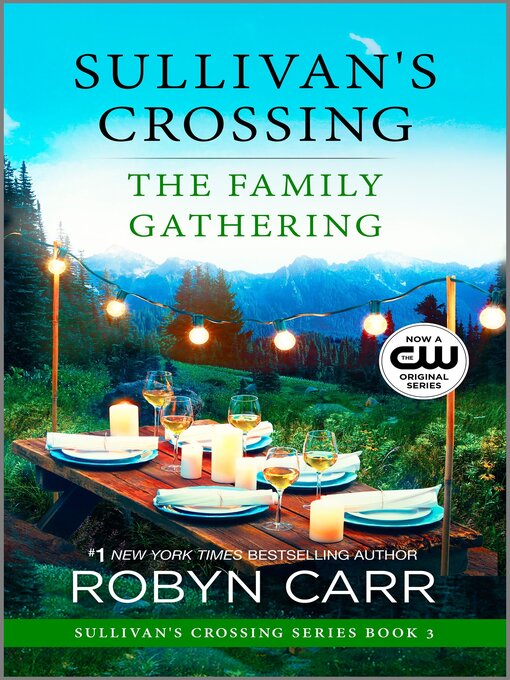 The family gathering
Format:

OverDrive Read

2018.

Adobe EPUB ebook

Kindle Book

Availability:

Available from OverDrive

6 of 20 copies
Summary
An exceptional storyteller, #1 New York Times bestselling author Robyn Carr beautifully captures the emotionally charged, complex dynamics that come with being part of any family. Readers will laugh and shed a few tears as they discover what it means to be loved, supported and accepted by the people who mean the most.

Having left the military, Dakota Jones is at a crossroads in his life. With his elder brother and youngest sister happily settled in Sullivan's Crossing, he shows up hoping to clear his head before moving on to his next adventure. But, like every visitor to the Crossing, he's immediately drawn to the down-to-earth people and the seemingly simple way of life.

Dakota is unprepared for how quickly things get complicated. As a newcomer, he is on everyone's radar--especially the single women in town. While he enjoys the attention at first, he's really only attracted to the one woman who isn't interested. And spending quality time with his siblings is eye-opening. As he gets to know them, he also gets to know himself and what he truly wants.

When all the Jones siblings gather for a family wedding, the four adults are drawn together for the first time in a way they never were as children. As they struggle to accept each other, warts and all, the true nature and strength of their bond is tested. But all of them come to realize that your family are the people who see you for who you really are and love you anyway. And for Dakota, that truth allows him to find the home and family he's always wanted.
Published Reviews
Booklist Review:
"Fans of beloved women's-fiction writer Carr will enjoy spending time with the Jones siblings in the third book in the Sullivan's Crossing series, while readers who have not read What We Find (2016) and Any Day Now (2017) may have trouble connecting to the narrative. The rural Colorado setting is enticing, but natives will find the geography and places visited unrealistic. Still, Carr, as always, creates sympathetic, empathetic characters who deal with difficult problems. Dakota Jones, recently discharged from the U.S. Army, turns up at his brother Cal's home in the Colorado mountains near where his sister, Sierra, lives and finds a job hauling trash. His good looks and magnificent physique attract a couple of women looking for a man and perhaps even willing to go to deranged lengths to secure him. But he becomes interested in bartender Sid, sister of the bar's owner who is hiding out from her own past accomplishments and amazing skills.--Herald, Diana Tixier Copyright 2018 Booklist"
From Booklist, Copyright (c) American Library Association. Used with permission.
Additional Information