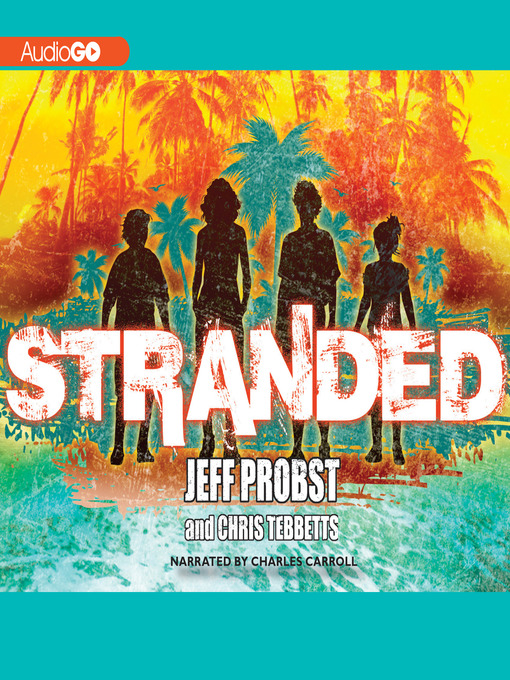 Stranded
Format:

OverDrive MP3 Audiobook

2013

2013

OverDrive Listen

Availability:

Available from OverDrive

1 of 1 copy
Summary
Jane, Buzz, Carter, and Vanessa, aged nine to thirteen, are on a sailing trip in the South Pacific intended to help them bond in their newly-blended family when a massive storm strands them on a deserted island.

Published Reviews
Booklist Review:
"In this first entry to a new adventure series coauthored by Survivor host Probst, four kids are supposed to bond on a sailing trip as part of a newly blended family (Carter and Jane's mother has married Vanessa and Buzz's father). Instead, they end up on their own in the middle of the Pacific. Probst and Tebbetts (coauthor of James Patterson's Middle School books) begin with a bang in the form of thunder as a storm builds and the two adults on the Lucky Star get blown away on the only lifeboat. The kid characters are not indelibly drawn, but their difficulties on the boat and then on an island without water or an easy way to communicate with the outside world are diverting. At book's end, the boat's wreckage and the kids' only shelter has been pulled back into the ocean by the current. With only a few minutes to take supplies from the boat before getting to safety, the kids will no doubt be hunting the island's resources in the series' next installment.--Nolan, Abby Copyright 2010 Booklist"
From Booklist, Copyright (c) American Library Association. Used with permission.
Publisher's Weekly Review:
"When a five-day boat expedition off Hawaii hits an unexpected storm, new stepsiblings Vanessa (13), eleven-year-olds Buzz and Carter, and Jane (9) struggle to stay on course. When they are forced to abandon ship, the kids' uncle and the boat's first mate get aboard the life raft, but the boat is torn away with the four children still inside. They end up stranded on an uncharted island and have to learn to work together. The narration shifts between the perspectives of each of the kids as the true nature of their circumstances become clear and tasks like finding water turn into a struggle for survival. Each character brings a different strength to the table; some are obvious like Carter's knowledge of the outdoors, while others, like the tips couch potato Buzz has gleaned from reality TV (a nod to Survivor, the show hosted by Probst), are revealed with more subtlety. Little distinguishes the voice of one character from another, but the high stakes and novel environment should ensure rapid page-turning. A sequel, Trial by Fire, is due in June. Ages 8-up. (Feb.) © Copyright PWxyz, LLC. All rights reserved."
Additional Information