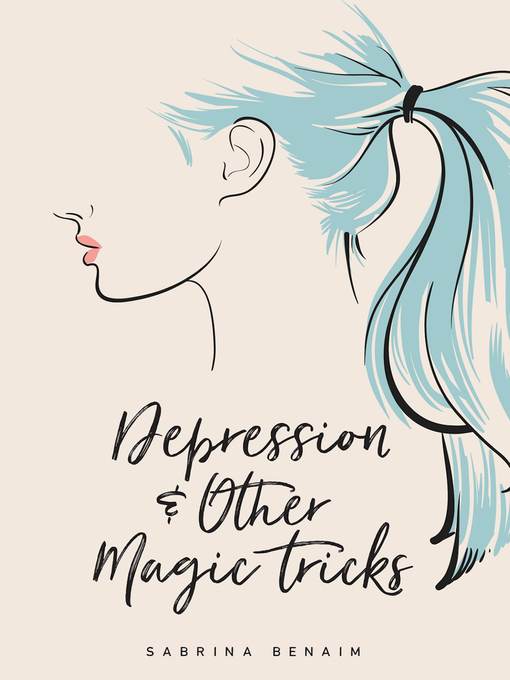 Depression & other magic tricks poems
Format:

Kindle Book

2017

2017

Adobe EPUB ebook

OverDrive Read

Availability:

Available from OverDrive

9 of 10 copies
Summary
Depression & Other Magic Tricks is the debut book by Sabrina Benaim, one of the most-viewed performance poets of all time, whose poem Explaining My Depression to My Mother has become a cultural phenomenon with over 5,000,000 views. Depression & Other Magic Tricks explores themes of mental health, love, and family. It is a documentation of struggle and triumph, a celebration of daily life and of living. Benaim's wit, empathy, and gift for language produce a work of endless wonder.

Contents
First date
hurdles / dreams
The slow now
Explaining my depression to my mother a conversation
What i told the doctor
Self(heart)-portrait
A story // my father moves to another country & there's no way to say i'm sorry if you aren't
Nature versus nurture
Single
The loneliest sweet potato
That awkard moment
Minnows
Better together, a Jack Johnson erasure
Magic trick 001
Untitled (i)
Untitled (ii)
So, I'm talking to depression
Girl beside you
A plain truth
Magic trick 002
Dear Beyonce (I)
How to unfold a memory // the kentucky heartbreak shuffle
House of cards a radiohead erasure
How to fold a memory
Gravity speaks
The other side of a memory
On releasing light
Magic trick 003
Poem from last august california trip // yearly maintenance
I press shuffle & Lauryn Hill comes on
Another plain truth
On the last gesture between us
Poem from the moment after you left for chimwemwe
On platonic love being a real thing
So my friend tells me she identifies as a mermaid
Avowal
On keeping your damn feelings to your damn self
Unrequited in nine acts
Dear Beyonce (II)
Feed a fever, starve a cold
Poem from the beach trip
Girl behind you
What i told the doctor, the second time.
Last friday
Seven small ways in which I loved myself this week
Ode to sunday
Magic trick 004
It starts
Since I met you baby a Black Joe Lewis & the Honeybears erasure
Seconds after bumping into him on the street
On getting over you for real
Magic trick 005
Follow-up a prayer / a spell.
Additional Information