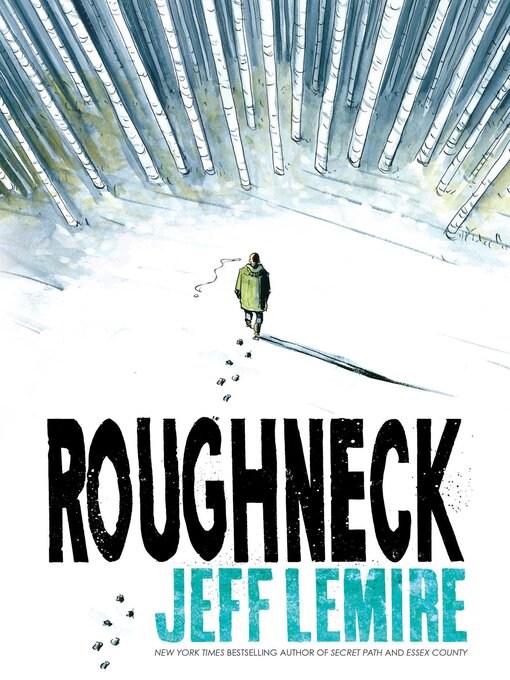 Roughneck
Format:

Kindle Book

2017

2017

OverDrive Read

Availability:

Available from OverDrive

1 of 1 copy
Summary
"Derek Ouelette's glory days are behind him. His hockey career ended a decade earlier in a violent incident on ice, and since then he's been living off his reputation in the remote northern community where he grew up, drinking too much and fighting anyone who crosses him. But he never counts on his long-lost sister, Beth, showing up one day out of the blue, back in town and on the run from an abusive boyfriend. Looking to hide out for a while, the two siblings hunker down in a secluded hunting camp deep in the local woods. It is there that they attempt to find a way to reconnect with each other and the painful secrets of their past even as Beth's ex draws closer, threatening to pull both Derek and Beth back into a world of self-destruction that they are fighting tooth and nail to leave behind" --

Published Reviews
Booklist Review:
"Even as a professional hockey player, Derek Ouelette was just a self-described thug. Now years past his peak, he washes dishes, gets drunk, and beats people up around Pimitamon, the worn-out Canadian town he grew up in. One day, though, his sister arrives, running from an OxyContin addiction and an abusive boyfriend. With Derek in hot water himself, the two retreat to the frozen forests up north. There may never have been a cartoonist whose art reflects his themes and narrative tone so flawlessly as Lemire's. His characters hunker under an ineffable weight, lines of a hard-lived life carved into their faces like scars, and even his landscapes seem afflicted with a weary anxiety. Nevertheless, there's beauty here, too, exemplified by an astonishing splash page where the vapor of his characters' breath mingles with the steam lifting from a recently hunted moose. Atypically, Lemire ends things hopefully and, while the sister's confrontation with an abusive father feels more authentic than Derek's showdown with the ex-boyfriend, the story overall offers tremendous emotional satisfaction.--Karp, Jesse Copyright 2010 Booklist"
From Booklist, Copyright (c) American Library Association. Used with permission.
Publisher's Weekly Review:
"Lemire (Essex County) dives into the murkiest depths of addiction, abuse, and family trauma in this heartbreaking volume. Derek Ouellette's glory days in the NHL are far behind-now, he's known mostly for alcoholism, public urination, and bar fights. When his younger sister, Beth, arrives in town, addicted to Oxycontin and fleeing an abusive boyfriend, he finds he can no longer hide at the bottom of a bottle. The siblings take to the wilderness, in search of sobriety, solitude, and, possibly, a second chance. This is well-worn territory, even within Lemire's oeuvre, but powerful nonetheless. Derek and Beth are trapped within the vicious cycle of abuse and addiction that plague so many like them-poor, First Nations, rural-but Lemire handles their struggles with grace and uncommon feeling. Every craggy furrow in Derek's face, every wayward hair escaping Beth's braids are imbued with thoughtfulness. It is a pleasure to watch Lemire explore the emotional landscape of lives many prefer to forget-and to demonstrate anew how valuable they are. (Apr.) © Copyright PWxyz, LLC. All rights reserved."
(c) Copyright PWxyz, LLC. All rights reserved
Additional Information