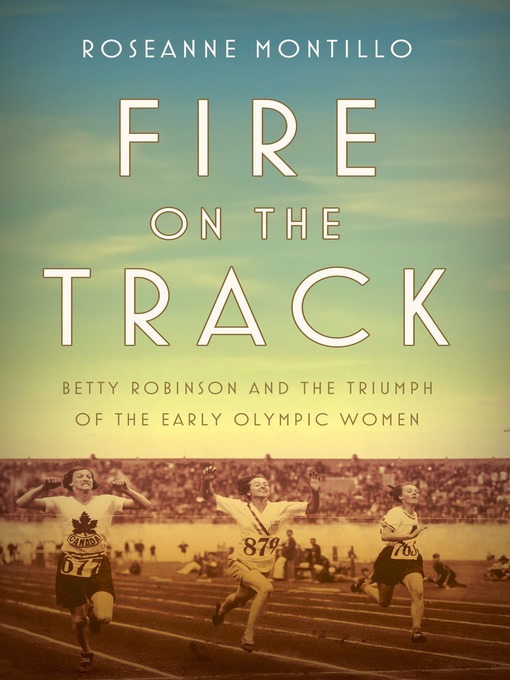 Fire on the track Betty Robinson and the triumph of the early Olympic women
Format:

Kindle Book

2017

2017

Adobe EPUB ebook

OverDrive Read

Availability:

Available from OverDrive

1 of 1 copy
Summary
"The inspiring and irresistible true story of the women who broke barriers and finish-line ribbons in pursuit of Olympic Gold When Betty Robinson assumed the starting position at the 1928 Olympic Games in Amsterdam, she was participating in what was only her fourth-ever organized track meet. She crossed the finish line as a gold medalist and the fastest woman in the world. This improbable athletic phenom was an ordinary high school student, discovered running for a train in rural Illinois mere months before her Olympic debut. Amsterdam made her a star. But at the top of her game, her career (and life) almost came to a tragic end when a plane she and her cousin were piloting crashed. So dire was Betty's condition that she was taken to the local morgue; only upon the undertaker's inspection was it determined she was still breathing. Betty, once a natural runner who always coasted to victory, soon found herself fighting to walk. While Betty was recovering, the other women of Track and Field were given the chance to shine in the Los Angeles Games, building on Betty's pioneering role as the first female Olympic champion in the sport. These athletes became more visible and more accepted, as stars like Babe Didrikson and Stella Walsh showed the world what women could do. And--miraculously--through grit and countless hours of training, Betty earned her way onto the 1936 Olympic team, again locking her sights on gold as she and her American teammates went up against the German favorites in Hitler's Berlin. Told in vivid detail with novelistic flair, Fire on the Track is an unforgettable portrait of these trailblazers in action"--

Contents
Prologue
Part one. Amsterdam, 1928
On track
A new arrival
A new pair of shoes
The debut
Off to the races
Off to the games
The SS President Roosevelt
Queen of the track
A new Babe in town
Welcome home
Part two. Los Angeles, 1932
Flying high
Summer woes
California dreaming
Go west, young woman, go west
Part three. Berlin, 1936
The Nazi games
Rebound
Off to Berlin
Phenoms
Epilogue.
Published Reviews
Booklist Review:
"*Starred Review* Montillo begins this compelling account of women track stars in the early days of the Olympics with a gripping set piece detailing a 1931 plane crash in a field outside Chicago. A female passenger declared dead at the scene arrives at the morgue only to have the undertaker discover she is still breathing. Just three years earlier, that woman, Elizabeth Betty Robinson, became the first woman to win an Olympic gold medal in track and field when she ran the 100-meter dash in 12.2 seconds. In a tightly woven, flowing narrative, Montillo profiles the women who excelled in three Olympics: the 1928 Games in Amsterdam, the 1932 Games in Los Angeles, and the 1936 Games in Berlin. In Berlin, Robinson, recovered from her injuries, claimed another gold in the women's 400-meter relay, upsetting the highly favored Germans. In addition to Robinson, Montillo profiles Helen Stephens, Babe Didrikson, and Stella Walsh, all of whom faced the obstacles that still challenge contemporary athletes: dealing with sudden fame, combating sexism and racism, and facing issues of sexual identity, among them. Just as Laura Hillenbrand, in Unbroken (2014), earned acclaim for resurrecting the life of Louis Zamperini, an overlooked American war hero and Olympian, Montillo deserves praise for sharing with honesty and integrity the remarkable stories of these resilient trailblazers. This is a must-read, certain to inspire a new generation of athletes with its fascinating slice of Olympic and women's sports history.--Barrera, Brenda Copyright 2017 Booklist"
From Booklist, Copyright (c) American Library Association. Used with permission.
Publisher's Weekly Review:
"Against the backdrop of the Great Depression, Montillo (The Wilderness of Ruin) traces the fascinating story of Betty Robinson, an Olympic-track-and-field trailblazer. Montillo is a brilliant storyteller who introduces Robinson in 1931, as she is being driven to a local funeral home, assumed dead, after a devastating plane crash that puts her life-and future Olympic hopes-in jeopardy. As a high school athlete, Robinson came just a tenth of a second short of the U.S. indoor track record. Robinson went on to join the first female track-and-field team to compete in the 1928 Olympics and won gold for the U.S. In telling Robinson's story, Montillo ably traces women's fight for inclusion and equality in competitive sports while unearthing decades-old examples of the biases and challenges women in competitive sports still face to this day (some detractors claimed that the Olympics were creating "'manly' women"; others questioned an athletic woman's gender). Montillo also includes riveting portraits of Tidye Pickett and Louise Stokes-the first female African-American runners. Montillo has written an engaging, insightful look at an era in women's sports. (Oct.) © Copyright PWxyz, LLC. All rights reserved."
(c) Copyright PWxyz, LLC. All rights reserved
Additional Information