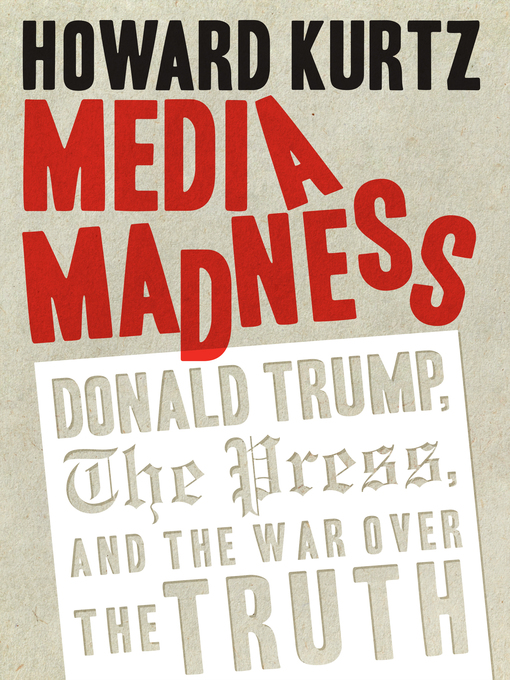 Media madness Donald Trump, the press, and the war over the truth
Format:

Kindle Book

2018

2018

Adobe EPUB ebook

OverDrive Read

Availability:

Unavailable

0 of 1 copy
1 person on waitlist
Summary
"According to the media, Donald Trump could never become president. Now many are on a mission to prove he shouldn't be president. The Trump administration and the press are at war -- and as in any war, the first casualty has been truth. Bestselling author Howard Kurtz, host of Fox News's Media Buzz and former Washington Post columnist, offers a stunning exposé of how supposedly objective journalists, alarmed by Trump's success, have moved into the opposing camp. Kurtz's exclusive, in-depth, behind-the-scenes interviews with reporters, anchors, and insiders within the Trump White House reveal the unprecedented hostility between the media and the president they cover." -- From book jacket.

Contents
A catastrophic media failure
Trump works the refs
Trump trauma
A question of loyalty
A leaky ship of state
The dossier surfaces
Spicer goes to war
Bannon as Darth Vader
Kellyanne under siege
Trump targets media "enemies"
The war over wiretapping
"The knives are out"
Answering with airstrikes
White House game of thrones
Jared and Ivanka fight back
The Comey firestorm
The media go to DEFCON 1
Collusion confusion
Climate change calamity
The Mueller escalation
Investigative overreach
The secret Russia meeting
The mooch's moment
Charlottesville catastrophe
Tackling the sports world
The fight over "fake news"
The era of harassment.
Published Reviews
Publisher's Weekly Review:
"The mainstream media's obsessive hatred for President Trump outruns his anti-media fixation by a country mile, argues this evenhanded and incisive study of press relations with the Trump administration. Kurtz (Reality Show), host of Fox News's Media Buzz and an ex-Washington Post media reporter, surveys innumerable battles between a president who pillories the press as purveyors of "fake news" and enemies of the people (while ardently schmoozing them) and the liberal media that passionately return the hate. ("Is Donald Trump Simply the Worst Human Being We Can Imagine?" mused one Salon headline.) Drawing on his long acquaintance with Trump and interviews with journalists and White House figures, Kurtz stays neutral in the fray, noting the untruths and nonsense spewed by the president along with the distortions, exaggerations, and, indeed, fake news purveyed by his detractors. He also paints a vivid portrait of White House infighting and leaks, with sympathetic profiles of Kellyanne Conway, Sean Spicer, and other staffers who have tried to restrain Trump's inflammatory tweets and extinguish the ensuing media firestorms. Alongside Kurtz's lively, entertaining narrative of vitriolic news cycles is a penetrating critique of a liberal news establishment that, he contends, has abandoned objectivity for a hysterical partisanship that galvanizes Trump's support among the conservative voters it disdains. (Jan.) © Copyright PWxyz, LLC. All rights reserved."
Additional Information