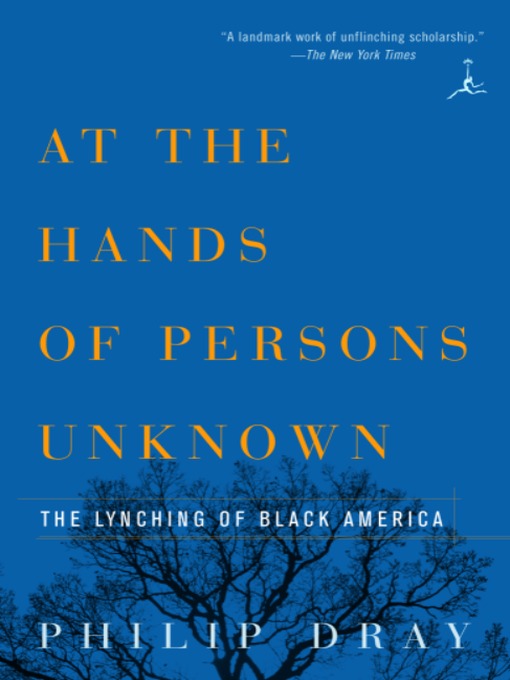 At the hands of persons unknown the lynching of Black America
Format:

Kindle Book

2007

2007

Adobe EPUB ebook

OverDrive Read

Availability:

Available from OverDrive

1 of 1 copy
1 person on waitlist
Summary
It is easy to shrink from our country's brutal history of lynching. Lynching is called the last great skeleton in our nation's closet: It terrorized all of black America, claimed thousands upon thousands of victims in the decades between the 1880s and the Second World War, and leaves invisible but deep scars to this day. The cost of pushing lynching into the shadows, however'misremembering it as isolated acts perpetrated by bigots on society's fringes'is insupportably high: Until we understand how pervasive and socially accepted the practice was'and, more important, why this was so'it will haunt all efforts at racial reconciliation. "I could not suppress the thought," James Baldwin once recalled of seeing the red clay hills of Georgia on his first trip to the South, "that this earth had acquired its color from the blood that had dripped down from these trees." Throughout America, not just in the South, blacks accused of a crime'or merely of violating social or racial customs'were hunted by mobs, abducted from jails, and given summary "justice" in blatant defiance of all guarantees of due process under law. Men and women were shot, hanged, tortured, and burned, often in sadistic, picnic-like "spectacle lynchings" involving thousands of witnesses. "At the hands of persons unknown" was the official verdict rendered on most of these atrocities. The celebrated historian Philip Dray shines a clear, bright light on this dark history'its causes, perpetrators, apologists, and victims. He also tells the story of the men and women who led the long and difficult fight to expose and eradicate lynching, including Ida B. Wells, James Weldon Johnson, Walter White, and W.E.B. Du Bois. If lynching is emblematic of what is worst about America, their fight may stand for what is best: the love of justice and fairness and the conviction that one individual's sense of right can suffice to defy the gravest of wrongs. This landmark book follows the trajectory of both forces over American history'and makes the history of lynching belong to us all. From the Hardcover edition

Contents
"A negro's life is a very cheap thing in Georgia"
Judge Lynch's Law
To gather my race in my arms
The compromise
"Let the eagle scream!"
Writing history with lightning
The wisest and best response
The shame of America
The tragedy of lynching
States' rights, states' wrongs
It can happen here
Under color of law
Published Reviews
Booklist Review:
"Lynching generally, but specifically with reference to blacks, is a subject that has been avoided in public discourse. Yet from the Reconstruction Era well into the twentieth century, the practice was fairly common. Dray recounts practices that included burning the body to prevent the soul from leaving this earth and train excursions with special round-trip fares to see the ritualized deaths of blacks not convicted through our judicial system. The press tended to sanction such actions both in its anticipatory as well as its after-death reporting. While the typical justification for a lynching was the alleged rape of a white woman by a black man or boy, the fact that black women and children were also lynched reflects a different motivation--racial intimidation. Dray explores the activism of journalist Ida B. Wells, who gained international fame, other prominent black leaders, such as Frederick Douglass and W. E. B. Du Bois, and prominent white lawyer Clarence Darrow. This is a compelling look at an ugly element of American culture, sure to attract readers interested in American race relations. --Vernon Ford"
From Booklist, Copyright (c) American Library Association. Used with permission.
Publisher's Weekly Review:
"Between 1882 and 1944 at least 3,417 African-Americans were lynched in the United States, an average of slightly more than one a week. It was not until 1952, as Dray notes, that a full year went by without a reported racial lynching. Covering the South's resistance to racial equality from Reconstruction and the 1875 Civil Rights Act (which gave rise to the widespread acceptance of public murders) through the mid-20th century, this prodigiously researched, tightly written and compelling history of the lynching of African-Americans examines the social background behind the horrific acts. Yet Dray (We Are Not Afraid) also covers the myriad attempts of popular and judicial resistance to lynching, in particular the campaigns led by Ida B. Wells and by the NAACP. He has pulled together a wealth of cultural material, including D.W. Griffith's 1915 Birth of a Nation, Reginald Marsh's famous 1934 antilynching cartoon in the New Yorker, among much else, to supplement his impressive survey of the breadth of lynching in Southern society. While there is much shocking material here the 1918 lynching and disembowelment of eight-month-pregnant Mary Turner; California governor James Rolph Jr.'s 1933 statement that lynching was "a fine lesson for the whole nation" Dray never lets it dictate the complex social and political story he is telling. He faces the underlying sexual impulse of most lynchings head-on and shows how, in the 1913 lynching of Leo Frank, the fear of blacks was transferred to a Jewish victim. Whether he is explicating why the feminist-run Women's Christian Temperance Union refused to speak out against lynching, or why FDR refused to endorse antilynching legislation in the 1930s, Dray balances moral indignation with a sound understanding of history and politics. The result is vital, hard-hitting cultural history. (Jan. 22) (c) Copyright PWxyz, LLC. All rights reserved"
(c) Copyright PWxyz, LLC. All rights reserved
Additional Information