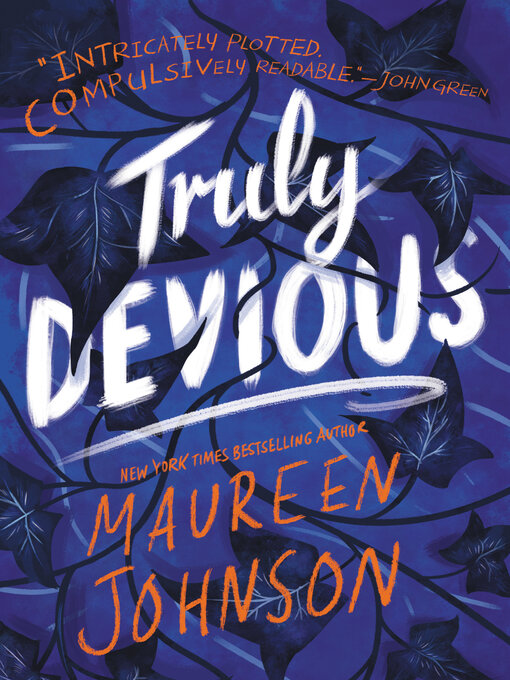 Truly devious a mystery
Format:

OverDrive Read

2018.

Adobe EPUB ebook

Kindle Book

Availability:

Unavailable

0 of 4 copies
17 people on waitlist
Summary
New York Times bestselling author Maureen Johnson weaves a delicate tale of murder and mystery in the first book of a striking new series, perfect for fans of Agatha Christie and E. Lockhart.
Ellingham Academy is a famous private school in Vermont for the brightest thinkers, inventors, and artists. It was founded by Albert Ellingham, an early twentieth century tycoon, who wanted to make a wonderful place full of riddles, twisting pathways, and gardens. "A place," he said, "where learning is a game."
Shortly after the school opened, his wife and daughter were kidnapped. The only real clue was a mocking riddle listing methods of murder, signed with the frightening pseudonym "Truly, Devious." It became one of the great unsolved crimes of American history.
True-crime aficionado Stevie Bell is set to begin her first year at Ellingham Academy, and she has an ambitious plan: She will solve this cold case. That is, she will solve the case when she gets a grip on her demanding new school life and her housemates: the inventor, the novelist, the actor, the artist, and the jokester. But something strange is happening. Truly Devious makes a surprise return, and death revisits Ellingham Academy. The past has crawled out of its grave. Someone has gotten away with murder.
The two interwoven mysteries of this first book in the Truly Devious series dovetail brilliantly, and Stevie Bell will continue her relentless quest for the murderers in books two and three.
Publishers Weekly Best Books of 2018 * Junior Library Guild Selection * 2019 YALSA Best Fiction for Young Adults Nomination * 2019 ALA's Best Fiction for Young Adults Nomination * Chicago Public Library Best of the Best Books 2018 * Goodreads Choice Award Nominee for Young Adult Fiction 2018 * 2018 Nerdy Book Club Young Adult Winner * Seventeen Best YA Book of 2018
Published Reviews
Booklist Review:
"Stevie Bell's deepest wish is to see a dead body. A true-crime aficionado and aspiring detective, she wanted to come to Ellington Academy for one reason: it's the site of one of the most infamous unsolved kidnappings in the world. Founded by the wealthy, generous Albert Ellington, the private school is an academic haven where learning is playful. But in the 1930s, Ellington's wife and young daughter were kidnapped, held for ransom, and then, presumably, murdered; the true perpetrator, who left enigmatic letters signed Truly, Devious, was never found. Stevie is determined to solve the crime, but her new housemates have secrets of their own, and her wish may come true sooner, and more frighteningly, than she ever wanted it to. Johnson (The Name of the Star, 2011) deftly twists two mysteries together Stevie's investigation is interspersed with case files and recollections from the Ellington kidnapping and the result is a suspenseful, attention-grabbing mystery with no clear solution. Invested readers, never fear this is just the first in a series. HIGH-DEMAND BACKSTORY: The versatile Johnson is no stranger to suspense, and this twisty thriller will leave plenty of readers anxious for more.--Reagan, Maggie Copyright 2017 Booklist"
From Booklist, Copyright (c) American Library Association. Used with permission.
Publisher's Weekly Review:
"Johnson kicks off a riveting mystery series set at the Ellingham Academy, a prestigious school built on a Vermont mountain by industrialist tycoon Albert Ellingham. His goal was to make learning a game-and free-for the exceptional students accepted to the school. But soon after it opened in 1936, Ellingham received a mysterious threat written in rhyme (and signed "Truly, Devious"), Ellingham's wife and daughter were kidnapped, and a student was killed. In the present, 16-year-old Stevie Bell is obsessed with true crime (and often beset by panic attacks), and she feels a bit like a fraud at Ellingham. With Holmesian powers of observation, she hopes to solve the Ellingham case, but the school's deadly past resurfaces when a student from her dorm is killed. Jumping between past and present, Johnson's novel is deliciously atmospheric, with a sprawling cast of complex suspects/potential victims, surprising twists, and a dash of romance. As in her Shades of London books, Johnson remains a master at combining jittery tension with sharp, laugh-out-loud observations. Ages 14-up. Agent: Kate Schafer Testerman, KT Literary. (Jan.) © Copyright PWxyz, LLC. All rights reserved."
(c) Copyright PWxyz, LLC. All rights reserved
Additional Information