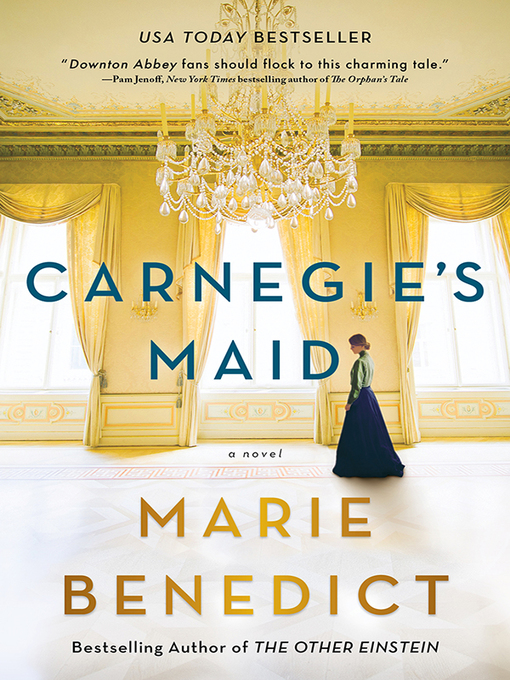 Carnegie's maid a novel
Format:

Kindle Book

2018

2018

Adobe EPUB ebook

OverDrive Read

Availability:

Unavailable

0 of 30 copies
19 people on waitlist
Summary
Clara Kelley is not who they think she is. She's not the experienced Irish maid who was hired to work in one of Pittsburgh's grandest households. She's a poor farmer's daughter with nowhere to go and nothing in her pockets. But the other woman with the same name has vanished, and pretending to be her just might get Clara some money to send back home. If she can keep up the ruse, that is. Serving as a lady's maid in the household of Andrew Carnegie requires skills he doesn't have, answering to an icy mistress who rules her sons and her domain with an iron fist. What Clara does have is a resolve as strong as the steel Pittsburgh is becoming famous for, coupled with an uncanny understanding of business, and Andrew begins to rely on her. But Clara can't let her guard down, not even when Andrew becomes something more than an employer. Revealing her past might ruin her future -- and her family's.--

Published Reviews
Booklist Review:
"Immigrant farm-girl Clara Kelley clambers out of steerage and, by assuming the identity of a fellow passenger with the same name, hops onto the dock and straight into a position as lady's maid to Mrs. Carnegie, the exacting mother of Andrew, captain of industry. By turns tirelessly ambitious, philanthropic, and deeply influenced by his bootstrap-climb from poverty, Andrew is the personification of the American dream. He values Clara's intellect and seeming honesty, but their burgeoning relationship jeopardizes her position and ability to aid her family, desperately struggling back home in Ireland. Despite the Civil War setting, Benedict's (The Other Einstein, 2016) novel has a Gilded Age feel. Info dumps occur, and sustained suspension of disbelief is required, yet the story is engaging. The chaste romance will draw readers of inspirational fiction, while the novel is constructed to appeal to those seeking a tale with an upstairs-downstairs dynamic and all-but-invisible female characters who are either the impetus for or the actual originators of great men's great ideas. For Fans of Liz Trenow, Erika Robuck, and Nancy Horan.--Latham, Bethany Copyright 2017 Booklist"
From Booklist, Copyright (c) American Library Association. Used with permission.
Publisher's Weekly Review:
"Andrew Carnegie's impetus to take up philanthropy is explored in this excellent historical novel. Benedict (The Other Einstein) begins with Carnegie's letter to himself from December 1868, in which he pledges most of his fortune "for benevolent purposes." The story then turns to farmer's daughter Clara Kelley, who travels in steerage from Ireland; upon landing in Philadelphia in 1863, she is mistaken for an identically named fellow passenger who has died during the passage. Desperate to improve her family's fortune, she assumes the other Clara's place as a lady's maid to the formidable Margaret Carnegie, mother to brothers Andrew and Tom. Clara's education and sharp wit allow her to carry off the deception and, indeed, her intellect brings her to Andrew's attention. She earns his respect and even affection, but differences in status make any prospect of a relationship unlikely. While there are elements of Cinderella, Benedict doesn't let herself or her characters stray from historical realities. The true reason for Carnegie's transformation from industrialist to builder of libraries for all remains a mystery, but Benedict's imagination supplies a delightful possibility. Agent: Lauren Dail, Lauren Dail Literary Agency. (Jan.) © Copyright PWxyz, LLC. All rights reserved."
(c) Copyright PWxyz, LLC. All rights reserved
Additional Information