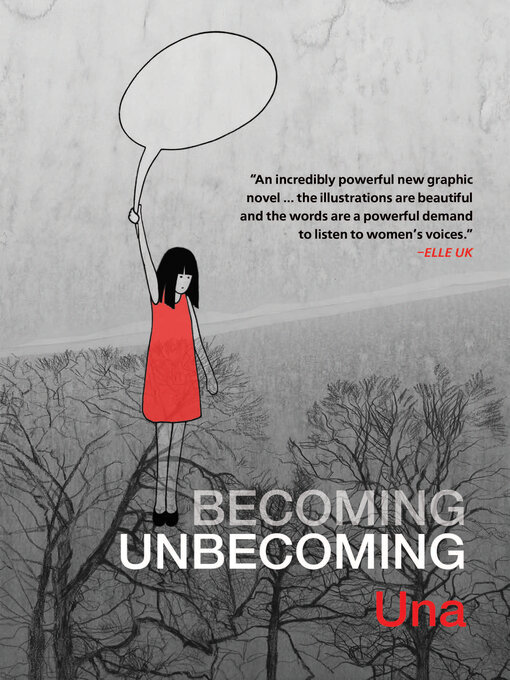 Becoming unbecoming
Format:

OverDrive Read

2016.

Adobe PDF eBook

Kindle Book

Availability:

Available from OverDrive

1 of 1 copy
Summary
This extraordinary graphic novel is a powerful denunciation of sexual violence against women. As seen through the eyes of a twelve-year-old girl named Una, it takes place in northern England in 1977, as the Yorkshire Ripper, a serial killer of prostitutes, is on the loose and creating panic among the townspeople. As the police struggle in their clumsy attempts to find the killer, and the headlines in the local paper become more urgent, a once self-confident Una teaches herself to "lower her gaze" in order to deflect attention from boys.
After she is "slut-shamed" at school for having birth control pills, Una herself is the subject of violent acts for which she comes to blame herself. But as the police finally catch up and identify the killer, Una grapples with the patterns of behavior that led her to believe she was to blame.
Becoming Unbecoming combines various styles, press clippings, photo-based illustrations, and splashes of color to convey Una's sense of confusion and rage, as well as sobering statistics on sexual violence against women. The book is a no-holds-barred indictment of sexual violence against women and the shame and blame of its victims that also celebrates the empowerment of those able to gain control over their selves and their bodies.
Una (a pseudonym) is an artist, academic, and comics creator. Becoming Unbecoming , which took seven years to create, is her first book. She lives in the United Kingdom.
Published Reviews
Booklist Review:
"In the 1970s, in West Yorkshire, England, Una comes of age while a predator stalks women in her town, killing some. The hunt for the Yorkshire Ripper is the context for Una's look back at her youth, and it colors how she understood violence against women then and how she understands it now. Candidly, Una of today boldly relays the facts of the Yorkshire Ripper: the botched wild-goose chase and the publicly accepted rationalization that his victims were merely prostitutes. Alongside this history, though, Una shares disturbing, mostly off-the-page sexual violence she experienced as a young girl at the hands of men she didn't know to fear. Young Una is portrayed blurting out empty speech bubbles, or carrying them over her shoulder like a heavy load. In a multimedia approach to her debut graphic novel, Una employs line drawings; smudgy, near-photographic black-and-white landscapes; feathered blobs of ink; and measured splashes of color. This unique graphic history of a young woman in a particular place and time will be eye-opening to some and thought-provoking to many.--Bostrom, Annie Copyright 2016 Booklist"
From Booklist, Copyright (c) American Library Association. Used with permission.
Publisher's Weekly Review:
"This challenging debut graphic novel is dense with facts, figures, and exposition, but the issues it explores-sexual violence and the public response to it-are what make it truly difficult to read. U.K. artist Una juxtaposes her own formative years with the hunt for the Yorkshire Ripper, who murdered over a dozen women in England in the late 1970s. And though the artist thankfully didn't meet such a grizzly fate, her own early encounters with male sexuality left an enduring mark, which she explores through a rich collage of drawing styles. The book is largely expositional, as Una digs deep into her memories, the words and images seemingly pouring out of her pen as she unflinchingly explores a nation's scramble to stop a serial killer and her emotional struggles with her own sexual abuse. It's as well crafted as it is difficult-and an important document of the lingering effects of male violence against women. (Jan.) © Copyright PWxyz, LLC. All rights reserved."
(c) Copyright PWxyz, LLC. All rights reserved
Additional Information
Subjects
Sutcliffe, Peter, -- 1946- -- Comic books, strips, etc.
Serial murderers -- Comic books, strips, etc.
Violence -- Comic books, strips, etc.
Sex crimes -- Comic books, strips, etc.
Electronic books.
Graphic novels.

Publisher

[Place of publication not identified] :Arsenal Pulp Press2016.



Contributors
OverDrive, Inc.

Language

English



System Details

Mode of access: World Wide Web.




Format: Adobe PDF eBook




Format: Kindle Book




Format: OverDrive Read




Requires Adobe Digital Editions or Amazon Kindle



Description

1 online resource



Bibliography Notes

Includes bibliographical references (pages 206-211)



ISBN
9781551526553
9781551526546

Other
Classic View