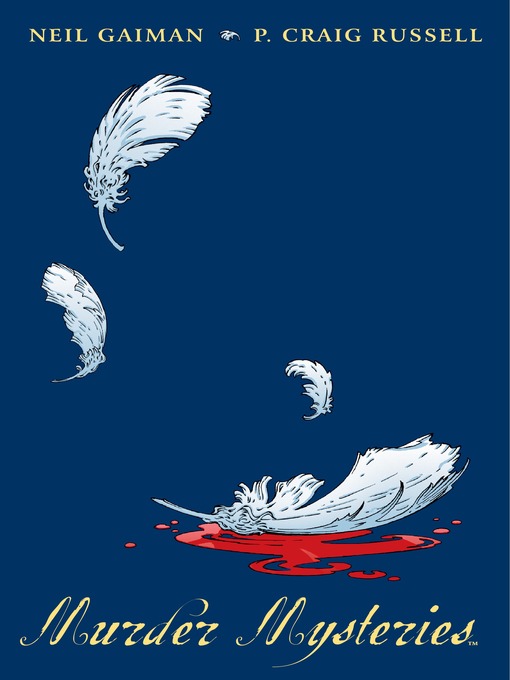 Neil Gaiman's Murder mysteries
Format:

OverDrive Read

1998

1998

Availability:

Unavailable

0 of 1 copy
2 people on waitlist
Summary
Constructing and maintaining all of heaven and earth is an immense task, which God has divided up amongst the various ranks and stations of angels. As with any such huge effort, there are bound to be casualties. This unique passion play sheds light on the hands behind creation, as well as one lonely man in Los Angeles who gets to hear the whole story of a most unspeakable crime: a murder in paradise!

Published Reviews
Booklist Review:
"As adapter, Russell does the heavy lifting on this graphic novelization of dark fantasist Gaiman's short story about two possibly connected murder mysteries. The first involved the killing of an angel before the universe was created. The other occurred in the late 1980s or early '90s, when the English narrator was 21 and stuck in L.A. before Christmas. One night there he visited a former lover, who lived with her five-year-old daughter and another woman. There are holes in his memory of the visit, but after it, he met a vagrant and spent the wee hours listening to him tell how the angel of God's vengeance solved the first murder, which he relates as if he were that angel. On the flight home the next day, the young man reads a Los Angeles Times story about the murders of two women and a child; the victims' names aren't given. Russell's highly polished mainstream-comics draftsmanship, coloring, and composition fit Gaiman's elegantly ambiguous story just about perfectly. --Ray Olson"
From Booklist, Copyright (c) American Library Association. Used with permission.
Publisher's Weekly Review:
"Celebrated comics creators Gaiman (Sandman) and Russell (The Ring of the Nibelung) have teamed up to produce a story of deception and vengeance involving the first betrayal, the first heartbreak and the first crime in God's own city of angels. Raguel is a lost angel, a ragged drifter on the streets of Los Angeles, who tells this story to the narrator, a young Brit stranded on his way back to England. In Raguel's former world, the one in which he had wings, he served as the agent of the Lord's vengeance. When an angel was found murdered, Raguel was assigned to find the killer and his motives. Like an unearthly detective, Raguel questioned his fellow angels until he discovered the murderer and then delivered the Lord's terrible punishment. But upon wreaking God's vengeance, Raguel began to realize it was God himself who set up this murder. Using sharp, crystalline drawings of the eternal city and ribbons of color that suggest creation's simultaneous plasticity and solidity, Russell conveys a bright, illuminated world of purity and divine experimentation. His crisp and vividly rendered drawings capture the haunting sense of loss and isolation Gaiman expresses in this mythic tale of love and jealousy. (Oct.) (c) Copyright PWxyz, LLC. All rights reserved"
(c) Copyright PWxyz, LLC. All rights reserved
Additional Information
Subjects
Angels Comic books, strips, etc
Murder Comic books, strips, etc
Good and evil Comic books, strips, etc
Comic and Graphic Books
Horror
Fantasy
Fiction
Electronic books.

Publisher

[Place of publication not identified] :Dark Horse Comics,1998




Dark Horse Comics1998



Other Titles
Murder mysteries

Contributors
Gaiman, Neil.
Kindzierski, Lovern, 1954-
Showman, Galen.
OverDrive, Inc.

Language

English



System Details

Mode of access: World Wide Web.




Format: Kindle Book




Format: OverDrive Read




Requires Amazon Kindle



Description

1 online resource



ISBN
9781621153399
9781621153399

Other
Classic View