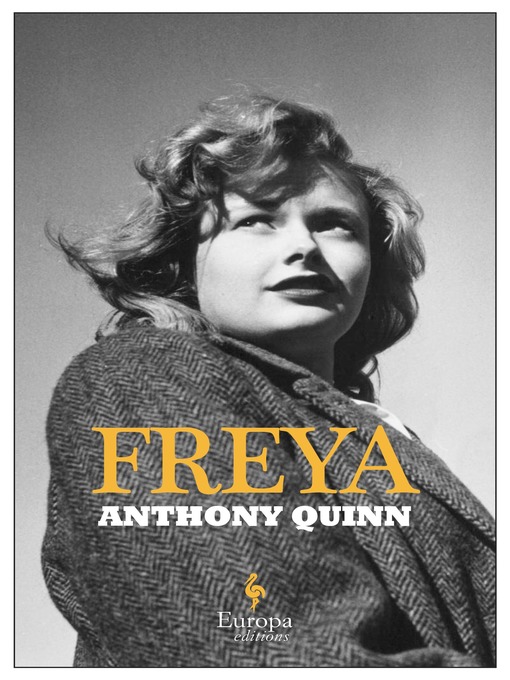 Freya a novel
Format:

Kindle Book

2017

2017

Adobe EPUB ebook

OverDrive Read

Availability:

Available from OverDrive

1 of 1 copy
Summary
London, May 1945. Freya Wyley, twenty, meets Nancy Holdaway, eighteen, amid the wild celebrations of VE-Day, the prelude to a devoted and competitive friendship that will endure on and off for the next two decades. Freya, wilful, ambitious, outspoken, pursues a career in newspapers which the chauvinism of Fleet Street and her own impatience conspire to thwart, while Nancy, gentler, less self-confident, struggles to get her first novel published. Both friends become entangled at university with Robert Cosway, a charismatic young man whose own ambition will have a momentous bearing on their lives. Flitting from war-haunted Oxford to the bright new shallows of the 1960s, Freya plots the unpredictable course of a woman's life and loves against a backdrop of Soho pornographers, theatrical peacocks, willowy models, priapic painters, homophobic blackmailers, and political careerists.

Published Reviews
Booklist Review:
"Indomitable, uncompromising, and tough as nails, Freya is not always easy to like but impossible not to admire. After serving in the British Women's Royal Naval Service during WWII, Freya moves to Oxford, where she quickly finds herself chafing against the restrictions of life as a civilian and a woman. She greets the enthusiastic overtures of friendship from Nancy, a sweet fellow student, with studied superiority, believing her role to be an instructor to the younger woman. But in the coming years it is Freya who will learn from her relationship with Nancy in this psychologically savvy novel. After Freya breaks into journalism by way of a gutsy trip to postwar Nuremberg, she lands in the middle of the London arts scene, while Nancy struggles to get a novel published. The consequences of their rivalries, both professional and romantic, cause Freya to seriously question her actions and her very character. Although the scenes occasionally feel overstuffed, on the whole this is a whip-smart and memorable look at a singular woman.--Thoreson, Bridget Copyright 2017 Booklist"
From Booklist, Copyright (c) American Library Association. Used with permission.
Publisher's Weekly Review:
"The fantastic fourth novel (after Curtain Call) from former Independent film critic Quinn is a testament to women who fought for what they wanted in a time of little personal and professional autonomy. Fresh out of military service, Freya Wyley meets affable Nancy Holdaway during VE Day celebrations on the streets of London. Freya and Nancy, both aspiring writers, form an immediate bond and later attend Oxford, where their friendship is tested by professional and romantic entanglements. The women reunite during the social revolution of 1960s London. Their bohemian lifestyle of parties, sexual exploration, and drug experimentation is juxtaposed with their fight to be taken seriously in a world dominated by men. While Nancy struggles to get a novel published, Freya breaks news and gender barriers as an outspoken journalist who exposes discrimination against homosexuals (as she grapples with her own sexuality). Clever dialogue (Freya, speaking of the wife of an overweight man she disliked: "Let us call her the lesser of two ovals") wonderfully captures the personalities, strengths, and weaknesses of major and minor characters alike. Fans of Tom Wolfe and Patricia Highsmith will embrace Quinn's swashbuckling Freya. Agent: Anna Webber, United Agents. (Nov.) © Copyright PWxyz, LLC. All rights reserved."
(c) Copyright PWxyz, LLC. All rights reserved
Additional Information