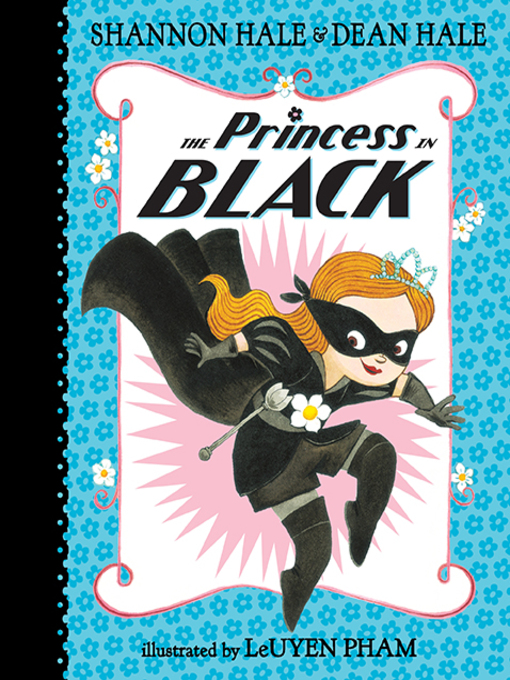 The princess in black
Format:

Kindle Book

2015

2017

OverDrive Read

Availability:

Available from OverDrive

3 of 4 copies
Summary
Princess Magnolia is having hot chocolate and scones with Duchess Wigtower when ... Brring! Brring! The monster alarm! A big blue monster is threatening the goats! Stopping monsters is no job for dainty Princess Magnolia. But luckily Princess Magnolia has a secret -- she's also the Princess in Black, and stopping monsters is the perfect job for her! Can the princess sneak away, transform into her alter ego, and defeat the monster before the nosy duchess discovers her secret?

Published Reviews
Booklist Review:
"*Starred Review* Properly pink Princess Magnolia is having cocoa and scones with Duchess Wigtower when her glitter-stone ring signals a dangerous beast at large. Quickly excusing herself, she secretly slips into black garb to become the Princess in Black, off to do battle with a hungry blue monster. Assisted by Blacky, her trusty steed, she executes several ninja moves (including the Princess Pounce and the Hornswaggle Hop), decisively hog-tying her prey. But Magnolia worries that the nosy duchess may snoop, unmasking her secret identity. Meanwhile Duff, an unassuming goat, appreciates the PIB's talents, and he dreams of one day becoming the Goat Avenger. The authors of Rapunzel's Revenge (2008) and Calamity Jack (2010), writing here for a slightly younger audience, successfully turn the treacly princess genre on its ear, offering beginning readers a clever, adventurous, and self-reliant heroine who is equally at home in black or pink. Pham's watercolor-and-ink illustrations, rendered in the style of the Disney classics, effectively contrast Magnolia's identities and emphasize the text's humor. Clever details (Duff and his goats eat popcorn on the sidelines as they watch the PIB do her thing) and short manageable sentences make for a promising and sure to be wildly popular new series debut.--Weisman, Kay Copyright 2014 Booklist"
From Booklist, Copyright (c) American Library Association. Used with permission.
Publisher's Weekly Review:
"With her cherubic face, gold curls, sparkly tiara, glass slippers, and meringuelike pink-on-pink ensemble, Princess Magnolia seems the epitome of a prim and perfect princess. But she has a secret life, one that involves donning a stylish black costume and defeating monsters (who are more goofy than scary, truth be told) that threaten her kingdom. The Hales (Rapunzels Revenge) drop narrative breadcrumbs throughout the story, setting up subsequent titles in the planned series, and they build comic tension by alternating scenes of the masked princesss monster-fighting with ones starring Duchess Wigtower, who Princess Magnolia has left waiting back at her castle, and who has a fondness for uncovering secrets. The Princess in Black hoped the duchess would not snoop, ends chapter six, as the heroine is seen tying up a furry blue monster. The duchess began to snoop, begins chapter seven. Pham (A Piece of Cake) offers little jolts of energy and wit on every page, with full-page and spot illustrations that have the vivaciousness and irreverence of contemporary animation. Ages 5-8. Authors agent: Barry Goldblatt, Barry Goldblatt Literary. Illustrators agent: Linda Pratt, Wernick & Pratt. (Oct.) (c) Copyright PWxyz, LLC. All rights reserved."
(c) Copyright PWxyz, LLC. All rights reserved
Additional Information