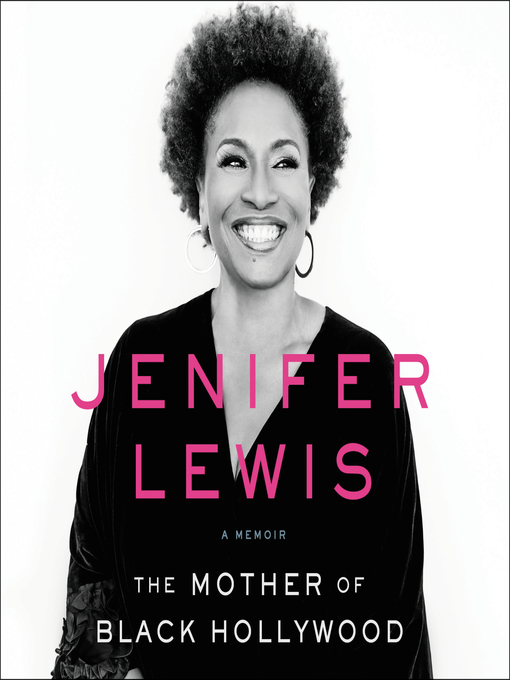 The mother of black Hollywood a memoir
Format:

OverDrive MP3 Audiobook

2017

2017

OverDrive Listen

Availability:

Available from OverDrive

3 of 3 copies
Summary
The "Mega Diva" and legendary star of Black-ish looks back on her memorable journey to fame and the unforgettable life lessons she learned along the way.Jenifer Lewis keeps it real in this provocative and touching memoir by a mid-western girl with a dream whose journey from poverty to Hollywood will move, shock, and inspire listeners.Told in the audacious voice her fans adore, Jenifer describes a road to fame made treacherous by dysfunction and undiagnosed mental illness, including a sex addiction. Yet, supported by loving friends and strengthened by "inner soldiers," Jenifer never stopped entertaining and creating. We watch as Jenifer develops icon status stemming from a series of legendary screen roles as the sassy, yet loveable, mama or auntie. And we watch as her emotional disturbances, culminating in a breakdown while filming The Temptations movie, launch her on a continuing search for answers, love, and healing. Written with no-holds-barred honesty this gripping memoir is filled with insights gained through a unique life that offers a universal message: "Love yourself so that love will not be a stranger when it comes."From her first taste of applause at five years old to landing on Broadway within eleven days of graduation and ultimately achieving success in movies, television and global concert halls, Jenifer reveals her outrageous life story with lots of humor, a few regrets and most importantly, unbridled joy.

Published Reviews
Booklist Review:
"Lewis has played everyone's mama on the big screen, small screen, and stage. Currently and most famously, she's Ruby on the award-winning sitcom Black-ish. Known for her brilliant delivery of quippy one-liners and dressing-downs, Lewis has played dozens of mothers over four decades in front of many a live audience. Here are the things she doesn't have a problem with: naming names (friends, lovers, and enemies are bandied about freely); cussing (it's an art, really); and expressing candor. She discloses a long history with many lovers (Ode to Men) and her difficult relationship with her mother, confronts her childhood molester, and comes to terms with her bipolar disorder. Also, she is not allergic to work. Her career has cut a wide swath through show business; she's worked with so many luminaries that this account will leave readers breathless (and incapable of ever seeing Gregory Hines the same way again). Lewis' years of journaling and knack for recall make for a rowdy, funny, and emotional exploration of her ascendance as a Hollywood matriarch.--Jones, Courtney Copyright 2017 Booklist"
From Booklist, Copyright (c) American Library Association. Used with permission.
Publisher's Weekly Review:
"At the onset of this energetic memoir, entertainer Lewis boards a cruise ship seeking some well-deserved relaxation and considers whether to retire from her 40-year career in show business. She quickly realizes that to retire at the age of 57 would be akin to stopping breathing: "I AM the SHOW in show business!" she tells herself. From there she describes growing up in a small, poverty-stricken Missouri town where at age five she sang at the Baptist church, already hell-bent on becoming a star. Readers follow the feisty singer through cabaret performances, TV and Broadway shows, tours, many mother roles (thus the title), and love affairs (like the performer, readers will most likely lose count). She revisits the years when many young male friends died of AIDS, the times when she scrambled for parts and didn't get them, and endless moments of triumph. At age 33, Lewis was diagnosed with bipolar disorder and she began to understand her sexual addiction, as well as to face the demons of her past. Her memoir is frank, funny, and uplifting, capturing the singer's authentic voice, her humor, and her profound and bold capacity for resilience. (Nov.) © Copyright PWxyz, LLC. All rights reserved."
(c) Copyright PWxyz, LLC. All rights reserved
Additional Information