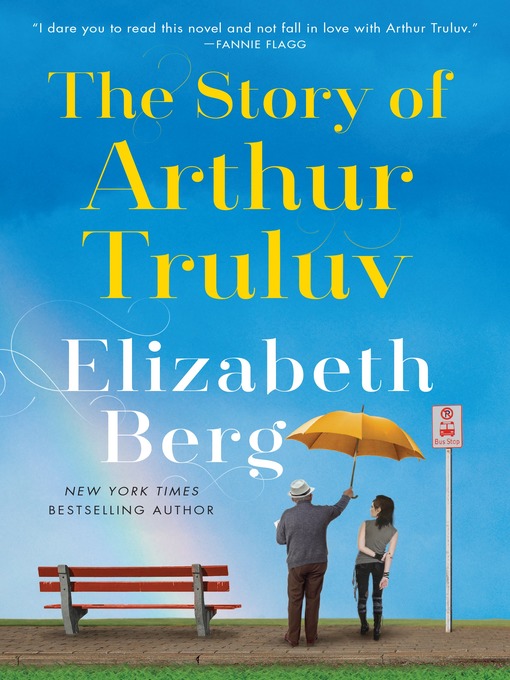 The story of Arthur Truluv a novel
Format:

Kindle Book

2017

2017

Adobe EPUB ebook

OverDrive Read

Availability:

Available from OverDrive

6 of 11 copies
1 person on waitlist
Summary
"Truluv is a moving novel about three people who have lost the person they love most, and must find their way back to happiness. Arthur, a widower, meets Maddy, an angry and friendless teenage girl, while visiting his late wife at the cemetary, where he goes every day for lunch. Against all odds, the two strike up a friendship that pulls them out of a serious rut. They band together with Arthur's nosy neighbor Lucille, to create lives that are truly worth living. Proving that life's most precious moments are sweeter when shared, they go from strangers, to friends, to an untraditional but loving family. Betrayal, loneliness, romance and family are at the heart of this honey of a book, a must-read for fans of Elizabeth Berg's early work. This is a story about life being affirmed at all ages, old and young, and about finding hapiness when hope seems lost. Readers will laugh, cry, and love Truluv"--

Published Reviews
Booklist Review:
"A cemetery might be an odd place for two people to strike up a friendship especially an elderly man and a teenage girl but Arthur Moses and Maddy Harris are fairly odd people. Arthur visits the cemetery to talk to his late wife, Nora, though he has a gift for divining the backstories of the graveyard's other permanent residents. Maddy doesn't have a personal connection to this particular cemetery, but she finds the quiet grounds peaceful after the chaos of school and the tension at home. They strike up conversations over picnic lunches and find they have more in common than they ever would have imagined. Maddy's mother passed away when she was young, and Arthur is surprised to find that the teenager is wise beyond her years. This unlikely duo shares secrets, memories, and plans for the future in Elizabeth Berg's inspiring and poignant novel. Fans of Meg Wolitzer, Emma Straub, or Berg's previous novels will appreciate the richly complex characters and clear prose. Redemptive without being maudlin, this story of two misfits lucky to have found one another will tug at readers' heartstrings.--Turza, Stephanie Copyright 2017 Booklist"
From Booklist, Copyright (c) American Library Association. Used with permission.
Publisher's Weekly Review:
"Arthur, the title character of the latest from Berg (Talk Before Sleep), does not enjoy living alone. Since his wife's death, the best part of his daily routine is visiting the cemetery to eat lunch at her grave. The only other constants in his life are taking care of his cat and keeping his distance from his nosy neighbor, Lucille. Then he meets Maddy, a troubled teen who is bullied at school and misunderstood by her father at home, and who has taken to hanging out at the cemetery to be by herself. The two form a bond, and when Maddy gets pregnant with her ex-boyfriend's baby, she seeks Arthur's help. Together with Lucille, who has recently faced her own tragic loss, the three form something like a family. Berg's novel is as comforting as Lucille's fresh-baked cookies, with plenty of charm and memorable characters. Readers will be taken by this story about how friendship can defy any generation gap and how it's never too late to find a new purpose in life. (Nov.) © Copyright PWxyz, LLC. All rights reserved."
(c) Copyright PWxyz, LLC. All rights reserved
Additional Information