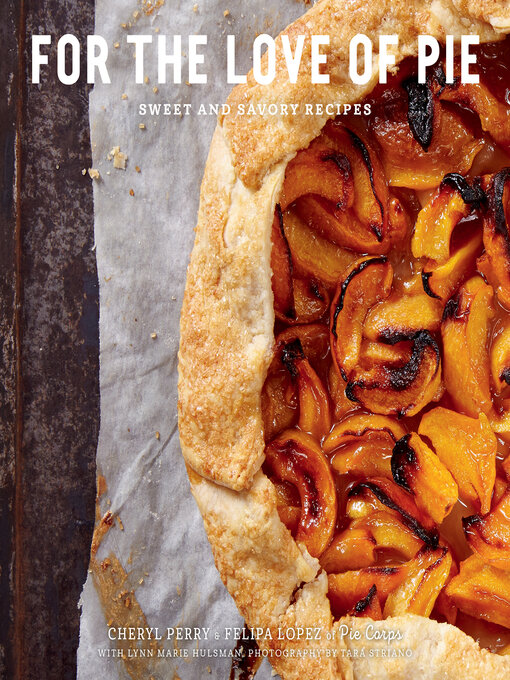 For the Love of Pie Sweet and Savory Recipes.
Format:

Kindle Book

2017

2017

Adobe EPUB ebook

OverDrive Read

Availability:

Unavailable

0 of 1 copy
Summary
For the Love of Pie boasts sophisticated and contemporary flavors in pies made using traditional techniques. Perry and Lopez explain the science and art behind baking a perfect piecrust while offering a variety of crust recipes, from all butter to chocolate crumb.

Contents
Introduction
The Basics: Before You Get Started
Ingredients
The Tools of the Trade
Techniques
Forms
Mini Tarts
Large Savory Hand Pies
Pielettes-Our Two-Bite, Handheld Mini Pies
Galettes
Lattice Top Pie
The Crust
Graham Cracker Crust
Chocolate Crumb Pressed Crust
All-Butter Crust
Leaf Lard Piecrust
Rich Shortcrust Pastry Dough
Butter Crumb Topping
The Sweet
Fruit
Traditional Apple Pie
Drunken Nectarine Pie with Pecan Streusel
Fruit Pie Tips
Lemon Thyme Blackberry Tartlets
Plum-Raspberry Pie with Oat and WalnutCrumble
Nantucket Cranberry Pie
Blackberry Rhubarb Pie with Toasted Almond Cobbler
Lemon Lattice Pie
Apple Dumplings
Brandied Winter Fruit Mini Pies with CrèmeAnglaise Sauce
Crème Anglaise Sauce
Custard andCream
Hay Custard Pie in a Chocolate Crust
Raspberry Custard Pie
Coconut Custard Pie
Lemon-Buttermilk Blueberry Pie
Pumpkin Pie with Brown Butter Crumbs
Mint Chocolate Truffle Pie with ChocolateSea Salt Crust
Maple-Nutmeg Cream Pie
How to Make Perfect Homemade Whipped Cream
Mousse and Pudding
Salted Caramel and Bittersweet Chocolate Pudding Pie Makes 1 (9-inch) pie
Lemon Mousse and White Chocolate Pie with Candied Lemon Peel
Black-Bottom Peanut Butter Mousse Pie
Nut
Maple Pecan Pie
Apple Upside-Down Pecan Pie
The Savory
Chicken
Buttermilk-Fried Chicken Pie with Buttermilk Gravy and Sautéed Greens
How to Handle Saucy Pies
Roasted Chicken Pot Pie with ButtermilkGravy
Beef and Lamb
Red Bean and Stout Chili Pie with Cornbread Crust
Red Wine-Braised Brisket Pot Pie
Moroccan Beef Pie with Buttermilk BayLeaf-Scented Cobbler
Picadillo Hand Pies
Tourtière
Cottage Pie
Lamb Shepherd's Pie
Braised Lamb Curry Pie
Pork
Root Vegetable Soufflé with Bacon. Quiche with Smoked Ham and Cheddar
Carnitas Pie
Melted Leek, Goat Cheese, and Candied Bacon Hand Pies
Egg, Cheddar, and Candied Bacon BreakfastHand Pies
Salt Cod (Bacalao) Hand Pies
Fish
Fresh Seafood Pie
Roast Salmon and Spinach Pie
Vegetarian
Wilted Kale, White Bean, and Leek Pot Pies
Stilton, Wild Mushroom, and Fennel Galette
Heirloom Tomato Tart with Savory HerbCobbler
Spinach and Blue Cheese Soufflé
Wilted Swiss Chard and Winter Vegetable Raised Pie
Horseradish-Beet Galettes with Goat Cheese
Curried Potato and Pea Galettes
Roasted Squash Galette with Feta andArugula
Free-Form Caramelized Onion Tart
Baked Egg and Ratatouille Pie with Gruyère
Three Cheese and Rosemary Pielettes
Mediterranean Zucchini Galettes
Creamy Spinach and Parmesan Hand Pies
Mac 'n' Cheese Hand Pies
Summer Squash Pie with Ricotta and PineNuts
Cauliflower Gratin Hand Pies
Asparagus and Fresh Pea Quiche with Spring Herbs Makes
Fresh Corn Pie with Bacon and Tomato
The Hybrids
Metric Conversion Chart.
Additional Information
Subjects
Pies
Cooking & Food
Nonfiction
Electronic books.

Publisher

[Place of publication not identified] :Gibbs Smith2017




2017



Contributors
Perry, Cheryl.
OverDrive, Inc.

Language

English



System Details

Mode of access: World Wide Web.




Format: Adobe EPUB eBook




Format: Kindle Book




Format: OverDrive Read




Requires Adobe Digital Editions or Amazon Kindle



Description

1 online resource



ISBN
9781423647706
9781423647706

Other
Classic View