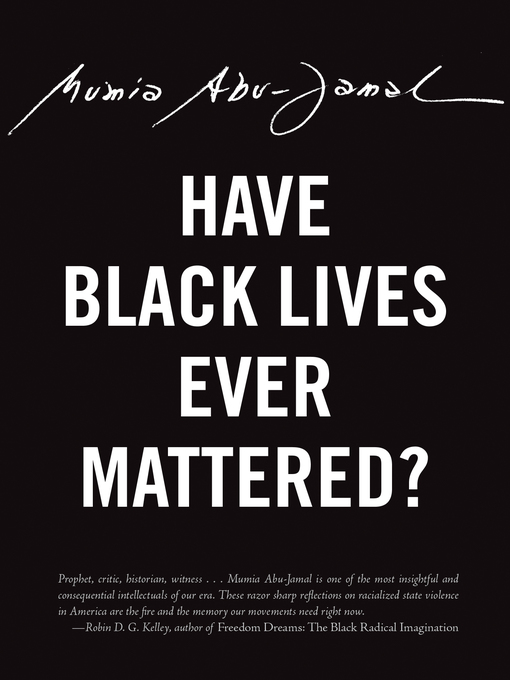 Have Black lives ever mattered?
Format:

Kindle Book

2017

2017

Adobe EPUB ebook

OverDrive Read

Availability:

Unavailable

0 of 1 copy
3 people on waitlist
Summary
"'This collection of short meditations, written from a prison cell, captures the past two decades of police violence that gave rise to Black Lives Matter while digging deeply into the history of the United States. This is the book we need right now to find our bearings in the chaos'--Roxanne Dunbar-Ortiz, author of An Indigenous Peoples' History of the United States; 'Mumia's writings are a wake-up call. He is a voice from our prophetic tradition, speaking to us here, now, lovingly, urgently'--Cornel West; 'He allows us to reflect upon the fact that transformational possibilities often emerge where we least expect them'--Angela Y. Davis; In December 1981, Mumia Abu Jamal was shot and beaten into unconsciousness by Philadelphia police. He awoke to find himself shackled to a hospital bed, accused of killing a cop. He was convicted and sentenced to death in a trial that Amnesty International has denounced as failing to meet the minimum standards of judicial fairness. In Have Black Lives Ever Mattered? Mumia gives voice to the many people of color who have fallen to police bullets or racist abuse, and offers the post-Ferguson generation advice on how to address police abuse in the United States. This collection of his radio commentaries on the topic features an in-depth essay written especially for this book to examine the history of policing in America, with its origins in the white slave patrols of the antebellum South and an explicit mission to terrorize the country's Black population. Applying a personal, historical, and political lens, Mumia provides a righteously angry and calmly principled radical Black perspective on how racist violence is tearing our country apart and what must be done to turn things around. Mumia Abu-Jamal is author of many books, including Death Blossoms, Live from Death Row, All Things Censored, and Writing on the Wall"--Provided by publisher.

Contents
Introduction: Have black lives ever mattered?
Hate crimes / June 14, 1998
Where is the outrage? / 1999
Cincinnati fires / April 17, 2001
Aiding and abetting "Bombingham" : the FBI / May 28, 2001
The other central park rapes / 2002
When a child is killed / February 22, 2003
Oscar Grant and you / January 17, 2009
The arrest of Harvard scholar Dr. Henry Louis Gates / July 30, 2009
The death penalty derives from the Lynch Law / March 10, 2010
Troy Davis: Movement lessons / September 9, 2011
The Trayvon Martin case / April 12, 2012
For Rodney King the struggle is finally over / June 17, 2012
The Dorner dilemma / February 18, 2013
Trayvon is one, there are many / July 21, 2013
The last days of President Obama / February 13, 2014
A cop shot 18-year-old Michael Brown eight times / August 11, 2014
The meaning of Ferguson / August 31, 2014
The Troy Davis tragedy / October 13, 2014
Eric Garner: "I Can't Breathe" / December 4, 2014
Ferguson, USA / March 5, 2015
The heritage of the confederate battle flag / July 7, 2015
Tamir Rice of Cleveland / October 15, 2015
Because she is a black child / December 28, 2015.
Published Reviews
Publisher's Weekly Review:
"The 75 pithy essays collected here, written between 1998 and 2017 by political activist and journalist Abu-Jamal (Live from Death Row), possess the impact and immediacy of the events that precipitated them (half of the essays are set in motion by the recent killings of Trayvon Martin and Michael Brown) while also being haunted by the longer history of police violence. While the author does reflect on the widely reported cases of police violence against African-Americans, as well as on the role of the media in determining what gets attention, the strength of the book rests in the essays that draw attention to lesser-known victims of police violence, particularly women of color whose stories never reached the mainstream media. Over the course of nearly four decades in prison, Abu-Jamal, who was sentenced to death in 1982 for the shooting of a policeman (a conviction that was overturned in 2001), has become an astute student of the justice system as well as a particularly cogent opponent of the death penalty. "The rage of protest," he observes, is often followed by silence, and "the silent assault of mass incarceration" persists. The brief essays here offer small but potent doses of Abu-Jamal's informed and impassioned writing. (June) © Copyright PWxyz, LLC. All rights reserved."
(c) Copyright PWxyz, LLC. All rights reserved
Additional Information