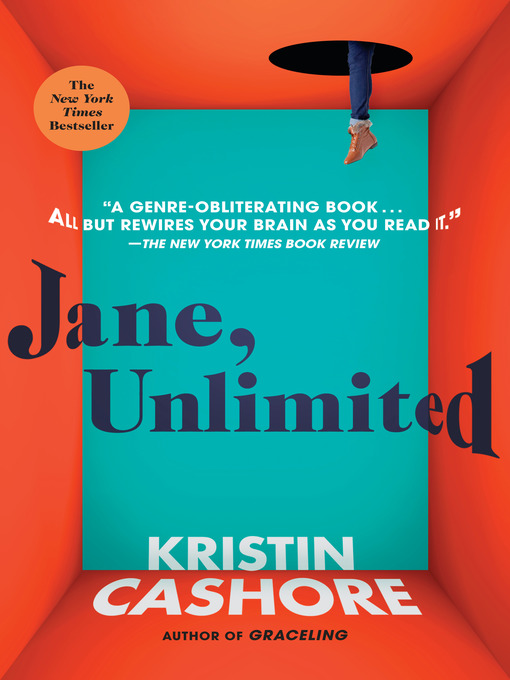 Jane, unlimited
Format:

Kindle Book

2017

2017

Adobe EPUB ebook

OverDrive Read

Availability:

Available from OverDrive

1 of 4 copies
Summary
"Recently orphaned Jane accepts an unexpected invitation from an old acquaintance to an island mansion where she will face five choices that could ultimately determine the course of her newly untethered life"--

Contents
Tu Reviens
The missing masterpiece
Lies without borders
In which someone loses a soul and Charlotte finds one
Jane, unlimited
The strayhound, the girl and the painting.
Published Reviews
Booklist Review:
"When Jane receives an invitation to attend a gala at the island mansion Tu Reviens, she accepts not because she wants to go, but because her adored (and recently deceased) Aunt Magnolia made her promise to visit Tu Reviens if she ever got the chance. Bizarre personages and events fill the palatial home, including art theft, kidnapping, a secret organization, flirtations, and seemingly impossible twists of fate, all of which the impetuous Jane faces with a devoted basset hound sidekick. It's the story's structure, however, that's most noteworthy, as Cashore (Graceling, 2008) applies the concept of a multiverse to Tu Reviens, following Jane down five possible paths during her stay. Yet, it's not until the second half of the book, where things go increasingly off the rails, that the story truly blossoms. Art forms a constant backdrop to the narrative, and in all versions of Jane's story, she finds respite from her grief and uncertain future through artistic expression. Creation, compassion, and choice repeatedly emerge as themes in this ambitious, mind-expanding novel. HIGH-DEMAND BACKSTORY: Though a departure from her beloved Graceling books, this is getting the full treatment from the publisher: author tour, Comic-Con promotions, a floor display, and more.--Smith, Julia Copyright 2017 Booklist"
From Booklist, Copyright (c) American Library Association. Used with permission.
Publisher's Weekly Review:
"Cashore's first novel in four years covers an eventful weekend in the life of 18-year-old Jane, an orphan raised by an aunt whose recent death has left her niece unmoored. When a former tutor, Kiran, invites Jane to her family's island mansion, Tu Reviens, Jane accepts, arriving with everything she owns, including 37 handmade umbrellas. A cast of guests, servants, Kiran's twin, and a basset hound is quickly introduced, as are a raft of suspicious activities. The story then restarts five times in five genres-spy thriller, horror, science fiction, mystery, fantasy-sometimes repeating information verbatim from a previous section. Each new version is a little weirder than the last, and the overall effect is less Choose Your Own Adventure than Groundhog Day on acid, set within a framework that pays homage to several classic novels, most notably Du Maurier's Rebecca. These shifts require a reader patient enough to follow the story's many contradictions until Jane discovers why she's at Tu Reviens and, ultimately, what she wants. An ambitious departure for Cashore that will reward (and perhaps demand) many re-readings. Ages 14-up. Agent: Faye Bender, the Book Group. (Sept.) © Copyright PWxyz, LLC. All rights reserved."
(c) Copyright PWxyz, LLC. All rights reserved
Additional Information