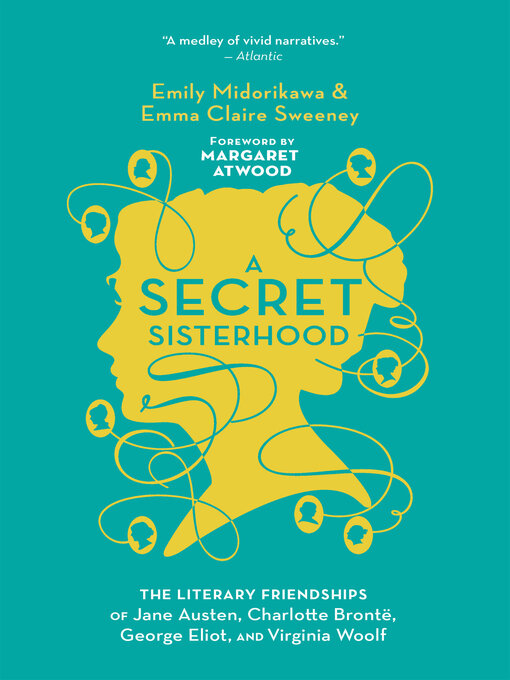 A secret sisterhood the hidden friendships of Austen, Brontë, Eliot and Woolf
Format:

Kindle Book

2017

2017

Adobe EPUB ebook

OverDrive Read

Availability:

Available from OverDrive

4 of 4 copies
Summary
Two female writers and best friends bring to light the literary friendships of four iconic female authors. Male literary friendships are the stuff of legend; think Byron and Shelley, Fitzgerald and Hemingway. But the world's best-loved female authors are usually mythologized as solitary eccentrics or isolated geniuses. Coauthors and real-life friends Emily Midorikawa and Emma Claire Sweeney prove this wrong, thanks to their discovery of a wealth of surprising collaborations: the friendship between Jane Austen and one of the family servants, playwright Anne Sharp; the daring feminist author Mary Taylor, who shaped the work of Charlotte Brontë; the transatlantic friendship of the seemingly aloof George Eliot and Harriet Beecher Stowe; and Virginia Woolf and Katherine Mansfield, most often portrayed as bitter foes, but who, in fact, enjoyed a complex friendship fired by an underlying erotic charge. Through letters and diaries that have never been published before, A Secret Sisterhood resurrects these forgotten stories of female friendships. They were sometimes scandalous and volatile, sometimes supportive and inspiring, but always—until now—tantalizingly consigned to the shadows. With a foreword by Margaret Atwood "A thought-provoking meditation on literary friendship as well as engagingly intimate glimpses of four of the world's finest writers."—San Francisco Chronicle "A medley of vivid narratives." —The Atlantic "Midorikawa and Sweeney have committed an exceptional act of literary espionage. English literature owes them a great debt." —Financial Times "A vital and necessary contribution to women's history, literary history, and the literature of friendship."—Kate Bolick, author of Spinster: Making a Life of One's Own

Published Reviews
Booklist Review:
"*Starred Review* Reams have been written about Jane Austen, Charlotte Brontë, George Eliot, and Virginia Woolf, but Midorikawa and Sweeney, both writers and academics, offer something new by examining each writer through the lens of friendships with other literary women. In Austen's case, it was Ann Sharpe, governess to her niece Fanny. Out of snobbery (Sharpe was a servant, after all), Austen's family all but expunged her from the record, but a deep dive into primary sources brings the friendship to light. Charlotte Brontë's lifelong friend Mary Taylor, a bolder spirit, was dismayed by what she saw as Brontë's constricted life and constantly pushed her to develop her creative gifts. Though they never met, George Eliot and Harriet Beecher Stowe had an affinity based on their success as writers, and their epistolary friendship endured for more than 10 years. And though Virginia Woolf and Katherine Mansfield are often portrayed as archenemies, in these pages they are shown as sharing a rare sense of communion that was complicated by competition, envy, illness, and repressed desires. Enthralling, illuminating, and a treat for fans of any of the writers who are covered.--Quinn, Mary Ellen Copyright 2017 Booklist"
From Booklist, Copyright (c) American Library Association. Used with permission.
Publisher's Weekly Review:
"Midorikawa and Sweeney (Owl Song at Dawn) explore some lesser-known literary friendships in this evocative and well-researched ode to female solidarity. They describe, for instance, how Jane Austen cultivated a friendship across class lines with her niece's governess, a woman named Anne Sharp with literary ambitions of her own. Charlotte Brontë and feminist author Mary Taylor met at boarding school and would ultimately overcome Taylor's first (and typically teenage) assessment of Brontë: "You are very ugly." George Eliot and Harriet Beecher Stowe are shown through their letters to have been thoughtful and admiring supporters of each other's work. The section dealing with Virginia Woolf and Katherine Mansfield is perhaps the most fascinating, as their friendship survived a great deal of mutual professional rivalry. Midorikawa and Sweeney also capture their subjects' settings in riveting detail, including Austen's Bath, Eliot's Regent's Park, and, in particular, the Garsington Manor flower gardens that Woolf and Mansfield both loved (and wrote competing stories about). The authors (who are themselves close friends) astutely explain that the friendships they depict became lost to cultural memory due to prevailing stereotypes of female authors as "solitary eccentrics or isolated geniuses." It is a delight to learn about them here, as related by two talented authors. (Oct.) © Copyright PWxyz, LLC. All rights reserved."
(c) Copyright PWxyz, LLC. All rights reserved
Additional Information
Subjects
Austen, Jane, 1775-1817 Friends and associates
Brontë, Charlotte, 1816-1855 Friends and associates
Eliot, George, 1819-1880 Friends and associates
Woolf, Virginia, 1882-1941 Friends and associates
Female friendship Great Britain History
Biography & Autobiography
Nonfiction
Electronic books.
1775-1817
1816-1855
1819-1880
1882-1941

Publisher

[Place of publication not identified] :Houghton Mifflin Harcourt2017




2017



Contributors
Sweeney, Emma Claire, author.
OverDrive, Inc.

Language

English



System Details

Mode of access: World Wide Web.




Format: Adobe EPUB eBook




Requires Adobe Digital Editions



Description

1 online resource



ISBN
9780544883789
9780544883789

Other
Classic View