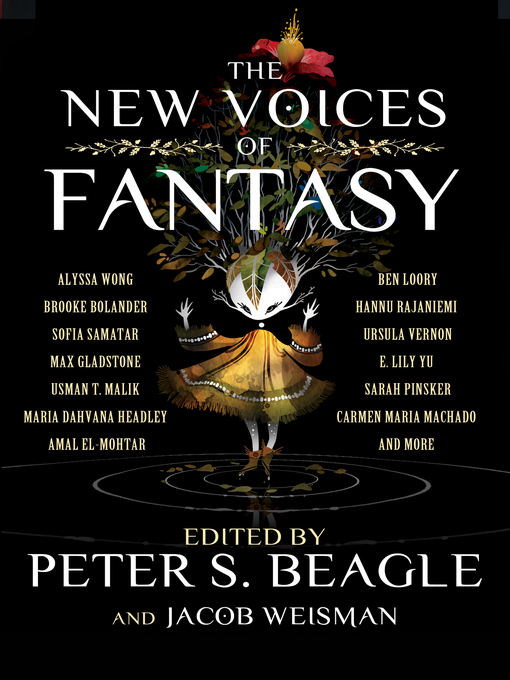 The new voices of fantasy
Format:

Adobe EPUB ebook

2017

2017

OverDrive Read

Availability:

Available from OverDrive

2 of 2 copies
Summary
What would you do if a tornado wanted you to be its Valentine? Or if a haunted spacesuit banged on your door? When is the ideal time to turn into a tiger? Would you post a supernatural portal on Craigslist? In these nineteen stories, the enfants terribles of fantasy have arrived. The New Voices of Fantasy captures some of the fastest-rising talents of the last five years, including Sofia Samatar, Maria Dahvana Headley, Max Gladstone, Alyssa Wong, Usman T. Malik, Brooke Bolander, E. Lily Yu, Ben Loory, Ursula Vernon, and more. Their tales were hand-picked by the legendary Peter S. Beagle (The Last Unicorn) and genre expert Jacob Weisman (The Treasury of the Fantastic).So go ahead and join the Communist revolution of the honeybees. The new kids got your back.

Published Reviews
Booklist Review:
"*Starred Review* This collection brings together stories that, according to coeditors Beagle and Weisman, represent the new and evolving possibilities for fantasy writing, particularly the sort of more literary fantasy that exists between the boundaries of genre and mainstream fiction. The authors range from slightly more established names, such as Sofia Samatar, to authors like Alyssa Wong or E. Lily Yu, whose work so far is only available in magazines or anthologies such as this one. All of the stories here are well worth a read, with each one presenting a different way in which authors are exploring and redefining the fantasy genre. Highlights of the anthology include Wong's Hungry Daughters of Starving Mothers, a story of a familial thirst for the ugliest thoughts and desires; Yu's The Cartographer Wasps and the Anarchist Bees, a story that explores politics and war in an insect world; and other stories ranging from brief fable-like pieces to longer stories, such as Usman T. Malik's exploration of the ways a secret history of a family unlocks the even more hidden history of the universe. This anthology represents some of the most exciting and interesting work in the fantasy field today, and anyone interested in the genre should read it immediately.--Keep, Alan Copyright 2017 Booklist"
From Booklist, Copyright (c) American Library Association. Used with permission.
Publisher's Weekly Review:
"This excellent anthology showcases up-and-coming speculative fiction writers, many of whom have received award nominations and critical attention to support their status as future influencers of the genre. The anthology opens with Alyssa Wong's Nebula-winning "Hungry Daughters of Starving Mothers," a gripping story of creatures who walk among humans and feed on ugliness. The stories vary in tone: Amal El-Mohtar's "Wing" is lyrical, A.C. Wise's "The Practical Witch's Guide to Acquiring Real Estate" is gently humorous, and Carmen Maria Machado's "The Husband Stitch" is haunting. Some, such as E. Lily Yu's beautiful "The Cartographer Wasps and the Anarchist Bees," eschew the well-worn Western setting that is the English-language-fantasy default; others, such as Brooke Bolander's "Tornado's Siren," thoughtfully embrace their American and European settings. Fantasy legend Beagle and Tachyon publisher Weisman have provided a valuable snapshot of SF/F's newest generation of writers. (Aug.) © Copyright PWxyz, LLC. All rights reserved."
(c) Copyright PWxyz, LLC. All rights reserved
Additional Information