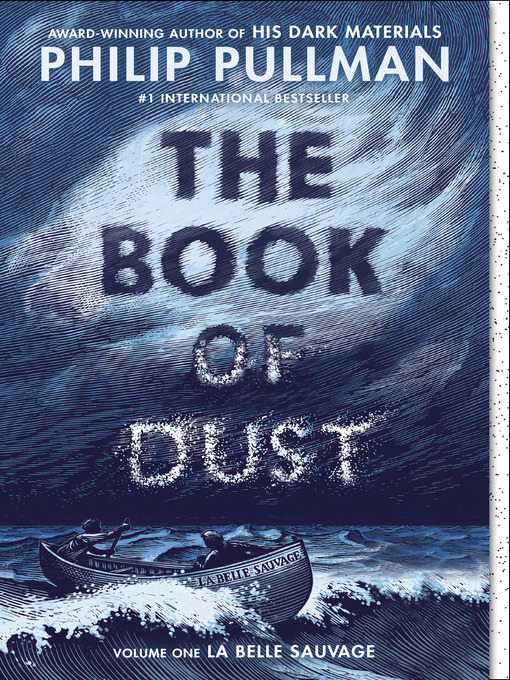 The book of dust.
Format:

Kindle Book

2017

2017

Adobe EPUB ebook

OverDrive Read

Availability:

Available from OverDrive

18 of 21 copies
Summary
NEW YORK TIMES BESTSELLER   Philip Pullman returns to the parallel world of His Dark Materialsu2014now an HBO original series starring Dafne Keen, Ruth Wilson, James McAvoy, and Lin-Manuel Mirandau2014to expand on the story of Lyra, "one of fantasy's most indelible heroines" (The New York Times Magazine).   Don't miss Volume II of The Book of Dust: The Secret Commonwealth!   Malcolm Polstead and his daemon, Asta, are used to overhearing news and the occasional scandal at the inn run by his family. But during a winter of unceasing rain, Malcolm finds a mysterious object—and finds himself in grave danger. Inside the object is a cryptic message about something called Dust; and it's not long before Malcolm is approached by the spy for whom this message was actually intended. When she asks Malcolm to keep his eyes open, he begins to notice suspicious characters everywhere: the explorer Lord Asriel, clearly on the run; enforcement agents from the Magisterium; a gyptian named Coram with warnings just for Malcolm; and a beautiful woman with an evil monkey for a daemon. All are asking about the same thing: a girl—just a baby—named Lyra.   Lyra is at the center of a storm, and Malcolm will brave any peril, and make shocking sacrifices, to bring her safely through it.   "Too few things in our world are worth a seventeen-year wait: The Book of Dust is one of them." —The Washington Post   "The book is full of wonder. . . . Truly thrilling." —The New York Times   "People will love the first volume of Philip Pullman's new trilogy with the same helpless vehemence that stole over them when The Golden Compass came out." —Slate

Published Reviews
Booklist Review:
"*Starred Review* And so it begins again. Enthusiasts of Pullman's His Dark Materials series, which began with The Golden Compass (1996), have been hoping for a return to Lyra Belacqua's world, a parallel Oxford where people's souls are entwined with their own daemons, animal familiars, a place where the future can be discerned with alethiometers and dust has consciousness. Pullman has said this book is not a prequel but rather stands at the side of the trilogy. It is set more than a decade before The Golden Compass. Lyra is a baby being cared for by nuns, her disturbing birth story set against the ongoing estrangement of her parents, Mrs. Coulter and Lord Astriel. Eleven-year-old Malcolm, who works at his parents' inn, finds himself taking on the role of Lyra's protector as malevolent forces seek to control her. Pullman demonstrates that his talent for world building hasn't diminished, nor has his ability to draw young characters here, Malcolm, who is layered enough to carry an adventure through multiple dimensions. The book is divided into two, before and after an unprecedented flood that forces Malcolm and surly teenager Alice to take Lyra on a perilous journey to safety. The boat trip, which goes on perhaps too long, nevertheless is a swirling mix of fear, hope, and intrigue and written in language that's both elegant and earthy. The next title in the Book of Dust trilogy is reportedly set in Lyra's future, not past, and all fans can do is wait impatiently.--Cooper, Ilene Copyright 2017 Booklist"
From Booklist, Copyright (c) American Library Association. Used with permission.
Publisher's Weekly Review:
"Narrator Sheen's sonorous, dramatic reading immediately pulls listeners back into the mysterious world of Pullman's His Dark Materials trilogy. Set 10 years before The Golden Compass begins, this series launch focuses on 11-year-old Malcolm Polstead, the son of the innkeepers at the Trout Tavern and Inn. Malcolm is a curious, insightful, kind-hearted boy who helps out at the Priory of St. Rosamond, where the sisters are caring for Lyra, a newly arrived infant who is far from home and has captured the attention of several suspicious characters. Alongside the disagreeable Alice, a lanky 15-year-old who also works at the tavern and the priory, and their magical animal companions,Malcolm embarks on a turbulent, terrifying race down the raging Thames in his beloved canoe, La Belle Sauvage, to deliver Lyra to her parents. Talented Welsh actor Sheen masterfully conveys every bit of the drama, suspense, and emotion of Malcolm's adventure, right to the very end as Malcolm and Alice arrive at their destination "filthy, exhausted, bloody." The audio edition will leave listeners counting the days until the next installment. Ages 14-up. A Knopf hardcover. (Oct.) © Copyright PWxyz, LLC. All rights reserved."
Additional Information