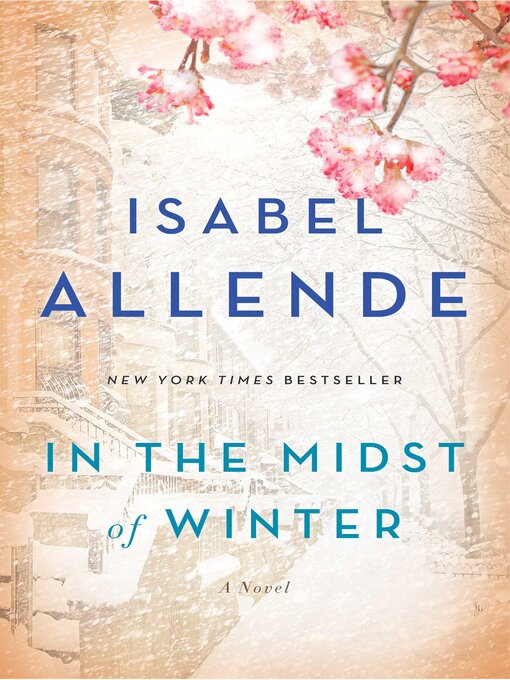 In the midst of winter a novel
Language:

English

Spanish

Format:

Kindle Book

2017

2017

Adobe EPUB ebook

OverDrive Read

Availability:

Available from OverDrive

1 of 3 copies
4 people on waitlist
Summary
"New York Times and worldwide bestselling "dazzling storyteller" (Associated Press) Isabel Allende returns with a sweeping novel about three very different people who are brought together in a mesmerizing story that journeys from present-day Brooklyn to Guatemala in the recent past to 1970s Chile and Brazil. In the Midst of Winter begins with a minor traffic accident--which becomes the catalyst for an unexpected and moving love story between two people who thought they were deep into the winter of their lives. Richard Bowmaster--a 60-year-old human rights scholar--hits the car of Evelyn Ortega--a young, undocumented immigrant from Guatemala--in the middle of a snowstorm in Brooklyn. What at first seems just a small inconvenience takes an unforeseen and far more serious turn when Evelyn turns up at the professor's house seeking help. At a loss, the professor asks his tenant Lucia Maraz--a 62-year-old lecturer from Chile--for her advice. These three very different people are brought together in a mesmerizing story that moves from present-day Brooklyn to Guatemala in the recent past to 1970s Chile and Brazil, sparking the beginning of a long overdue love story between Richard and Lucia. Exploring the timely issues of human rights and the plight of immigrants and refugees, the book recalls Allende's landmark novel The House of the Spirits in the way it embraces the cause of "humanity, and it does so with passion, humor, and wisdom that transcend politics" (Jonathan Yardley, The Washington Post). In the Midst of Winter will stay with you long after you turn the final page"--

Published Reviews
Booklist Review:
"*Starred Review* No one should be driving in blizzard-struck Brooklyn, but emergencies have forced Richard, a lonely academic, and Evelyn, a nanny caring for a boy with cerebral palsy, out onto the icy streets where their vehicles collide. When Evelyn reveals that she was driving her employer's car and that there's a body in the trunk, Richard summons his basement tenant and colleague, Lucia. Internationally beloved Allende (Ripper, 2014), as effervescent in her compassion, social concerns, and profound joy in storytelling as ever, brings both humor and intensity to this madcap, soulful, and transporting tale of three survivors who share their traumatic pasts while embarking on a lunatic mission of mercy. Life-embracing, funny, and tough Chilean journalist Lucia is hoping, still, for love after surviving political violence, exile, loveless marriages, and cancer. Richard, the American son of Holocaust survivors, suffers debilitating guilt over long-concealed disasters in Brazil. Evelyn made the perilous journey to the U.S. from her destitute Guatemalan village after being brutally assaulted by gang members. Allende has a rare and precious gift for simultaneously challenging and entrancing readers by dramatizing with startling intimacy such dire situations as the desperation behind illegal immigration and domestic violence, then reveling, a page later, in spiritual visions or mischievous sexiness or heroic levity. No wonder she was inspired by Albert Camus: In the midst of winter, I finally found there was within me an invincible summer. HIGH-DEMAND BACKSTORY: Best-selling Allende will tour coast-to-coast with her latest, drumming up the usual reader frenzy.--Seaman, Donna Copyright 2017 Booklist"
From Booklist, Copyright (c) American Library Association. Used with permission.
Publisher's Weekly Review:
"The audiobook of Allende's latest novel employs the vocals of three actors with mixed results. Actor Boutsikaris is a master of tempo, and her well-tempered reading here keeps listeners fastened to the story. Jones and Cuervo, on the other hand, tend to enunciate too carefully, obstructing Allende's rhythms and causing listeners to focus on individual words rather than the story as a whole. That said, the three actors convincingly portray the three protagonists of Allende's story, all of whom cross paths in Brooklyn. Each is scarred by experiences related to the Latin American political landscape of the 1970s: NYU professor Richard Bowmaster is a human rights scholar who has worked in Brazil; his tenant, Lucia Maraz, is a visiting professor from Chile; and Evelyn Ortega is an undocumented immigrant from Guatemala who crashes into Richard's car while driving her employer's Lexus on a snowy day. The book includes a somewhat awkward mixture of light romantic comedy and heavy personal and political tragedies-the Pinochet years, the terror of MS-13, the plight of immigrants, and the hideous business of sex slavery in the U.S. The readers are sweet in the romantic parts, but Allende's minute descriptions of violent personal and political events are harder to follow. An Atria hardcover. (Oct.) © Copyright PWxyz, LLC. All rights reserved."
(c) Copyright PWxyz, LLC. All rights reserved
Additional Information