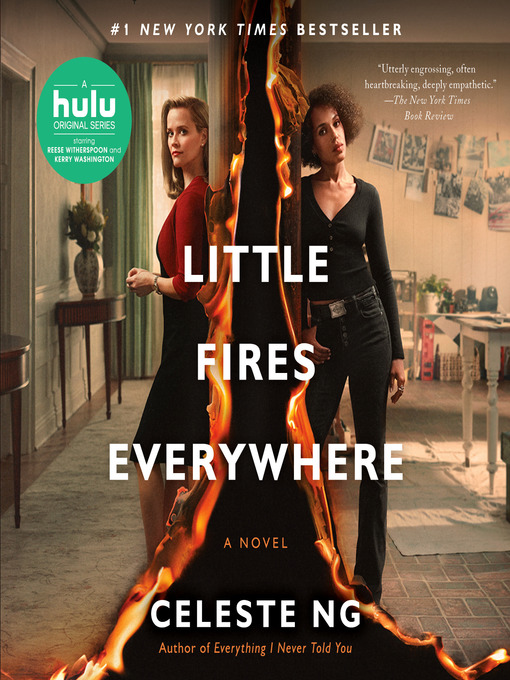 Little fires everywhere a novel
Format:

OverDrive MP3 Audiobook

2017

2017

OverDrive Listen

Availability:

Available from OverDrive

24 of 79 copies
6 people on waitlist
Summary
In Shaker Heights, a placid, progressive suburb of Cleveland, everything is planned ђ́ا from the layout of the winding roads, to the colors of the houses, to the successful lives its residents will go on to lead. And no one embodies this spirit more than Elena Richardson, whose guiding principle is playing by the rules. Enter Mia Warren ђ́ا an enigmatic artist and single mother ђ́ا who arrives in this idyllic bubble with her teenaged daughter Pearl, and rents a house from the Richardsons. Soon Mia and Pearl become more than tenants: all four Richardson children are drawn to the mother-daughter pair. But Mia carries with her a mysterious past and a disregard for the status quo that threatens to upend this carefully ordered community. When old family friends of the Richardsons attempt to adopt a Chinese-American baby, a custody battle erupts that dramatically divides the towńђوand puts Mia and Elena on opposing sides. Suspicious of Mia and her motives, Elena is determined to uncover the secrets in Mia's past. But her obsession will come at unexpected and devastating costs. Little Fires Everywhere explores the weight of secrets, the nature of art and identity, and the ferocious pull of motherhood ђ́ا and the danger of believing that following the rules can avert disaster.{u202A}{u202A}{u202A}{u202A}{u202A}{u202A}{u202A}{u202A}{u202A}{u202A}{u202A}{u202A}{u202A}{u202A}{u202A}{u202A}{u202A}{u202A}{u202A}{u202A}{u202A}{u202A}{u202A}{u202A}{u202A}{u202A}{u202A}{u202A}{u202A}

Published Reviews
Booklist Review:
"*Starred Review* Shaker Heights, Ohio, is a by-the-books kind of town. Longtime residents know the well-established rules of conduct. Newcomers, such as itinerant artist Mia Warren and her teenage daughter, Pearl, must find out for themselves what is acceptable and what is not. Renting an apartment from city-native Elena Richardson should give Mia and Pearl a leg up. Instead, it throws them into the midst of a fraught custody battle concerning a Chinese American baby; engenders fierce rivalries between brothers Moody and Trip Richardson for Pearl's attention; and casts Mia as the unlikely confidant of the Richardson daughters, popular Lexie and outcast Izzy. There are secrets upon secrets within the families: Mia's past is hidden from Pearl, just as Pearl conceals her love affair with Trip. Lexie's abortion must be kept from her family, while only Izzy knows the subterfuge her mother is using to undermine Mia and Pearl's happiness. Ng's stunning second novel is a multilayered examination of how identities are forged and maintained, how families are formed and friendships tested, and how the notion of motherhood is far more fluid than bloodlines would suggest. Ng's debut, Everything I Never Told You (2015), was a book-group staple. Laden with themes of loyalty and betrayal, honesty and trust, her latest tour de force should prove no less popular.--Haggas, Carol Copyright 2017 Booklist"
From Booklist, Copyright (c) American Library Association. Used with permission.
Publisher's Weekly Review:
"Set in the late 1990s in the town of Shaker Heights, Ohio, the audio edition of Ng's novel begins with a fire in the home of the Richardsons, an affluent, apparently happy family. What follows are flashbacks to the moments of tension-the metaphorical "little fires" of the title that lead a member of the family to set the blaze. The drama begins with the arrival of unconventional visual artist and single mother Mia Warren, who rents the Richardsons' guest house with her 15-year-old daughter, Pearl. The Richardson kids quickly embrace Pearl, while their journalist mother, Elena, offers Mia the opportunity to do light housework to help pay the bills. But when Mia starts to mentor one of her daughters, Elena is miffed, and her annoyance goes nuclear after Mia interferes in the adoption process of one of the Richardsons' closest friends, by encouraging the birth mother, a Chinese immigrant, to rethink her plans. Actress Lim gives a dramatic, vivacious performance and catches every nuance of its probe of mother love and the widening chasm between the privileged and the working class. Lim is particularly effective in her presentation of Elena as both villain and victim and of Mia as a seemingly wise free spirit who's not exactly mother of the year. A Penguin Press hardcover. (Sept.) © Copyright PWxyz, LLC. All rights reserved."
(c) Copyright PWxyz, LLC. All rights reserved
Additional Information
Subjects
Families Fiction
Motherhood Fiction
Literature
Fiction
Audiobooks.

Publisher

[Place of publication not identified] :Penguin Random House Audio Publishing Group2017




2017



Edition
Unabridged.
Contributors
OverDrive, Inc.

Participants/Performers

Jennifer Lim.



Language

English



System Details

Mode of access: World Wide Web.




Format: OverDrive Listen




Format: OverDrive MP3 Audiobook




Requires OverDrive app 3.0 (Windows) / 1.0 (Mac) / 1.0 (Windows Mobile)



Description

1 audio file : digital



ISBN
9780525498094
9780525498094

Other
Classic View