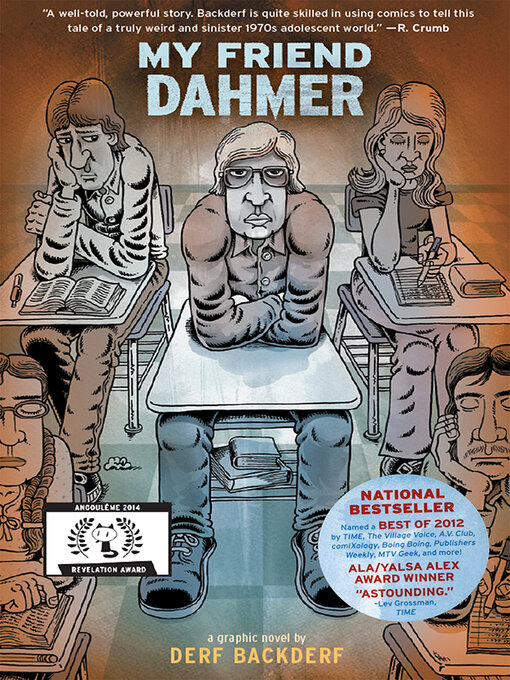 My friend Dahmer a graphic novel
Format:

OverDrive Read

2012.

Kindle Book

Availability:

Unavailable

0 of 1 copy
Summary
The bone-chilling graphic novel that inspired the major motion picture starring Ross Lynch as Jeffrey Dahmer.

NATIONAL BESTSELLER
2013 ALA/YALSA Alex Award
2014 Revelation Award at Angoulême
2015 ALA/YALSA Alex Award (Excellence in Narrative Nonfiction)

Named a BEST OF 2012 by Time, The Village Voice, A.V. Club, comiXology, Boing Boing, Publishers Weekly, MTV Geek, and more!

You only think you know this story. In 1991, Jeffrey Dahmer--the most notorious serial killer since Jack the Ripper--seared himself into the American consciousness. To the public, Dahmer was a monster who committed unthinkable atrocities. To Derf Backderf, "Jeff" was a much more complex figure: a high school friend with whom he had shared classrooms, hallways, and car rides. In My Friend Dahmer, a haunting and original graphic novel, writer-artist Backderf creates a surprisingly sympathetic portrait of a disturbed young man struggling against the morbid urges emanating from the deep recesses of his psyche--a shy kid, a teenage alcoholic, and a goofball who never quite fit in with his classmates. With profound insight, what emerges is a Jeffrey Dahmer that few ever really knew, and one readers will never forget.

Also available by Derf Backderf, Trashed .

Find teaching guides for My Friend Dahmer and other titles at abramsbooks.com/resources.
Contents
Preface: the convoluted history of 'My friend Dahmer'
Prologue
pt. 1. The strange boy
pt. 2. A secret life
pt. 3. The Dahmer fan club
pt. 4. Becoming the monster
pt. 5. Fade to black
Epilogue.
Published Reviews
Booklist Review:
"The smartass snark of Backderf's comic strip, The City, which he's been drawing for alternative newspapers for two decades, does little to prepare his fans for this ambitious autobiographical graphic novel about attending school with Jeffrey Dahmer, who would soon commit a string of sex-driven murders that would make him one of history's most infamous serial killers. Backderf recounts how Dahmer's behavior grew progressively strange, from quietly odd in junior high to genuinely bizarre in high school, where he'd fake epileptic fits and adopt spastic behavior to gain attention; meanwhile, he'd butcher small animals in the woods. Backderf tellingly depicts adolescent ennui in the 1970s as well as the uncaring obliviousness of the adults in Dahmer's life. The blunt, ungainly drawings, with their robotically stiff figures, effectively convey the drab suburban milieu. The hard times that have befallen alt-weeklies have led to the disappearance of cartoonists from their pages; Backderf's transition from sardonic gagman to accomplished full-length storyteller, like Lynda Barry's second act as a creativity guru, shows that the loss has some positive repercussions.--Flagg, Gordon Copyright 2010 Booklist"
From Booklist, Copyright (c) American Library Association. Used with permission.
Publisher's Weekly Review:
"Readers of Derf Backderf's the City strip in various alt-weeklies will immediately recognize his visual style (flattened landscapes and blocky characters who look uncomfortable in their own skin), but not the content in this visceral, ambitious new graphic novel. Instead of the City's surreal, satirical ennui, Backderf explores a hard-to-believe autobiographical story. During the 1970s in Ohio, he attended high school with and befriended Jeffrey Dahmer, "the loneliest kid I'd ever met." Backderf and his social misfit crew drift in and out of Dahmer's story, which the author pieced together from memories and more recent research. It's a barbed-wire portrait of a devil-minded teen with divorcing and neglectful parents. He slices up roadkill to see what it looks like, gets attention in school by doing imitations of cerebral palsy victims, and swims in alcohol to drown out his violent urges. The tone is sympathetic and enraged ("Where were the damn adults?") while not excusing or making the story unduly fascinating. Backderf's writing is impeccably honest in not exculpating his own misdeeds (the sections about how he and his friends encourage Dahmer's spaz shtick while still excluding him make for brutal reading) and quietly horrifying. A small, dark classic. (Mar.) (c) Copyright PWxyz, LLC. All rights reserved."
(c) Copyright PWxyz, LLC. All rights reserved
Additional Information
Subjects
Dahmer, Jeffrey -- Childhood and youth -- Comic books, strips, etc.
Dahmer, Jeffrey -- Friends and associates -- Comic books, strips, etc.
Dahmer, Jeffrey -- Family -- Comic books, strips, etc.
Derf -- Childhood and youth -- Comic books, strips, etc.
Problem youth -- Comic books, strips, etc.
Male friendship -- Comic books, strips, etc.
Behavior disorders in adolescence -- Comic books, strips, etc.
Serial murderers -- Comic books, strips, etc.
Nineteen seventies -- Comic books, strips, etc.
High school students -- Ohio -- Comic books, strips, etc.
High schools -- Ohio -- Comic books, strips, etc.
Electronic books.
Comics (Graphic works)
Biographical comic books, strips, etc.
Graphic novels.

Publisher

[Place of publication not identified] :Abrams ComicArts2012.



Other Titles
Dahmer :

Contributors
Kochman, Charles.
OverDrive, Inc.

Language

English



System Details

Mode of access: World Wide Web.




Format: Kindle Book




Format: OverDrive Read




Requires Amazon Kindle



Description

1 online resource



Bibliography Notes

Includes bibliographical references (pages 200-220).



ISBN
9781613123263

Other
Classic View