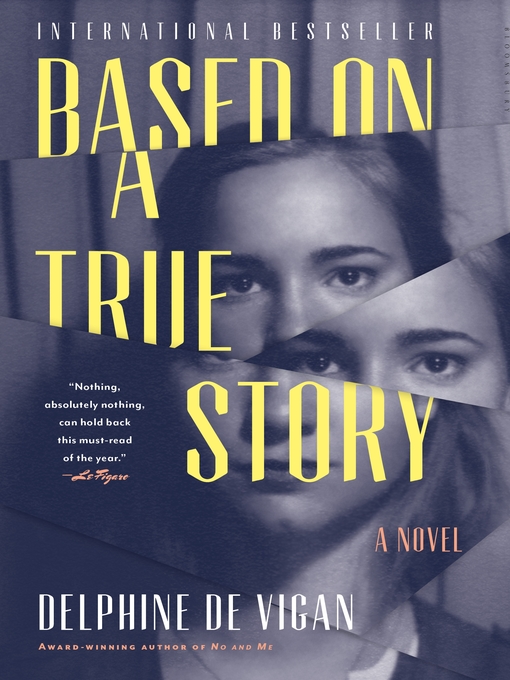 Based on a true story
Format:

OverDrive Read

2017.

Adobe EPUB ebook

Kindle Book

Availability:

Unavailable

0 of 1 copy
Summary
The international sensation that sold half a million copies in France and the subject of a new film by Roman Polanski: a chilling story about a friendship gone terrifyingly toxic. Winner of Le Prix Renaudot 2015 Winner of Le Prix Goncourt des Lycéens 2015 Overwhelmed by the huge success of her latest novel, exhausted and suffering from a crippling inability to write, Delphine meets L., who embodies everything Delphine has always secretly admired; she is a glittering image of feminine sophistication and spontaneity and she has an uncanny knack of always saying the right thing. Unusually intuitive, L. senses Delphine's vulnerability and slowly but deliberately carves herself a niche in the writer's life. However, as L. makes herself indispensable to Delphine, the intensity of this unexpected friendship manifests itself in increasingly sinister ways. As their lives become more and more entwined, L. threatens Delphine's identity, both as a writer and as an individual. This sophisticated psychological thriller skillfully blurs the line between fact and fiction, reality and artifice. Delphine de Vigan has crafted a terrifying, insidious, metafictional thriller; a haunting vision of seduction and betrayal; a book which in its hungering for truth implicates the reader, too-even as it holds us in its thrall.
Published Reviews
Booklist Review:
"Writer Delphine finds herself unprepared for the tremendous popularity of her latest book. It's brought the unwavering support of her fans, along with the ire of others, particularly the anonymous author of unsettling letters. At a party one evening, a weary Delphine meets L., a fellow writer, and the two immediately connect. Soon Delphine and L. are seeing each other constantly, and Delphine is quick to shrug off some of L.'s idiosyncrasies she never visits when Delphine's children are present, for instance, and she seems to always be in the right place at the right time. Soon Delphine is under pressure to begin her next book, and her anxiety becomes paralyzing. L. takes it upon herself to help Delphine and becomes more and more involved with both her life and her writing. Before long, L.'s influence which spans years causes Delphine to question her innermost thoughts, abilities, and realities. Award-winning and best-selling de Vigan (Nothing Holds Back the Night, 2014) crafts a haunting, provoking tale that grows in intensity as the truth Delphine seeks becomes harder to find.--Strauss, Leah Copyright 2017 Booklist"
From Booklist, Copyright (c) American Library Association. Used with permission.
Publisher's Weekly Review:
"Delphine, the narrator of this unsettling metafictional tale of obsession and interchangeable identities from de Vigan (Nothing Holds Back the Night), reverts back to her shy, schoolgirl persona after the success of her latest autobiographical novel leaves her feeling overwhelmed. Then she meets the chic, confident L., with whom she immediately strikes up an easy rapport. The friendship develops smoothly, with the two women getting drinks around Paris and learning more about each other. Except L. seems more eager to know everything there is to know about Delphine-all about her two grown children, her relationship with her boyfriend-than share much about herself. Writing is at the center of the relationship: Delphine's inability to put pen to paper, or fingers to keyboard, and L.'s insistence that there's a book Delphine must write. Almost without realizing it, Delphine cedes control to L., with dire consequences. While readers might pick up on L.'s unsavory nature faster than Delphine, the insidious nature of a complex mind game masquerading as friendship is chilling to watch unfold. (May) © Copyright PWxyz, LLC. All rights reserved."
(c) Copyright PWxyz, LLC. All rights reserved
Additional Information