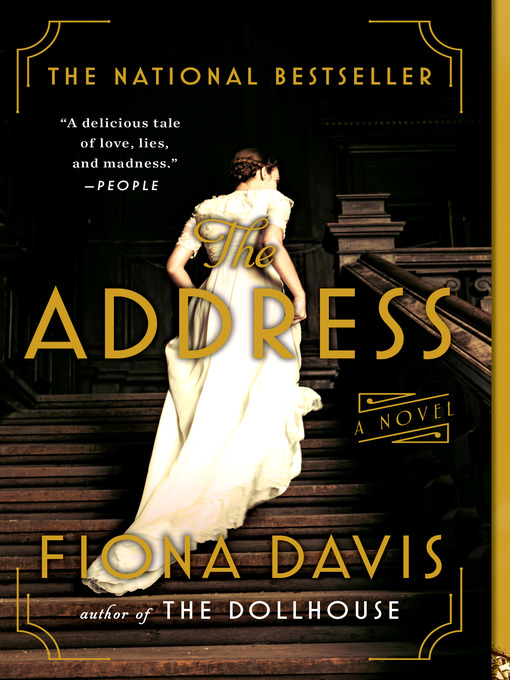 The address a novel
Format:

Adobe EPUB ebook

2017

2017

OverDrive Read

Availability:

Available from OverDrive

5 of 9 copies
Summary
"Fiona Davis, author ofThe Dollhouse, returns with a compelling novel about the thin lines between love and loss, success and ruin, passion and madness, all hidden behind the walls of The Dakota, New York City's most famous residence. After a failed apprenticeship, working her way up to head housekeeper of a posh London hotel is more than Sara Smythe ever thought she'd make of herself. But when a chance encounter with Theodore Camden, one of the architects of the grand New York apartment house The Dakota, leads to a job offer, her world is suddenly awash in possibility--no mean feat for a servant in 1884. The opportunity to move to America, where a person can rise aboveone'sstation. The opportunity to be the female manager of The Dakota, which promises to be the greatest apartment house in the world. And the opportunity to see more of Theo, who understands Sara like no one else. and is living in The Dakota with his wife and three young children. In 1985, Bailey Camdenis desperate for new opportunities. Fresh out of rehab, the former party girl and interior designer is homeless, jobless, and penniless. Two generations ago, Bailey's grandfather was the ward of famed architect Theodore Camden. But the absence of a genetic connection means Bailey won't see a dime of the Camden family's substantial estate. Instead, her "cousin"Melinda--Camden's biologicalgreat-granddaughter--will inherit almost everything. So when Melinda offers to let Bailey oversee the renovation of her lavish Dakota apartment, Bailey jumps at the chance, despite her dislike of Melinda's vision. The renovation will take away all the character and history of the apartment Theodore Camden himself lived in. and died in, after suffering multiple stab wounds by a madwoman named Sara Smythe, a former Dakota employee who had previously spent seven months in an insane asylum on Blackwell's Island. One hundred years apart, Sara and Bailey are both tempted by and struggle against the golden excess of their respective ages--for Sara, the opulence of a world ruled by the Astors and Vanderbilts; for Bailey, the free-flowing drinks and cocaine in the nightclubs of New York City--and take refuge and solace in the Upper West Side's gilded fortress. But a building with a history as rich--and often tragic--as The Dakota's can't hold its secrets forever, and what Bailey discovers in its basement could turn everything she thought she knew about Theodore Camden--and the woman who killed him--on its head. With rich historical detail, nuanced characters, and gorgeous prose, Fiona Davis once again delivers a compulsively readable novel that peels back the layers of not only a famed institution, but the lives --and lies--of the beating hearts within"--

Published Reviews
Booklist Review:
"Sara Smythe isn't entirely happy with her job as head housekeeper at London's prestigious Langham Hotel, so she jumps at the chance when American architect Theodore Camden offers her a job as lady managerette at the new Dakota Apartment House in New York. It isn't long before her relationship with Theo becomes other than professional, leading to numerous complications. One hundred years later, Bailey Camden, fresh out of rehab, takes charge of renovating her cousin Melinda's Dakota apartment. They aren't really cousins; Melinda is Theo Camden's great-granddaughter, and Bailey's grandfather was Theo's ward. The discovery of some old trunks in the Dakota basement sets Bailey on a quest to find out how Sara ended up in prison for Theo's murder and whether Bailey herself might be entitled to a share of the Camden trust. Though the novel is overloaded with melodramatic plot elements (one example: Sara gets sent to a lunatic asylum and is saved by the intervention of investigative journalist Nellie Bly), Davis (The Dollhouse, 2016) keeps things humming along, and it's fun to see how she reimagines the iconic Dakota's history.--Quinn, Mary Ellen Copyright 2017 Booklist"
From Booklist, Copyright (c) American Library Association. Used with permission.
Publisher's Weekly Review:
"Davis (The Dollhouse) has folded together two historical eras in this breezy historical novel that jumps between Gilded Age and Reagan-era New York City. In 1884, Sara Smythe sets off from London to New York, wooed there with the promise of a job at the Dakota, an apartment building for the rich. In 1985, Bailey Camden, fresh out of drug rehab, accepts a job from her party-girl cousin to remodel the shabby apartment that she inherited in the old Dakota building. As Bailey researches the building, she discovers Sara's tragic history: her romance with the architect who designed the Dakota, Theo Camden, and her eventual conviction for his murder. Davis overlays the two histories beautifully, tying them together through transitions focused on the picturesque building. But the two women are connected by more than just the Dakota, and all sorts of secrets slowly come to light as Bailey proceeds with the renovation. The book, rife with historical description and architectural detail, will appeal to design and history buffs alike. But while the setting is captivating, the facts of Sara's and Bailey's lives tend toward the melodramatic. Readers interested in Gilded Age New York will appreciate this light historical drama, but predictable moments and a convenient resolution will leave others wanting. Agent: Stefanie Lieberman, Janklow & Nesbit Associates. (Aug.) © Copyright PWxyz, LLC. All rights reserved."
(c) Copyright PWxyz, LLC. All rights reserved
Additional Information