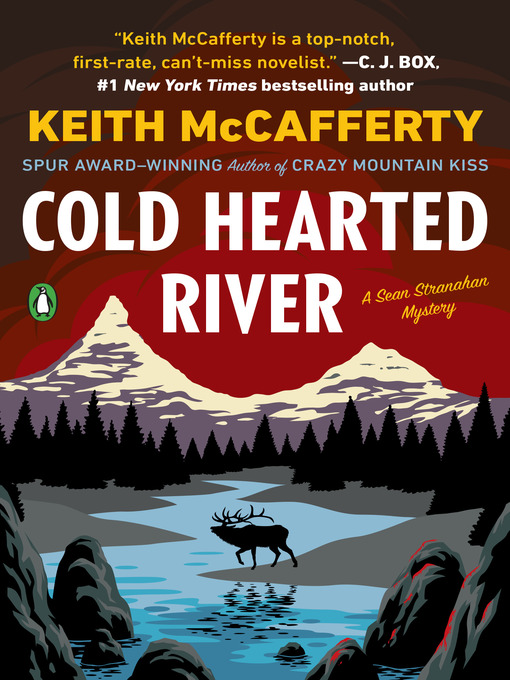 Cold hearted river a Sean Stranahan mystery
Format:

OverDrive Read

2017.

Adobe EPUB ebook

Kindle Book

Availability:

Available from OverDrive

1 of 1 copy
Summary
In the sixth novel in the acclaimed Sean Stranahan mystery series, Montana's favorite detective finds himself on the trail of Ernest Hemingway's missing steamer trunk.

"Keith McCafferty is a top-notch, first-rate, can't-miss novelist."
--C.J. Box, #1 New York Times bestselling author

When a woman goes missing in a spring snowstorm and is found dead in a bear's den, Sheriff Martha Ettinger reunites with her once-again lover Sean Stranahan to investigate. In a pannier of the dead woman's horse, they find a wallet of old trout flies, the leather engraved with the initials EH. Only a few days before, Patrick Willoughby, the president of the Madison River Liars and Fly Tiers Club, had been approached by a man selling fishing gear that he claimed once belonged to Ernest Hemingway. A coincidence? Sean doesn't think so, and he soon finds himself on the trail of a stolen trunk rumored to contain not only the famous writer's valuable fly fishing gear but priceless pages of unpublished work.

The investigation will take Sean through extraordinary chapters in Hemingway's life. Inspired by a true story, Cold Hearted River is a thrilling adventure, moving from Montana to Michigan, where a woman grapples with the secrets in her heart, to a cabin in Wyoming under the Froze To Death Plateau, and finally to the ruins in Havana, where an old man struggles to complete his life's mission one true sentence at a time.
Published Reviews
Booklist Review:
"When a book begins with a harrowing struggle for survival in the Montana mountains and uses as its MacGuffin a lost trunk of Ernest Hemingway's fishing tackle (with the tantalizing possibility of lost manuscripts tucked inside), you know you're not in for a run-of-the-mill mystery. The sixth Sean Stranahan outing finds the fly-fishing painter and private investigator working an unusual case more or less alongside his off-again, on-again romantic partner, Sheriff Martha Ettinger. It's complicated but involves elk-antler tea, plenty of fishing, and that trunk, which has enough bodies bobbing along in its wake to make Sean wonder whether it's cursed. McCafferty's skill at creating memorable characters has even the walk-ons warming to the spotlight, and his background as the survival and outdoor skills editor of Field & Stream lends the outdoor scenes more authority than one finds in most western fiction. The fishing scenes will delight anyone who gets a chuckle out of Stranahan's offhand good fishing if not good catching though there might be a wee bit much for others. The bittersweet ending hits all the right notes.--Graff, Keir Copyright 2017 Booklist"
From Booklist, Copyright (c) American Library Association. Used with permission.
Publisher's Weekly Review:
"In McCafferty's intriguing sixth Sean Stranahan mystery (after 2016's Buffalo Jump Blues), the Montana fishing guide helps his ex-girlfriend, Sheriff Martha Ettinger, retrieve Frieda Toliver's belongings from the ridge where she died during a surprise snowstorm. Among Frieda's effects is an old fly-fishing wallet bearing the initials "EH." Patrick Willoughby of the Madison River Liars and Fly Tiers Club identifies the contents as an obscure three-fly cast favored by Ernest Hemingway-an odd coincidence, given that someone recently offered to sell Patrick a collection of Hemingway's fishing tackle. Sean and Patrick go to appraise the gear and instead find the corpse of Frieda's stepbrother. Sean's efforts to locate the missing memorabilia and determine its provenance unearth tales of a stolen steamer trunk containing not just Hemingway's rods and reels but also an unpublished short story. McCafferty writes about fly-fishing, Hemingway, and the American West with obvious affection and authority. Colorful characters and forbidding locales complement the book's central puzzle, which has surprising real-life roots. Agent: Dominick Abel, Dominick Abel Literary. (July) © Copyright PWxyz, LLC. All rights reserved."
(c) Copyright PWxyz, LLC. All rights reserved
Additional Information