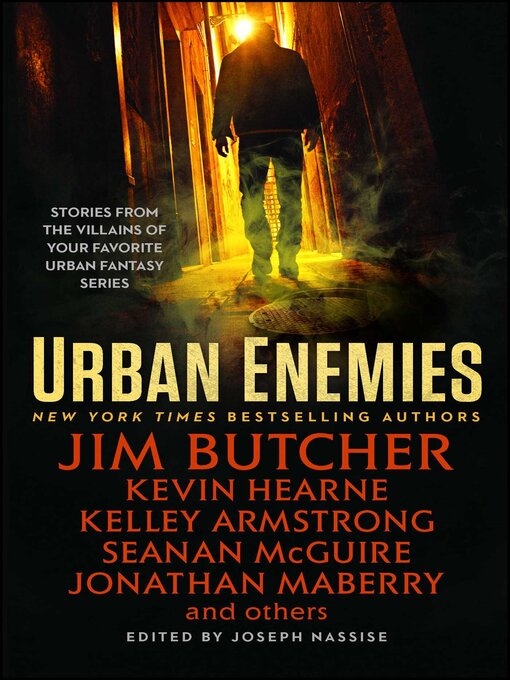 Urban enemies
Format:

Kindle Book

2017

2017

Adobe EPUB ebook

OverDrive Read

Availability:

Unavailable

0 of 1 copy
1 person on waitlist
Summary
"Villains have all the fun--everyone knows that--and this anthology takes you on a wild ride through the dark side! The top villains from seventeen urban fantasy series get their own stories--including the baddies of New York Times bestselling authors Jim Butcher, Kevin Hearne, Kelley Armstrong, Seanan McGuire, and Jonathan Maberry. For every hero trying to save the world, there's a villain trying to tear it all down. In this can't-miss anthology edited by Joseph Nassise (The Templar Chronicles), you get to plot world domination with the best of the evildoers we love to hate! This outstanding collection brings you stories told from the villains' point of view, imparting a fresh and unique take on the evil masterminds, wicked witches, and infernal personalities that skulk in the pages of today's most popular series. The full anthology features stories by Jim Butcher (the Dresden Files), Kelley Armstrong (Cainsville), Seanan McGuire (October Daye), Kevin Hearne (The Iron Druid Chronicles), Jonathan Maberry (Joe Ledger), Lilith Saintcrow (Jill Kismet), Carrie Vaughn (Kitty Norville), Joseph Nassise (Templar Chronicles), Domino Finn (Black Magic Outlaw), Steven Savile (Glasstown), Caitlin Kittredge (Hellhound Chronicles), Jeffrey Somers (The Ustari Cycle), Sam Witt (Pitchfork County), Craig Schaefer (Daniel Faust), Jon F. Merz (Lawson Vampire), Faith Hunter (Jane Yellowrock), and Diana Pharaoh Francis (Horngate Witches)"--

Contents
Even hand / Jim Butcher
Hounded / Kelley Armstrong
Nigsu Ga Tesgu / Jeff somers
Sixty-six seconds / Craig Schaefer
Kiss / Lilith Saintcrow
The naughtiest cherub / Kevin Hearne
The resurrectionist / Caitlin Kittredge
Down where the darkness dwells / Joseph Nassise
Bellum Romanum / Carrie Vaughn
Alter boy / Jonathan Maberry
Make it snappy / Faith Hunter
Chase the fire / Jon F. Merz
Unexpected choices / Diana Pharaoh Francis
Reel life / Steven Savile
The difference between deceit and delusion / Domino Finn
Balance / Seanan McGuire
Everywhere / Sam Witt.
Published Reviews
Publisher's Weekly Review:
"Fans of urban fantasy can read stories from some of the best-known names in the genre and discover new writers in this well-arranged anthology, which focuses on villains. In Jim Butcher's "Even Hand," the human crime lord who has been a thorn in wizard Harry Dresden's side gets his due in an amusing story that pokes some fun at the long-running Dresden Files series. Other highlights include the haunting "Hounded" by Kelley Armstrong; Carrie Vaughn's "Bellum Romanum," featuring an immortal Roman centurion who wants to see the world burn; and the deliciously wicked "Balance" by Seanan McGuire, set in her InCryptid world. Other stories, such as Domino Finn's "The Difference Between Deceit and Delusion" and Jonathan Maberry's "Altar Boy," seem more interested in showing how violent and brutal their bad guys can be than in telling a compelling story, though readers already invested in their series might be more appreciative. The collection feels balanced and entertaining and is a solid companion to Nassise's Urban Allies. (Aug.) © Copyright PWxyz, LLC. All rights reserved."
(c) Copyright PWxyz, LLC. All rights reserved
Additional Information