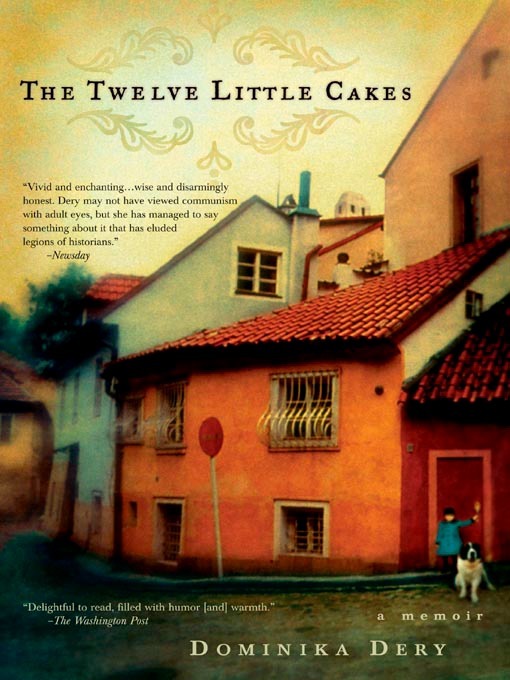 The twelve little cakes a memoir
Format:

OverDrive Read

2005.

Adobe EPUB ebook

Kindle Book

Availability:

Available from OverDrive

1 of 1 copy
Summary
The Twelve Little Cakes is equal parts testimony to the struggles of a bygone era and a love letter to a joy-filled childhood that no external forces could dim.

In a village on the outskirts of Prague, full of gossipy neighbors, state informants, friendly old "grandmothers," and small-town prejudices, Dominika Dery grows up a self-possessed child, whose openness and curiosity often lead her, and her family, into trouble. Yet the love, pride, and quirky ingenuity that bind them together will guarantee their survival-and ultimately their happiness-through the best and worst of times.
Published Reviews
Booklist Review:
"In Ake: The Years of Childhood (1981), Wole Soyinka exposes the hypocrisies of colonialism in an intimate autobiography of his Nigerian youth. Czech poet and playwright Dery takes a similar approach in this spirited memoir of her childhood, beginning in 1975, on the outskirts of Prague. Demonstrating the nonsense of the system from a child's view, Dery recounts the cruelties of the Communist regime: her corrupt, wealthy grandparents disown her dissident parents; Dery's father has difficulty finding work; informers are constant. But Dery portrays her exuberant young self and her devoted parents with enormous affection and a contagious, sly humor as she blends political and cultural observations into stories about universal awakenings: at four years old, she's horrified when her parents kill a live carp for Christmas dinner. And as a preteen, she wonders if cleverness and talent matter less than a nice pair of goats, Czech slang for breasts. The result is a warm, intelligent portrait of childhood and a smart, loving family who challenge a system that threatens no money, no choice, and no chance. --Gillian Engberg Copyright 2004 Booklist"
From Booklist, Copyright (c) American Library Association. Used with permission.
Publisher's Weekly Review:
"Born in 1975 in Prague, the daughter of former dissidents of the failed Prague Spring in (then) Czechoslovakia, Dery has penned a memoir collecting tales from her early childhood. She lived in a village outside Prague riddled with Communist informers ever-ready to implicate her father, a sometime taxi driver, and her mother, who ghost-wrote books for the Czech Politburo, in anti-Socialist acts. Dery's maternal grandmother was a powerful member of the Communist elite, her grandfather a famed surgeon; both were very wealthy by Czech standards. After the reform movement was quashed by the Soviets, Dery's mother was banished from the family. Written in an old-fashioned style mimicking the fairy tales Dery loved as a child, this account presents every event-the house flooding while under construction, Dery's rejection by her grandparents when she invites them to her Czech ballet debut, the unpleasant death of the family's St. Bernard-in a vacuum. Dery never veers from the perspective of a very young child, thus providing no context by which to judge the story of growing up in the last years of the Communist state. Still, it's a sometimes charming period piece. Agent, Theresa Park. (Oct. 4) Forecast: With a blurb from Nicholas Sparks, the book may appeal to women readers. Foreign rights have been sold in France, Germany, Italy and Spain. (c) Copyright PWxyz, LLC. All rights reserved"
(c) Copyright PWxyz, LLC. All rights reserved
Additional Information