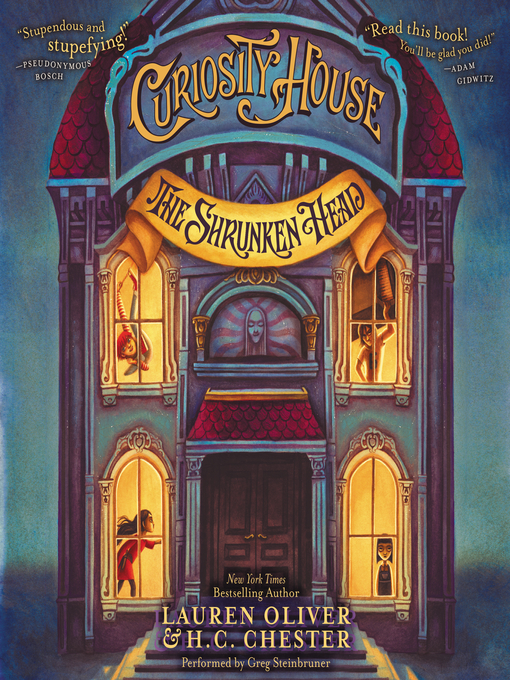 The shrunken head
Format:

OverDrive MP3 Audiobook

2015

2015

OverDrive Listen

Availability:

Available from OverDrive

2 of 2 copies
Summary
The book is about, among other things: the strongest boy in the world, a talking cockatoo, a faulty mind reader, a beautiful bearded lady and a nervous magician, an old museum, and a shrunken head.Blessed with extraordinary abilities, orphans Philippa, Sam, and Thomas have grown up happily in Dumfrey's Dime Museum of Freaks, Oddities, and Wonders. But when a fourth child, Max, a knife-thrower, joins the group, it sets off an unforgettable chain of events.When the museum's Amazonian shrunken head is stolen, the four are determined to get it back. But their search leads them to a series of murders and an explosive secret about their pasts. This sensational new series combines the unparalleled storytelling gifts of Lauren Oliver with the rich knowledge of the notorious relics collector H. C. Chester.

Published Reviews
Booklist Review:
"*Starred Review* In 1930s New York City, murder and mayhem obsess the children who reside and are performers at Dumfrey's Dime Museum of Freaks, Oddities, and Wonders. Orphans Pippa (the mentalist), Sam (the overly strong boy), Thomas (the contortionist), and Max (the knife-throwing sharpshooter) get some firsthand experience with chaos when Mr. Dumfrey purchases a cursed shrunken head for the museum. When a smarmy reporter from the Daily Screamer starts writing sensational articles about the shrunken head and the children, the four decide to unravel the mystery behind the curse. Pooling their talents, they track down clues, suspects, and murder weapons while avoiding capture by the head of the local children's home. With a dollop of Lemony Snicket's hyperbole, a blob of J. K. Rowling's take on journalism, and a splotch of sideshow allure, Oliver (The Spindlers, 2012) and Chester have crafted a wildly imaginative, over-the-top tale in this series starter, complete with a bearded lady, a dwarf, a fat lady, a magician, and an alligator boy. The continuous action, compelling mystery, and dark, brooding illustrations make this book impossible to put down. Perfect for kids who feel they're different or those simply after a freakishly good time.--Fredriksen, Jeanne Copyright 2015 Booklist"
From Booklist, Copyright (c) American Library Association. Used with permission.
Publisher's Weekly Review:
""Ladies and gentlemen, boys and girls: step right up and don't be shy. You must not-you absolutely cannot!-put this book down." With this bit of honest advertising, so begins this captivating series opener from Oliver (The Spindlers) and Chester (a pseudonym for Oliver's father, author Harold Schechter). A curiosity museum in financial trouble, "the only place on earth where four extraordinary children like Thomas, Sam, Pippa, and Max could fit in," faces bigger problems after a string of accidents and murders are linked to a shrunken head in its collection. Using talents of contortion, strength, mind-reading, and knife-throwing, the four children attempt to save the only home they know, while contending with dangers lurking all over 1930s New York City, from seedy reporters to mad scientists. A quick-paced plot is bolstered by the bonds of friendship these unusual yet endearing children form as they try to solve a mystery greater-and more personal-than they ever expected. Final art not seen by PW. Ages 8-12. Author's agent: (for Oliver) Stephen Barbara, Inkwell Management; (for Chester) David Patterson, Stuart Krichevsky Literary Agency. (Sept.) © Copyright PWxyz, LLC. All rights reserved."
(c) Copyright PWxyz, LLC. All rights reserved
Additional Information