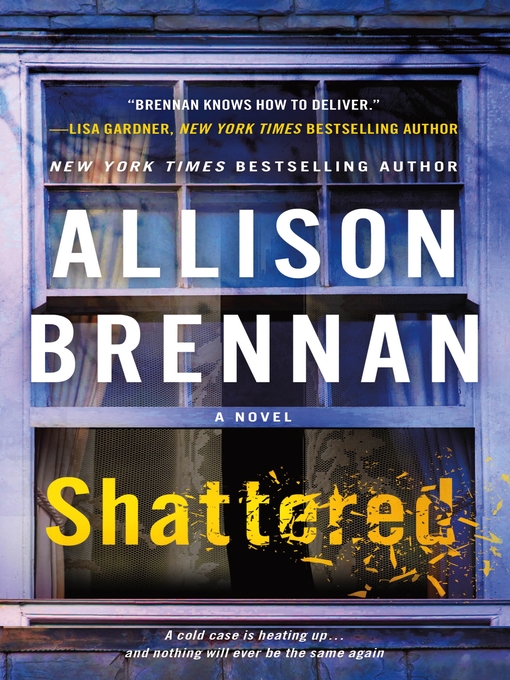 Shattered
Format:

Kindle Book

2017

2017

Adobe EPUB ebook

OverDrive Read

Availability:

Unavailable

0 of 1 copy
1 person on waitlist
Summary
"Over a span of twenty years, four boys have been kidnapped from their bedrooms, suffocated, and buried nearby in a shallow grave. Serial killer or coincidence? That's the question investigative reporter Maxine Revere sets out to answer when an old friend begs her to help exonerate his wife, who has been charged with their son's recent murder. But Max can do little to help because the police and D.A. won't talk to her--they think they have the right woman. Instead, Max turns her attention to three similar cold cases. If she can solve them, she might be able to help her friend. Justin Stanton was killed twenty years ago, and his father wants closure--so he is willing to help Max with her investigation on one condition: that she work with his former sister-in-law--Justin's aunt, FBI Agent Lucy Kincaid. Trouble is, Max works alone, and she's livid that her only access to the case files, lead detective and witnesses depends on her partnering with a federal agent on vacation. She wants the career-making story almost as much as the truth--but if she gets this wrong, she could lose everything. Haunted by Justin's death for years, Lucy yearns to give her family--and herself--the closure they need. More important, she wants to catch a killer. Lucy finds Max's theory on all three cases compelling--with Max's research added to Lucy's training and experience, Lucy believes they can find the killer so justice can finally be served"--

Published Reviews
Booklist Review:
"A request for help from her old college boyfriend has investigative reporter Maxine Revere teaming with FBI agent Lucy Kincaid Rogan protagonists in two separate Brennan series to dig up decades-old cold cases. When John Caldwell's wife is accused of killing their eight-year-old son, John presents Max with three remarkably similar unsolved murders going back almost 20 years; the victim in the first of the three was Justin Stanton, son of San Diego DA Andrew Stanton, whose marriage to Nelia Kincaid ended after Justin's death. Dredging up the past will be painful to the Kincaid family, so Lucy insists on joining the case. Max brings to the project resources and the ability to operate outside the law, while Lucy adds vital family and FBI connections. This well-executed series crossover works as a stand-alone or a series entry, with Brennan displaying the strengths of Max and Lucy while adding insights about both and hints as to their futures. A must for fans of both series.--Leber, Michele Copyright 2017 Booklist"
From Booklist, Copyright (c) American Library Association. Used with permission.
Publisher's Weekly Review:
"Bestseller Brennan's intricately plotted fourth Maxine "Max" Revere thriller (after 2016's Poisonous) finds the investigative journalist in Phoenix, Ariz., at the request of ex-boyfriend John Caldwell. The police suspect that John's wife, Blair, murdered the couple's eight-year-old son, but John believes that a serial killer is to blame and wants Max to solve a trio of similar cold cases in the hope that it will exonerate Blair. Intrigued, Max reaches out to the family of Justin Stanton, whom John believes was the first victim. Justin's father, Andrew, agrees to cooperate with Max's investigation, but only if Max partners with his sister-in-law, FBI agent Lucy Kincaid (another of Brennan's series protagonists). Max hates cops, and Lucy hates reporters, but the two join forces in order to bring justice to the victims' families and prevent the killer from striking again. Max and Lucy's mutual distrust and disdain compound the tale's tension at every turn. Psychologically complex characters and well-established stakes pave the way for a heart-pounding conclusion, which satisfies while setting the scene for Max's next mystery. Agent: Dan Conaway, Writers House. (Aug.) © Copyright PWxyz, LLC. All rights reserved."
(c) Copyright PWxyz, LLC. All rights reserved
Additional Information